HEATCOMP
FOR HEATING & VENTILATION
HeatComp is a self-guided Axial Expansion Joint with threaded ends specially constructed for heating installations and ventilation systems.
The Expansion Joint is supplied with white painted surfaces that gives a delicate open installation.
Design range and scope of supply for HeatComp
Belman HeatComp can be designed within the range:

DIMENSIONS:
BSP ends: DN 15-50
Welding ends: DN 15-100

PRESSURE:
Pressure up to
16 Barg / 232 psi

TEMPERATURE:
Temperatures up to
120°C

MATERIALS:
Bellow: AISI 321, Inner sleeve: AISI 304, Connections: S235, Outer cover: S235

TESTS:
Visual test, pressure test
or as per
client specifications

CONNECTION ENDS:
BSP threads / Welding Ends
Heat- and ventilation systems, water pipes etc. in large buildings, hospitals and similar constructions. HeatComp can also be used for pipe systems with domestic water. However, it cannot be used for drinking water as it is not VA approved (approval for water supply and drainage systems).
HeatComp is supplied with white painted surfaces, and gives a delicate open installation. HeatComp is protected against outer damages, and is easily mounted with a wrench. Torsion should be avoided.

At 70/90°C heating, one HeatComp per pipe length is sufficient to absorb movement of 30 metres of pipe in carbon steel. This equals a 10 floor building.
What are the advantages of using HeatComp?
Solid construction, simple installa-
tion
Absorbs movements in heating
systems
Self-guided with motion limiters
Movement: 50 mm (+15/-35 mm)
No pressure loss
Supplied ready to use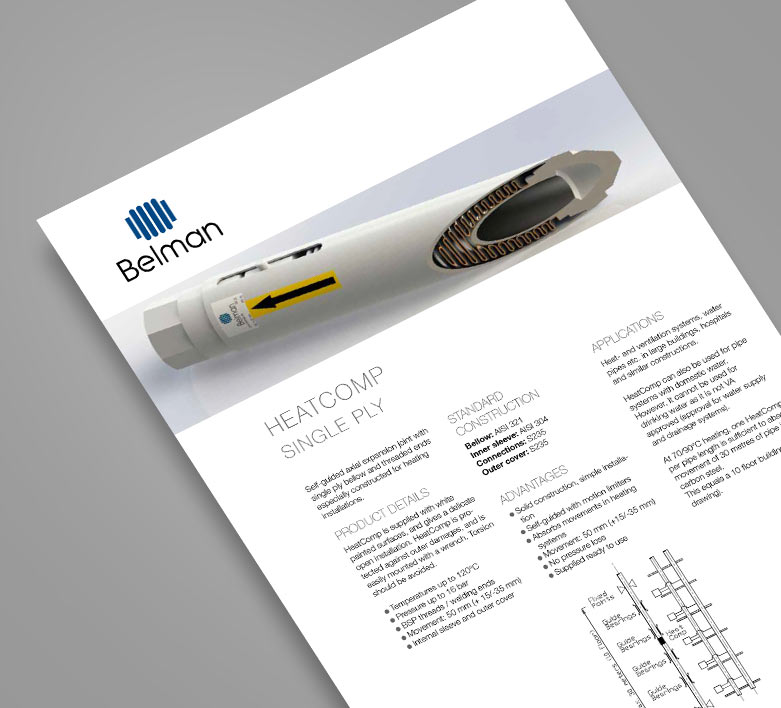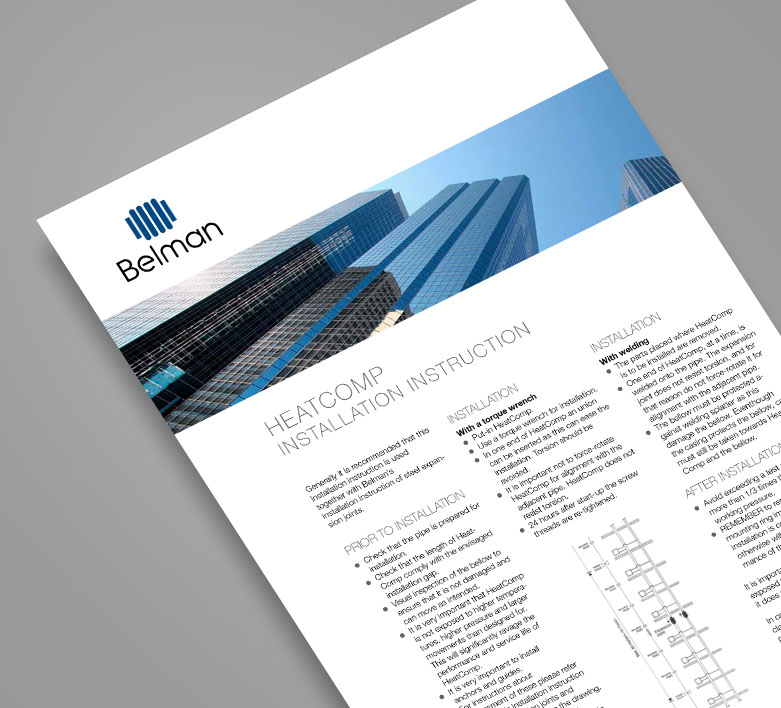 GET THE
INSTALLATION

INSTRUCTION
WE HAVE ENGINEERED

EXPANSION JOINTS SINCE 1994

This enable us to find you the optimum solution to your piping system.
REASONS TO DO BUSINESS WITH US