Exhaust Expansion Joints are designed to absorb heat induced expansion and contraction of pipe systems and exhaust systems. Belman has developed a wide range of Exhaust Expansion Joints, which are designed to give high movement absorption with low spring rates for best overall performance. The typical pressure rating for Exhaust Expansion Joints, temperature depending is 1.0 BarG.
Design range within Exhaust Expansion Joints
Belman Exhaust Expansion Joints can be designed within Belmans design range:


PRESSURE:
Up to 150 Barg (2176 psi)

TEMPERATURE:
-256°C to +1000°C

MATERIALS:
Austenitic stainless steels, High alloys, Duplex, Titanium, Hastelloy,
Incoloy, Inconel, Alloy 59

DESIGN CODES:
EN 13445, EN 13480, EN 14917
ASME VIII, div.I, ASME B31.3
ASME B31.1, EJMA
and others on request

TESTS:
Radiographic examination (X-ray), Helium leak testing, Pressure test, Air test, Dye penetrant test, Magnetic particle examination and many more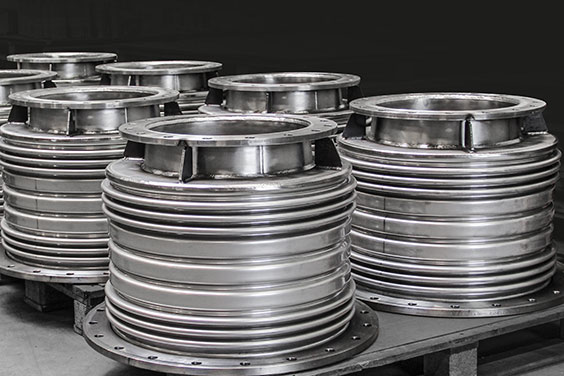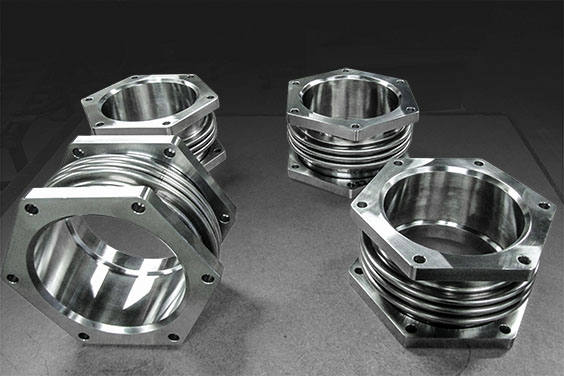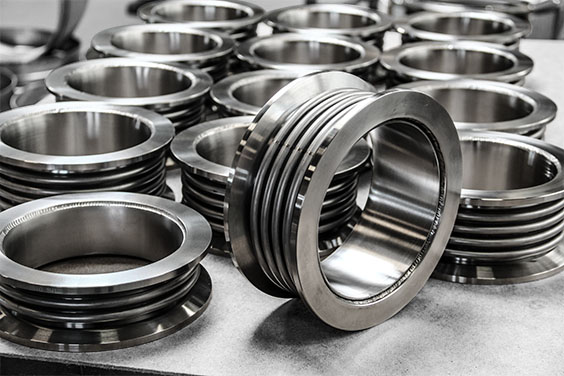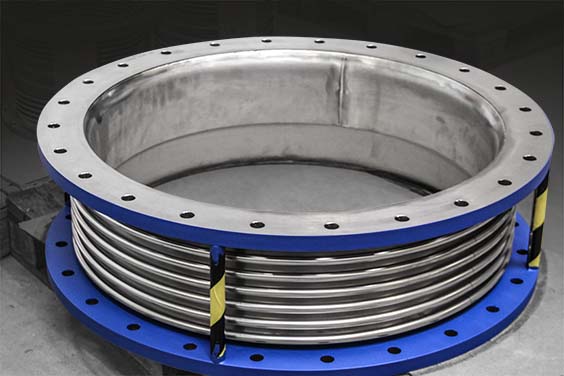 EXPANSION JOINTS FOR SCRUBBER SYSTEMS
To comply with IMO many ships install Exhaust Gas Cleaning systems (scrubbers). Belman has vast experience in design and manufacture of expansion joints for exhaust gas cleaning (scrubber) delivering Expansion Joints that ensure ship owners, shipyards and maintenance crew smooth, optimum and reliable operation their exhaust gas cleaning systems in order to meet the emission limits of allowable emission in low emission zones.
Exhaust Expansion Joints are used in a wide range of applications onboard marine vessels including gas turbine exhausts, power units, generator sets, marine propulsion systems, OEM engines and auxiliary systems.
Customised Expansion Joints can be designed and built for any specific requirement and application.
Belman Exhaust Expansion Joints are available with many end fitting options including welding ends, flanges (welded and loose). For smaller sizes, it is often possible to slide the bellows tangent over the exhaust pipe and secure using band clamps or worm-drive clips. A double bellows unit has a intermediate pipe between the bellows and sometimes this is an integral part of the bellows tube reducing the need for welded joints. Exhaust Expansion Joints from Belman are designed to be as light as practically possible to give minimum loads on hangers and pipe supports. Further, the bellows technology, often incorporates multi layers, giving maximum movement and flexibility (for minimum deflection forces and good fatigue properties) with good performance in conditions where vibration prevails. Exhaust Expansion Joints are generally unrestrained so the pressure force (generated by the bellows when pressurised), together with the deflection forces resulting from movement, must be contained by the system fix points and guides.
Inner Sleeve
At high temperatures or where the flow velocity is high, Belman always recommends an inner sleeve in the bellows. The inner sleeve protects the bellows against abrasion from any particulate matter in the flow medium and helps to smooth the gas flow over the convolutions which helps in the reduction of turbulence. It can also help to reduce the temperature of the bellows in the Expansion Joint.
AXIAL AND LATERAL MOVEMENT
Exhaust Expansion Joints can absorb axial movements and lateral movements alone or in combination, and it is usually the required movement capacity which determines the selected configuration.
A single bellow is normally selected to accept mainly axial movement although some lateral movement is usually possible. Where the amount of axial movement is outside of the capacity of a single bellows, a double Expansion Joint may be necessary. When the unit is required to accept a significant amount of lateral movement, including applications where axial movement is applied simultaneously, a double bellows is usually the preferred option.
ADVANTAGES & REQUIREMENTS
Exhaust Expansion Joints represents several advantages for the piping designers, thus they also set some requirements for the installation. These can be seen here along with more facts about Exhaust Expansion Joints:
What are the advantages of using
Exhaust Expansion Joints?
Gas-tight and resistant to corrosion and temperature
Absorb vibrations and oscillations
Light weight, reducing loads on hangers and pipe supports
Very low spring rates, and high flexible performance reduces loads on hangers and pipe supports
Economical
What are the requirements for using
Exhaust Expansion Joints?
High flow velocity often requires an inner sleeves
Exhaust bellows exposed to vibration should be designed to ensure that the natural frequency and any harmonics do not coincide with the frequencies of the exhaust system.
To ease the work with Expansion Joints for everyone being involved with Expansion Joints
Belman provides here useful Engineering tools and further technical information.
Here you can download useful technical information and further materials related to Expansion Joints such as:
Guide & Catalgoue
Product brochures
Look Books showing design options
Data sheets
In Belman Academy we help you increase your knowledge on Expansion Joints and get tips and tools that will ease your work with Expansion Joints, such as:
Technical articles and videothek
How to guides
Technical tutorial videos
Trainings (video, live)
ENGINEERED EXPANSION JOINTS
EXPERTLY FINDING THE RIGHT SOLUTION

LATEST PROJECTS & REFERENCES
Belman expertly engineer the optimum flexible solution to absorb movements in the pipe system as well as ensuring smooth operation and solutions to any operational issues for the clients. By customising as well as optimising the flexible solution Belman supply Expansion Joint solutions providing a better TCO (total cost of ownership). See some latest projects and references here.
REASONS TO DO BUSINESS WITH US