Axial Expansion Joints are designed to absorb axial movements (extension and compression in its longitudinal axial direction). The thermal expansion of a straight pipe line section between two fix points can be absorbed by Axial Expansion Joints with a relatively compact build-in length. This offers a simple and cost-efficient solution in terms of movement compensation.
Axial Expansion Joints can be equipped with all kinds of connectors, such as welding ends or welded or loose (rotatable) flanges.
Design range within Axial Expansion Joints
Belman Axial Expansion Joints can be designed within the range:


PRESSURE:
Up to 150 Barg (2176 psi)

TEMPERATURE:
-165°C to +1000°C

MATERIALS:
Austenitic stainless steels, High alloys, Duplex, Titanium, Hastelloy,
Incoloy, Inconel, Alloy 59

DESIGN CODES:
EN 13445, EN 13480, EN 14917
ASME VIII, div.I, ASME B31.3
ASME B31.1, EJMA
and others on request

TESTS:
Radiographic examination (X-ray), Helium leak testing, Pressure test, Air test, Dye penetrant test, Magnetic particle examination and many more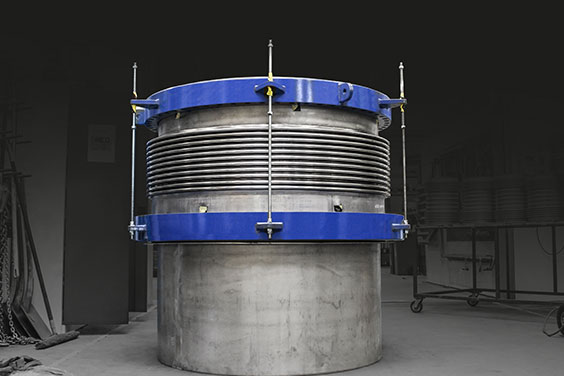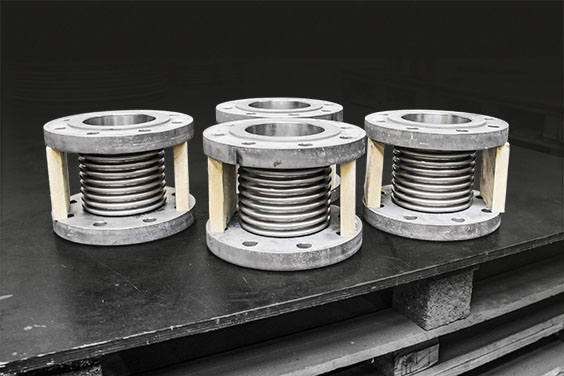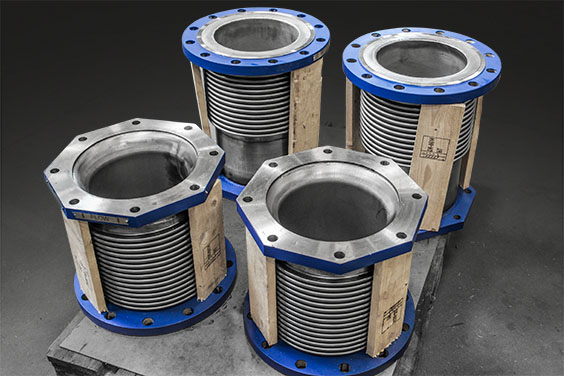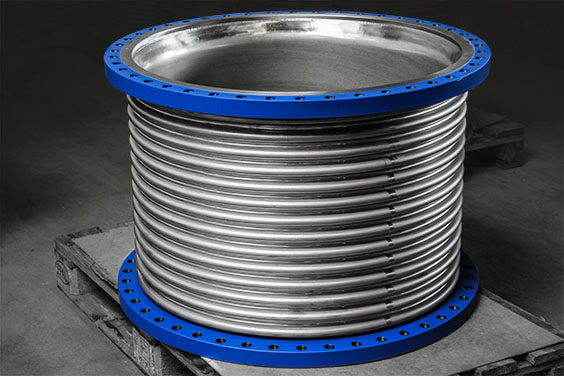 CUSTOMISED FOR AXIAL MOVEMENTS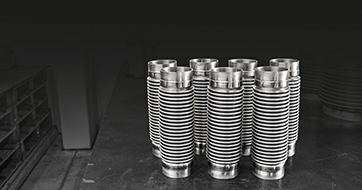 AXIAL Expansion Joints WITH TITANIUM BELLOWS
Compared to its alternatives Titanium offers a lightweight construction for aggressive environment. Therefore these Titanium Expansion Joints are weighing in at only 6 kg.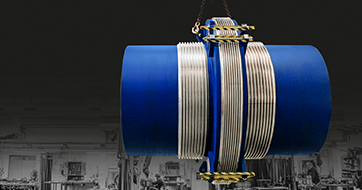 GIANT INLINE
PRESSURE BALANCED
This 4-meter long DN 2500 Inline Pressure Balanced Expansion Joint having a balancing bellow of an amazing DN 3800.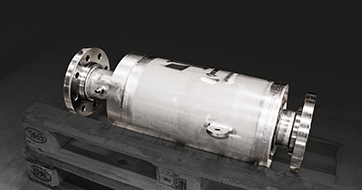 Expansion Joints Handles High Pressure Thrust Force
Highly engineered Expansion Joint handling both high pressure, high pressure thrust force as well as absorbing axial movement for an oil Platform in Norway.
Axial movement is considered as an elongation or compression of the pipe system in its longitudinal axis, meaning that in the process of absorbing the movements, the overall length of the expansion joint will either extend or compress.
Axial expansion joints which are designed to absorb large movements, can contain one, two or several bellows in one unit, and larger movements can also be achieved by pre-tensioning or by installing several expansion joints on the pipe section. Depending on the nominal diameter and length, axial expansion joints have the ability to absorb minor lateral and angular deflections and installation tolerances. However, we recommend the utilisation should be limited to axial expansion joints main function, otherwise its service life may be negatively impaired.
Where there is a need for absorption other than that of axial movements, we strongly recommend alternative options and Belman will be pleased to provide its professional advice.
Definitions
Axial movement is shown as AX and stated in mm. Compression and elongation are indicated as negative (-) and positive (+).
Example
Elongation +10 and compression -20 will be shown as: AX +10/-20 mm. Equal longitudinal movements are shown as: AX +/-20 mm (2δN).
ADVANTAGES & REQUIREMENTS
Axial Expansion Joints represents several advantages for the piping designers, thus they also set some requirements for the installation. These can be seen here along with more facts about Axial Expansion Joints:
What are the advantages of using
Axial Expansion Joints?
Simple solution for compensation of temperature fluctuations
No change in the flow direction
Compact and space saving solution
Relatively low cost
What are the requirements for using
Axial Expansion Joints?
Strong fix points and good guides are required
Large movements require utilisation of several axial expansion joints
Many fix points and guides are needed for long pipe sections
Higher costs for fix points and guides
HOW DOES THE
AXIAL EXPANSION JOINT
WORK?
This animation is showcasing how axial movement is absobed by
the Axial Expansion Joint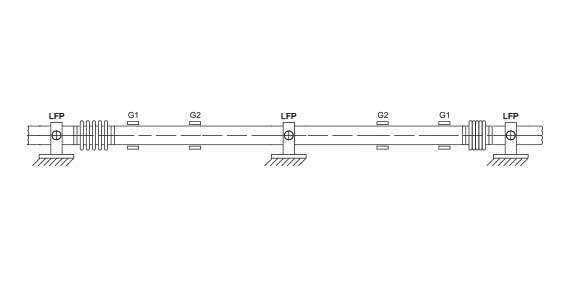 Straight piping section with axial expansion joints
This illustrates the importance in the use of the three fix points, as the use of two or more axial expansion joints in a piping section will create an undetermined arrangement.
The amount of movements imposed on each expansion joint is not controlled, as the pipe between the two bellows can move sideward freely in both directions depending on the friction of the pipe supports and the differences in stiffness between the bellows. It is always important to have one axial expansion joint between two fix points.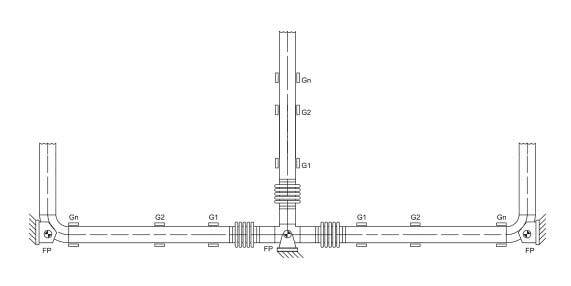 Axial pipe system expansion in a pipe system with branch connection
Typifies good practice in the use of expansion joints to absorb axial expansion in a pipe system with a branch connection. The fix point at the junction, which in this case is a tee, is designed to absorb the thrust from the expansion joint in the branch line. Note the proximity of each expansion joint to a fix point, the closeness of each first guide (G1), the spacing between the first guide (G1) and the second guide (G2) and the spacing of guides (Gn) along the remainder of each pipe section.
GET MORE

INSTALLATION EXAMPLES

To ease the work with Expansion Joints for everyone being involved with Expansion Joints
Belman here provides useful Engineering tools and further technical information.
Here you can download useful technical information and further materials related to Expansion Joints such as:
Guide & Catalgoue
Product brochures
Look Books showing design options
Data sheets
In Belman Academy we help you increase your knowledge on Expansion Joints and get tips and tools that will ease your work with Expansion Joints, such as:
Technical articles and videothek
How to guides
Technical tutorial videos
Trainings (video, live)
ENGINEERED EXPANSION JOINTS
EXPERTLY FINDING THE RIGHT SOLUTION

LATEST PROJECTS & REFERENCES
Belman expertly engineer the optimum flexible solution to absorb movements in the pipe system as well as ensuring smooth operation and solutions to any operational issues for the clients. By customising as well as optimising the flexible solution Belman supply Expansion Joint solutions providing a better TCO (total cost of ownership). See some latest projects and references here.
REASONS TO DO BUSINESS WITH US