DESIGN, ENGINEERING AND MANUFACTURE OF
Our experience and broad product range enable us to provide high quality solutions and services for the benefit of our customers. All Expansion Joints (also known as Bellows) are engineered specifically to suit the customers project and to solve the expansion problem. This is what we do.
To meet the expectations of high safety, engineering must be supported by reliable and verified calculations. We calculate therefore according to the latest design codes, recognised by international classification associations. The required solutions can be supplied with CE-marking in compliance with the Pressure Equipment Directive (2014/68/EC).
Design range and scope of supply within Expansion Joints
Diameter, installation length and design criteria can be changed upon customer's request and are available in:

DIMENSIONS:
DN 15 – 12.000

PRESSURE:
full vaccum up to 150 barG

TEMPERATURE:
-256°C to +1000°C

MATERIALS:
Austenitic steels, High alloys,
Duplex, Titanium, Hastelloy,
Incoloy, Inconel, Alloy 59

DESIGN CODES:
EN 13445, EN 13480, EN 14917
ASME VIII, div.I, ASME B31.3
ASME B31.1, EJMA, AD 2000
and others on request

TESTS:
Radiographic examination (X-ray), Helium leak testing, Pressure test,  Air test, Dye penetrant test,  Magnetic particle examination and many more.
WHY CHOOSE BELMAN
AS YOUR SUPPLIER
Since 1994 Belman has engineered, manufactured and supplied a wide range of metallic expansion joint solutions, ranging from the simple to the most complex designs. Belman has demonstrated its expertise, assisting customers' all over the world with expansion joints tailored for their needs, ensuring the smooth and safe operation of our customers' operations. Throughout the years Belman has built up an extensive List of references across industries and countries (including long term clients and multi supply. Belman has established a first class reputation as a provider of customized expansion joint solutions, piping engineering and on-site services. This reputation is founded on the knowledge, experience and craftsmanship we build into all designs and solutions we provide.
When you choose Belman you will get:
Cost efficient expansion joint solutions
Reliable and suitable piping expansion bellows for your needs (plant/project)
High product quality
Documentation
Short on-time delivery
Quick response to requests and questions
Manufactured in Denmark and the United Kingdom, produced from European raw materials
Competitive prices due to innovation and extensive knowhow
98% of clients think Belman has high product quality.*
95% of clients think Belman is good at tailoring Expansion Joint solution to their needs.*
95% of clients think Belman is flexible and helpful*
89% of clients think Belman has short delivery time*
97% of clients think Belman delivers on-time*
91% of clients think Belman responds quickly*
*Source: Belman customer satisfaction survey 2021
REMAKABLE FLEXIBLE SOLUTION 
WHAT IS
AN EXPANSION JOINT?
Expansion joints are also known as expansion bellows, flexible joints, pipeline bellows, compensators, piping expansion joints and many more terms. No matter which term is used, the product is the same. But the question perhaps remains "What is an expansion joint?" It is a flexible component designed to absorb the dimensional changes of steel pipe systems and ducts. The changes could be heat-induced expansion and contraction, vibrations caused by rotating machinery or pressure deformations and misalignment during installation or building settlements.
Compensators are recognized as critical components of a complete pipe system. They are widely used in industries where thermal expansion in pipe systems occurs and in order to prolong the service life of pipe systems and reduce the risk of their downtime for additional maintenance and repair.
REMAKABLE FLEXIBLE SOLUTION 
ADVANTAGES OF
USING EXPANSION bELLOWS?
Simple in design and function
Space reduction
Weight reduction
Cost reduction
Reduce piping systems engineering requirements and design complexity
Improved flexibility for piping layout
Reliable and proven in the field
Further, expansion joints are more effective than alternatives such as pipe bends and pipe loops due to their greater ability to conserve space, their economic efficiency and better performance in absorbing larger movements
It is important to state that choosing the right bellows manufacturers makes the difference. Meaning that it is critical to work with a competent and experienced manufacturer to ensure that you get the required advantages of an expansion joint(s) no matter how simple or complicated the operating data is. Operational safety and reliable performance are crucial, irrespective of whether you will replace an existing expansion joint, install an improved expansion bellow solution or if you plan to build a new plant/pipeline and introduce new expansion joints. At the end of the day, safe and reliable operation is dependent on the performance of all the pipe system components. Belman is best in class within engineering and expansion joint guidance and in meeting the exact needs of the client.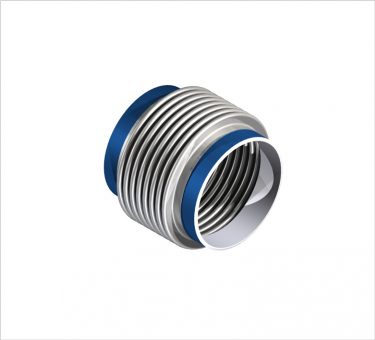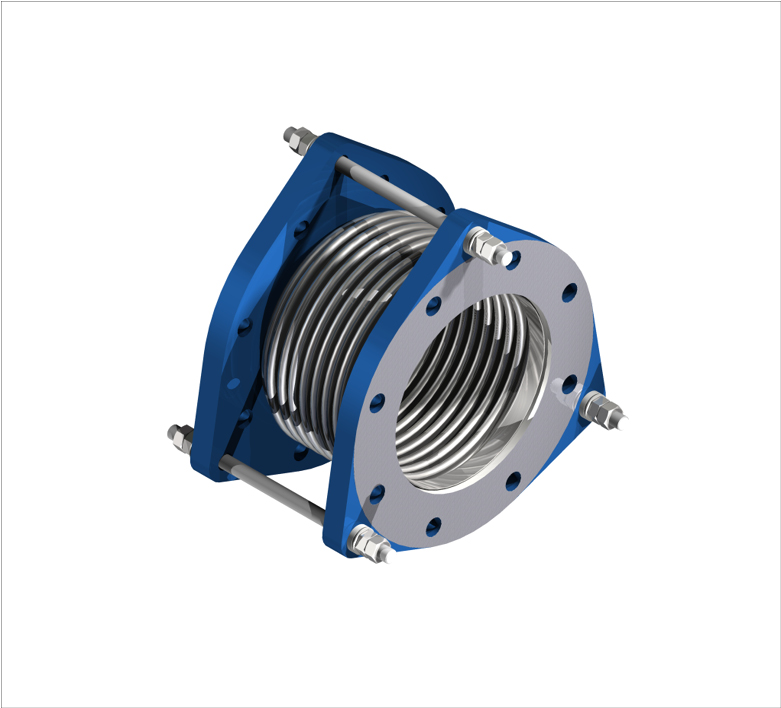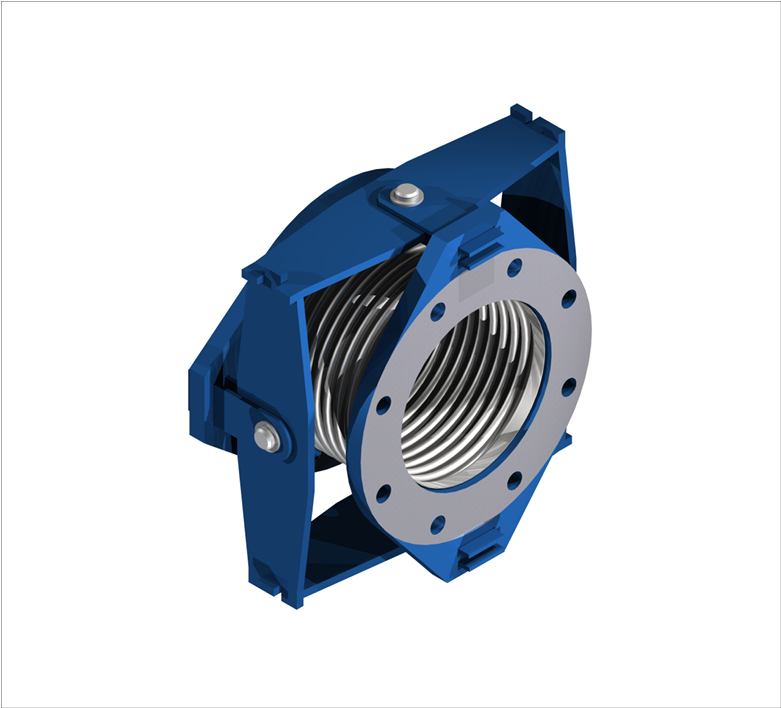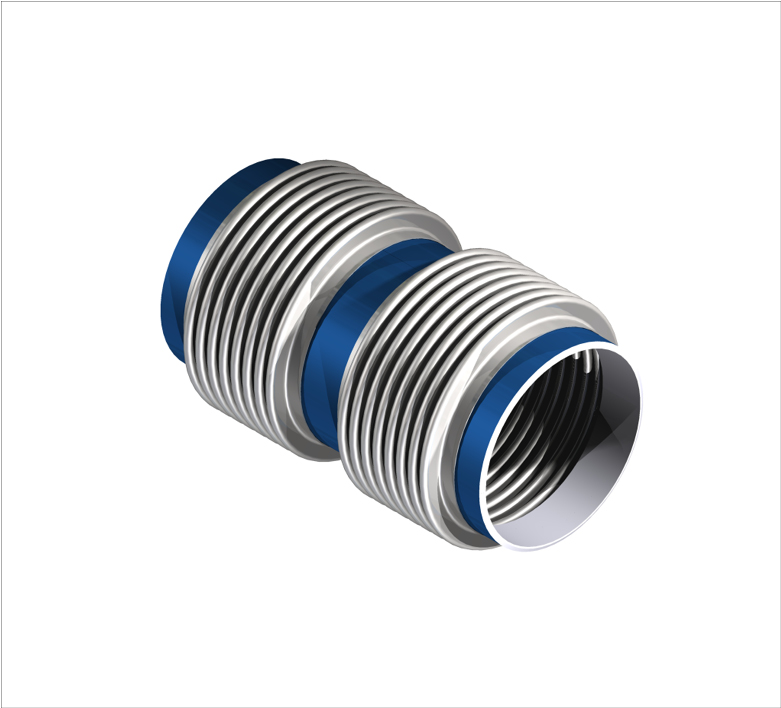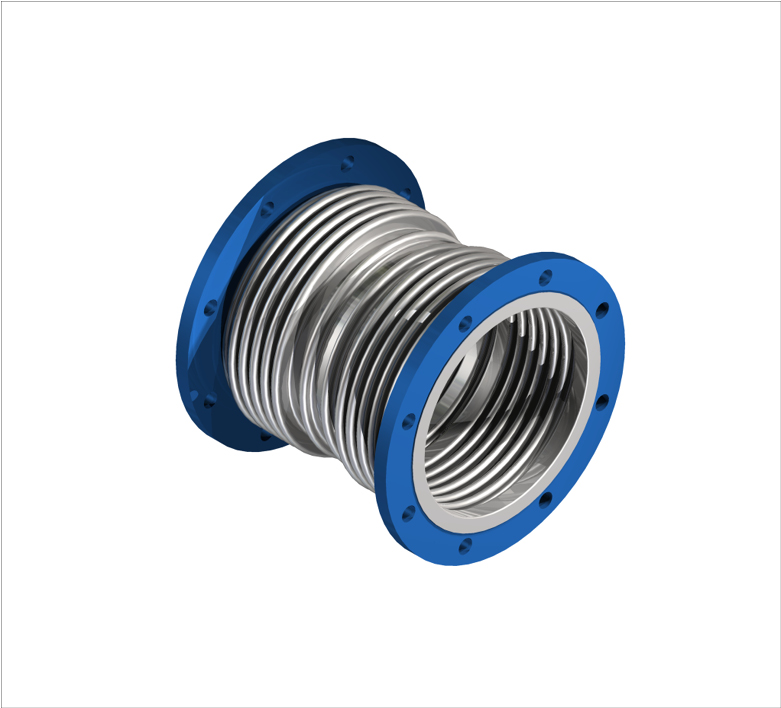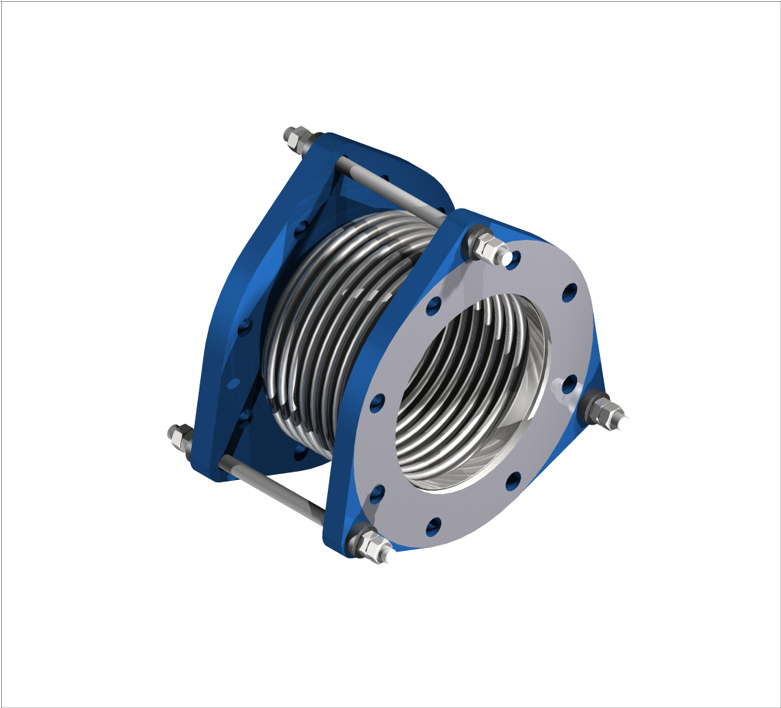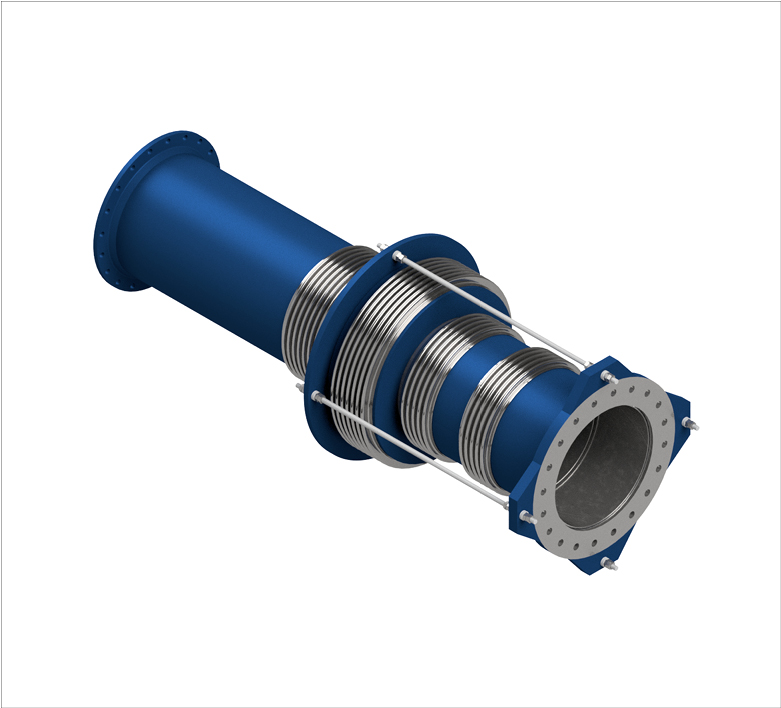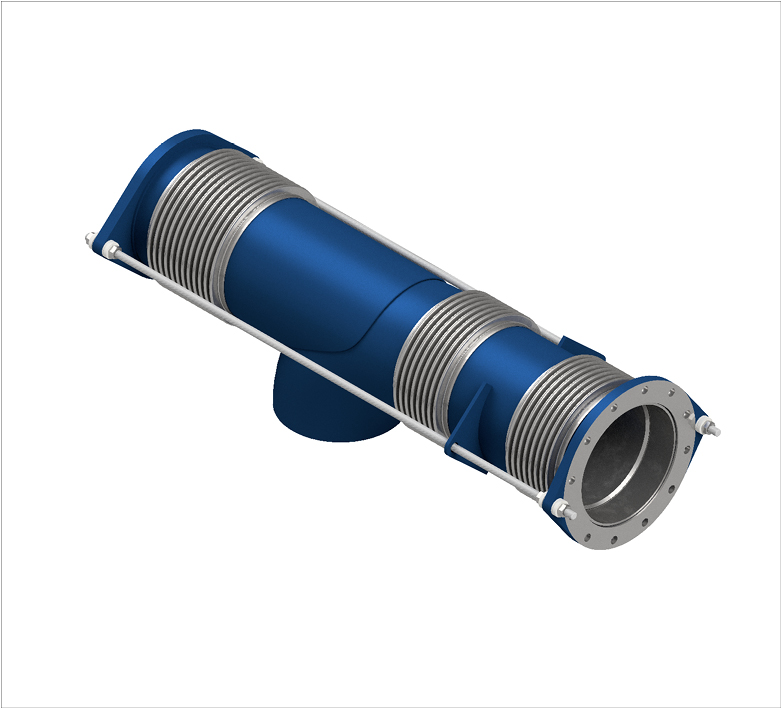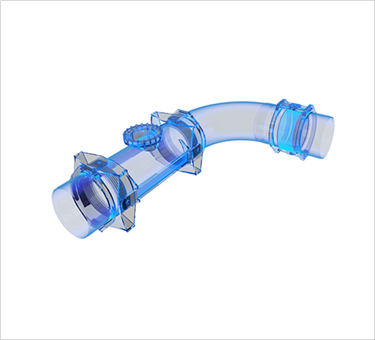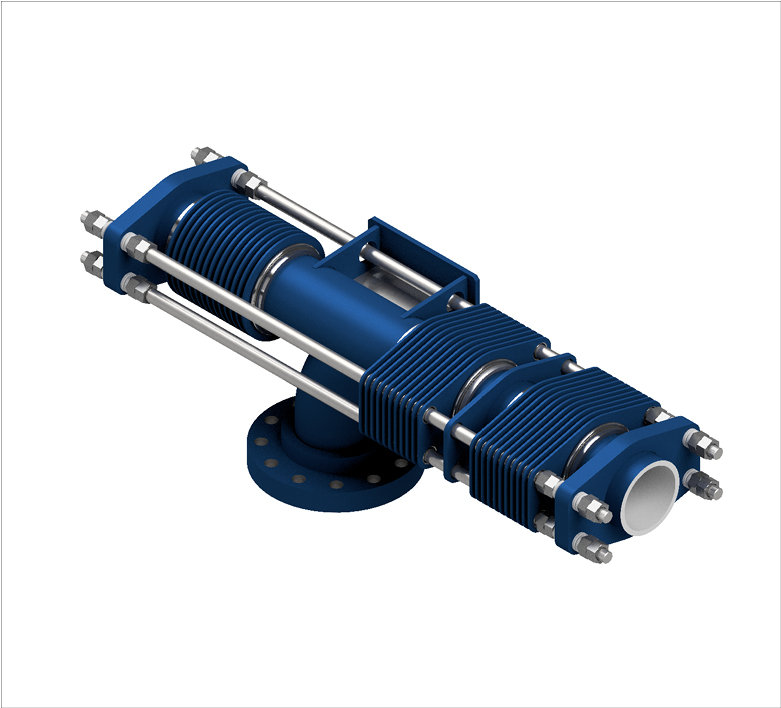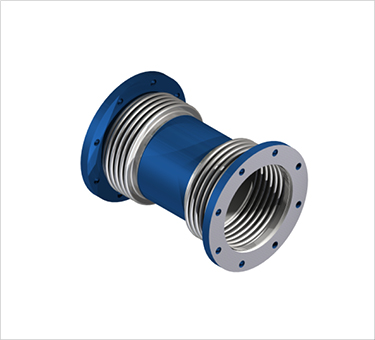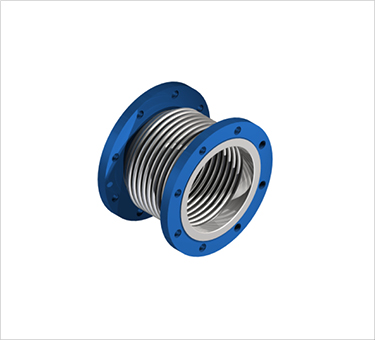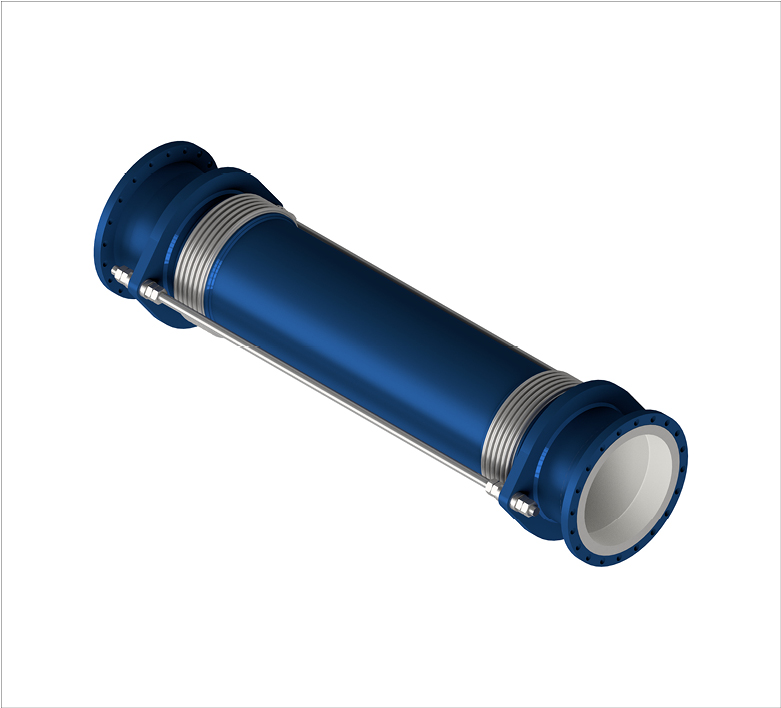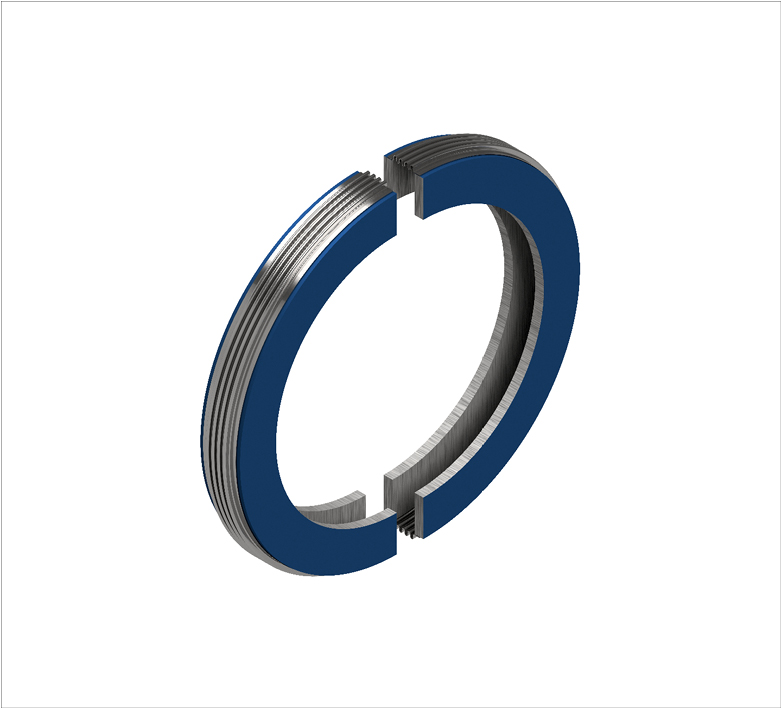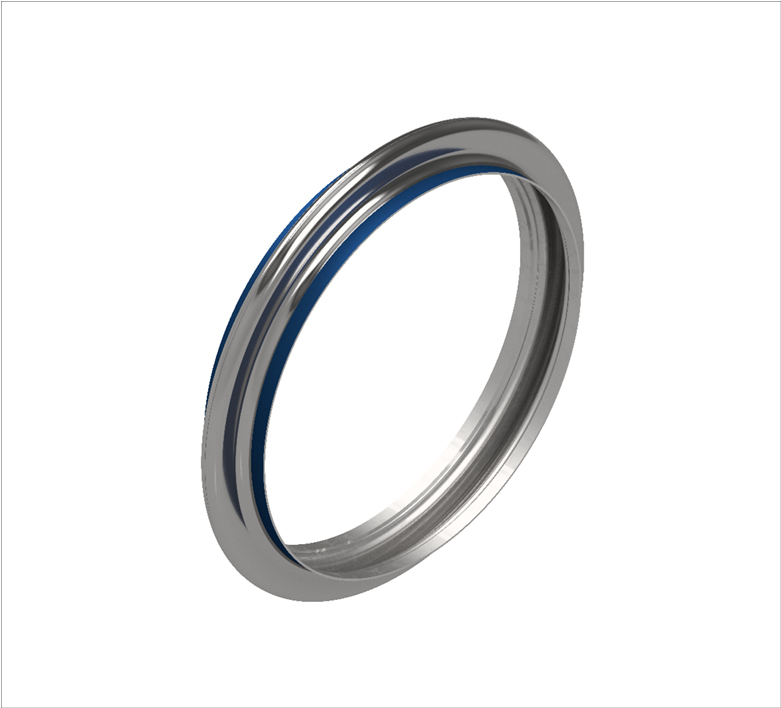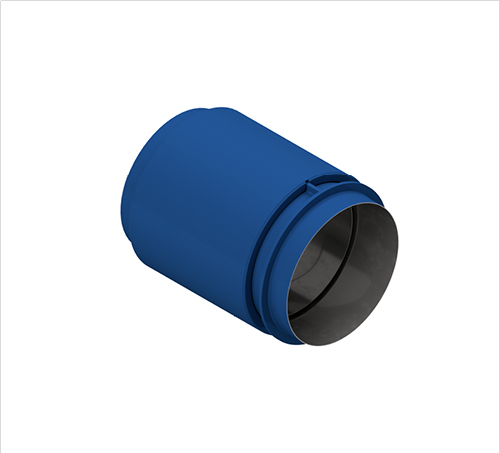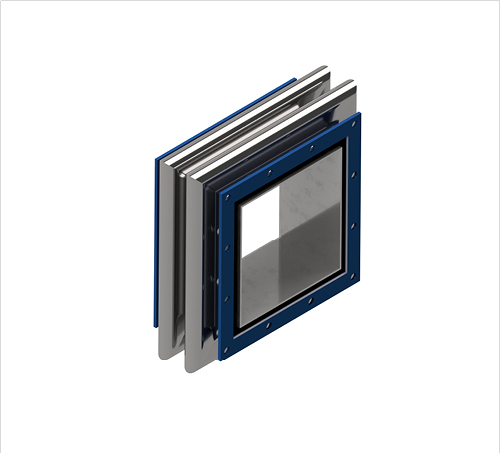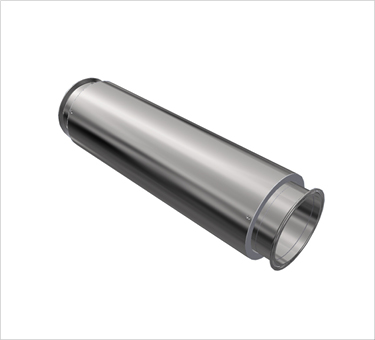 WIDE RANGE OF FLEXIBLE SOLUTIONS
SERVICES &
OTHER PRODUCTS
CUSTOMISED
EXPANSION JOINTS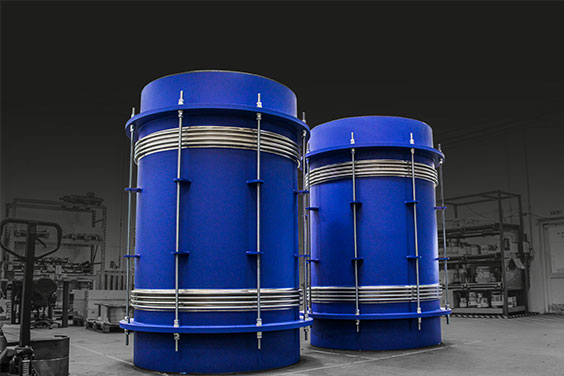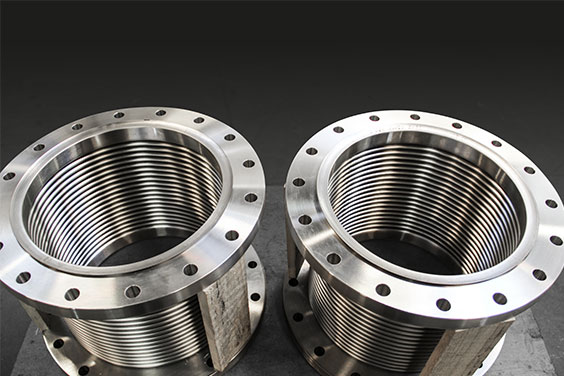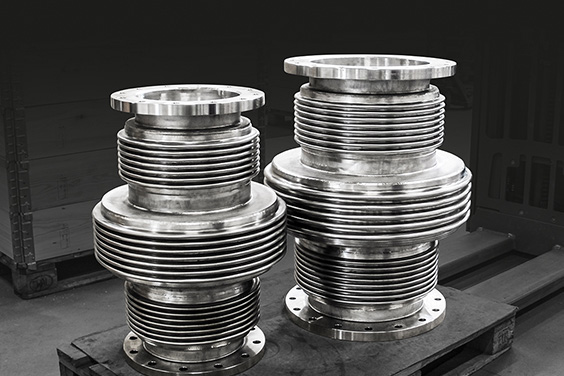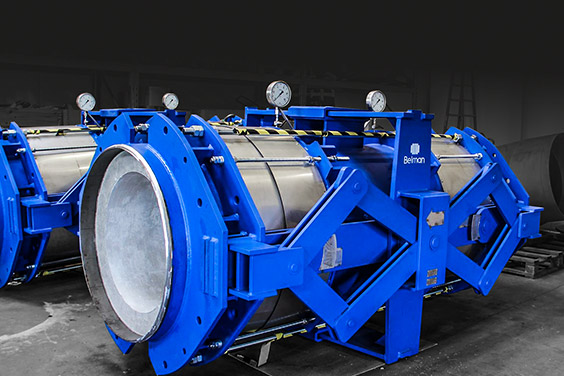 HOW WE CUSTOMISE
PIPING FLEXIBLE JOINTS
Finding the right Expansion Joint for your needs
In most situations the expansion joint has to be customized. Belman routinely and expertly adapts expansion joints for our clients – in fact approximately 90% of all items sold are customized. Our latest projects show some selected tailored designs for specific applications.
How Belman customises and engineers your solution
In order to meet all expectations, engineering must be supported by comprehensive and verified calculations and drawings. This is then further supported by additional analysis via state-of-the-art design and engineering tools, software and additional techniques. Belman designs and calculates all our high-tech expansion joints through the use of our in-house developed software BelMaker®, where all the latest design codes are implemented. Further, we use additional software such as: ANSYS, OHMTEC, Autodesk Inventor, Rohr2 etc. Finally, Belman designs according to all design codes such as: EJMA, ASME, EN or client specific design codes. All of this combined with our +20 years' experience ensures you receive the best expansion joint solution based on Belman design and engineering as well as quality assurance
Most clients come to Belman with requests for:
Replacement (An identical expansion joint to an existing solution)
New solution (According to your specifications and requests)
Improvement of an existing solution or issue (Trouble shooting)
Refurbishment of Expansion Joints (to save costs and be environmetally friendly)
No matter what the requirement and the solution, the ground principles in the design procedure are the same. Of course, the client requirements, number of drawings, calculations and analysis varies.
Belman's expertise in expansion joints and optimization of their design enables us to provide cost-efficient designs. For that reason, selecting a customized solution is not necessarily more expensive – as it will be perfectly adapted for the exact purpose, parameters and environment in the pipe system and the plant of installation. Even when Belman troubleshoots and builds more features into the expansion joint, it may entail some costs – but in the long term these costs will be more than recovered through the improvements in performance.
Is it an expensive solution?
How to find out the expansion joint price can be done in several ways: Firstly, by making use of the Belman software BelMaker Light® or by sending specifications, projects description and/or drawings of the new/existing expansion joint/-s to Belman for the basis of quotation. If troubleshooting is required Belman can inspect the existing solution and/or your facilities to discuss the issues and to propose a potential solution. Onsite visits to determine costs are free of charge.
Manufacturing
In many cases the origin of materials and the location of production of the Expansion Joints are important to clients. Belman's state-of-the-art production facilities are located in Europe (with production facilities in Denmark and United Kingdom). Belman Expansion Bellows are made in Europe and made with care. More information about our stocks, suppliers, welding and manufacturing can be found under the section manufacturing.
Shipment
Delivery can be organized by Belman to any site and/or client warehouse anywhere in the world. Being a global supplier Belman has a vast experience in finding the best and most cost-efficient method of delivery for your project. No matter if it is special transport, oversized transport, escorted transport, road freight, sea freight and/or air freight Belman can organize the transport on your behalf. Belman has formed close relationships with our transport partners. If the client wishes to arrange the transport themselves, Belman will gladly provide all information on the expansion joint and the required packaging.
Protected packaging
Expansion joints are always packed with suitable protection for the selected form of transport. For sea transport we can provide upon request sea worthy packing (ISPM 15). Belman is ready to comply with the specific packaging requirements of its clients.
QUALITY Assurance
& TESTING
Belman is known for high quality products and therefore our quality control is a fundamental part of our business. All processes during production designed by the Belman quality engineers, is strictly follow and implement according our procedures and instructions and carefully inspected by Belman quality inspectors. All checks and inspections are done according to the strict prevailing Belman quality control procedures which is part of the Belman ISO 9001 quality management system approved by DNV.
ITP & Test
Inspection test Plan generated by the quality management system makes sure that each step of manufacturing has the appropriate inspection points such as Hold and Witness points.
Based on manufacturing code, project specification, application, media, and eventual ship classification rules Belman performs a large variety of quality tests including destructive, non-destructive testing and proof testing. All tests can be witnessed by the 3rd part based on the customer and classification requirements.
Destructive test: such as life cycle test and burst test to validate the design, i.e., vessels and offshore platforms
Non-destructive test such as Visual testing, dye penetrant test, Radiography examination, Magnetic testing, ultrasonic testing, hardness testing and PMI for all applications
Proof tests: leak test with air, leak test with helium and former gas, hydrostatic pressure test for all application
DELIVERY TIME FOR EXPANSION JOINTS
The delivery time for Belman expansion joints is among the shortest on the market. Belman has an excellent reputation for short on-time delivery. In a recent customer satisfaction survey 98% of our clients confirmed that Belman met the stated delivery time. On-time delivery is especially important for you/your client to optimize the maintenance work/replacement work – you can rely on us to perform, without the risk of delayed delivery and unexpected costs.

EKSTRA SHORT GUARANTEED DELIVERY TIME
Urgent delivery time?
Belman is known for being highly flexible on delivery times and in addition to standard on time deliveries our clients further benefit from our fast track services. With this, clients of Belman can get help – no matter if it is an unexpected shutdown, leaking bellow, part failures, an unexpected speed up etc. which demands an urgent delivery of the expansion joint. Many clients have already benefitted from the Belman fast track service; we can make the same service available to you.
Selected Fast Track Service references:
CORRECT EXPANSION JOINT INSTALLATION
Correct installation is crucial to avoid unsafe and unreliable operation. When installed incorrectly the service life and pressure capacity of an Expansion Joint can be reduced and in worst case it will lead to a damaged expansion joint and/or pipe system, resulting in an unexpected shutdown. The installation guide from Belman describes how to ensure correct installation.
Important issues to consider include:
That the expansion joint is designed according to the correct operational data.
That the expansion joints are placed with the inner sleeve in the correct direction in relation to the flow
That expansion joints with tie rods, gimbals or hinges are placed in the correct angle in the pipe system, so they are not prevented by the pipeline from absorbing movements.
It is important to consider the following during the installation and handling of expansion joints:
Correct storage and transport
Correct removal of transport fittings / pretensioning fittings
Correct expansion installation in all stages
Understanding of flow direction
Correct placement of anchors/guides
Correct preparation and completion of pressure test
Correct maintenance
You can find more information about these important points in the Belman Expansion joint installation guide, which is available in multiple languages.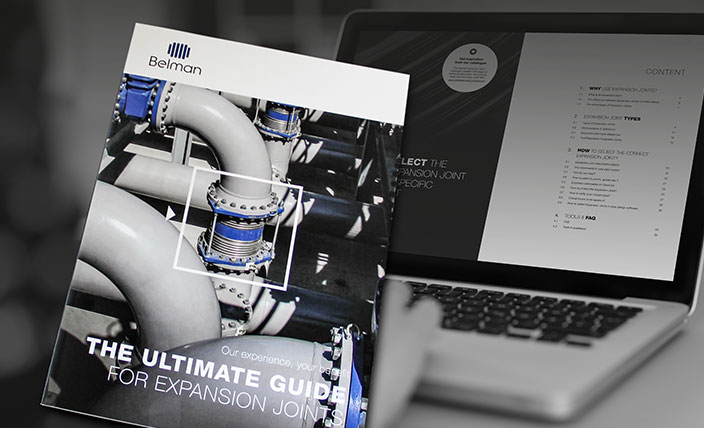 THE ULTIMATE GUIDE
FOR EXPANSION JOINTS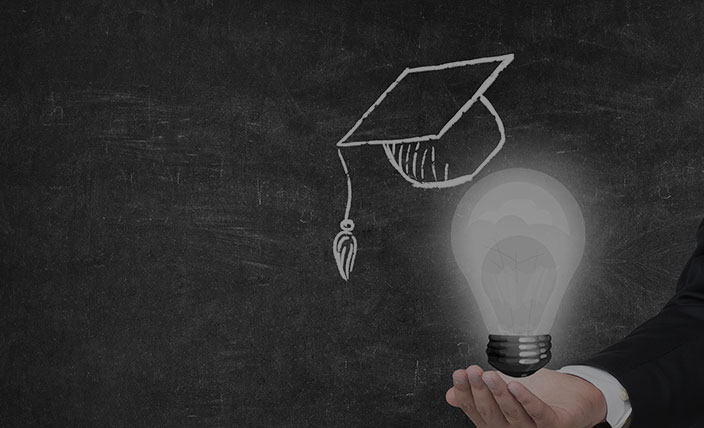 EXPANSION JOINT
TRAININGS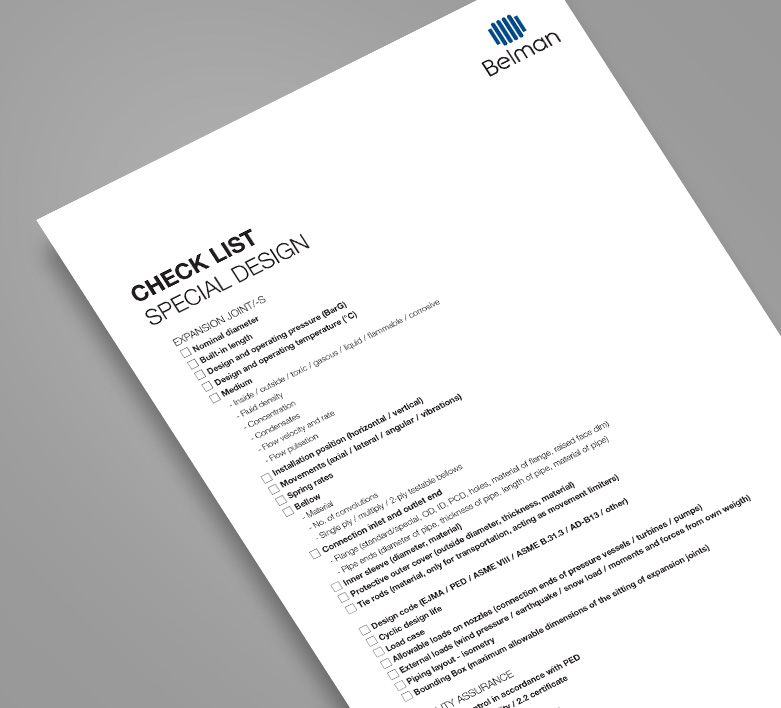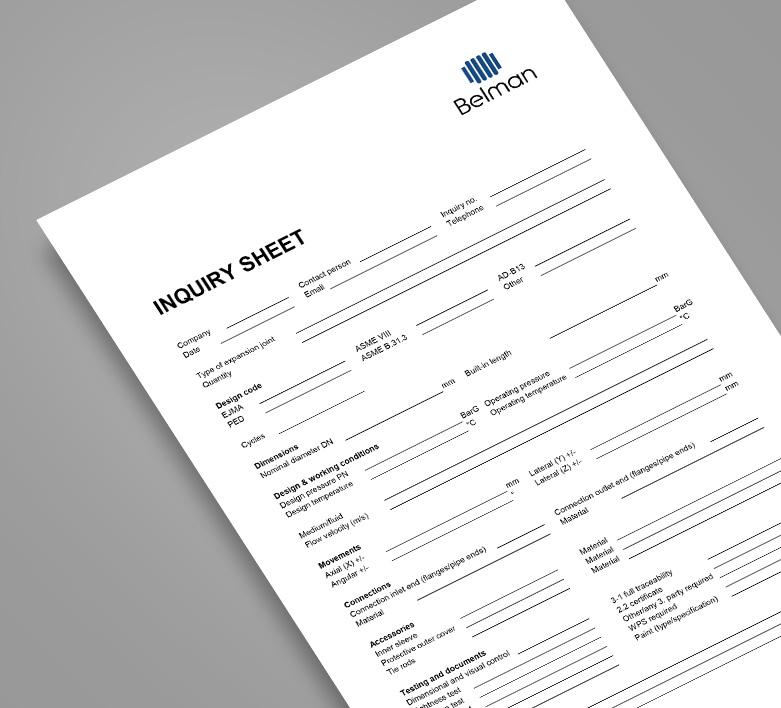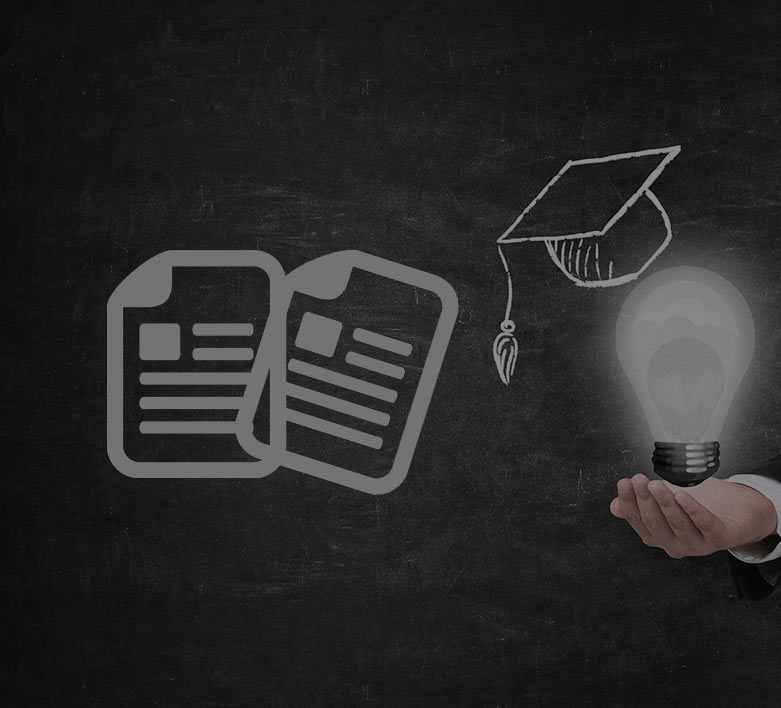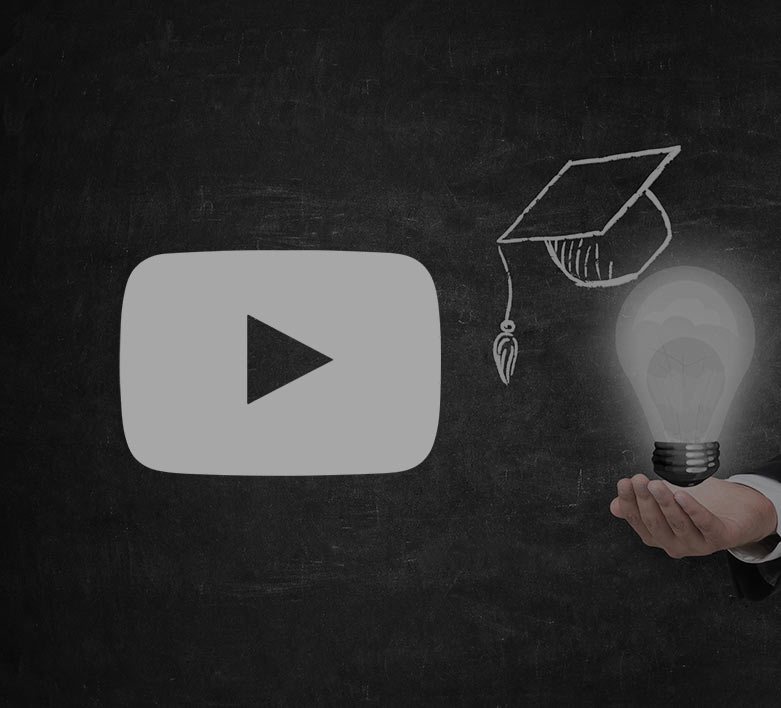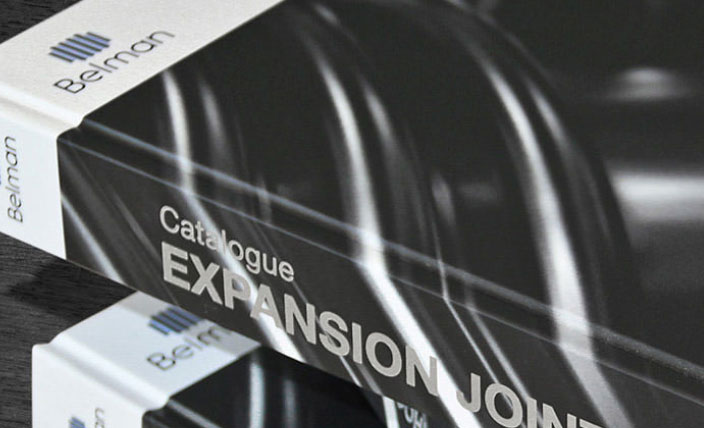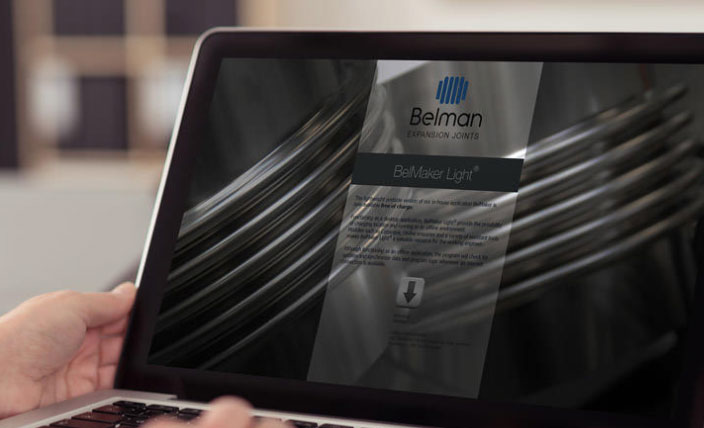 PRODUCT FINDER
belmaker light®