UNIVERSAL EXPANSION JOINTS
Universal Expansion Joints consist of two multi-convoluted bellows connected with an intermediate pipe into one assembly.
Belman has developed a series of Universal Expansion Joints that allows all three movements: axial, lateral and angular simultaneously.
The Universal Expansion Joints can be equipped with all kinds of end connections, like welding ends, welded or loose flanges, and an endless number of accessories such as inner sleeves, cover and movement controls.
Design range within Universal Expansion Joints
Belman Universal Expansion Joints can be designed within the range:


PRESSURE:
Up to 150 Barg (2176 psi)

TEMPERATURE:
-256°C to +1000°C

MATERIALS:
Austenitic stainless steels, High alloys, Duplex, Titanium, Hastelloy,
Incoloy, Inconel, Alloy 59

DESIGN CODES:
EN 13445, EN 13480, EN 14917
ASME VIII, div.I, ASME B31.3
ASME B31.1, EJMA
and others on request

TESTS:
Radiographic examination (X-ray), Helium leak testing, Pressure test, Air test, Dye penetrant test, Magnetic particle examination and many more
UNIVERSAL EXPANSION JOINT
UNIVERSAL EXPANSION JOINTS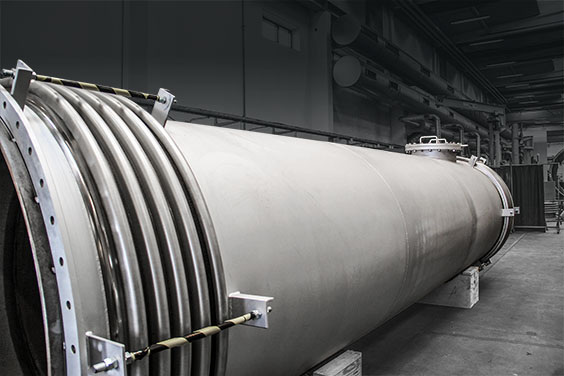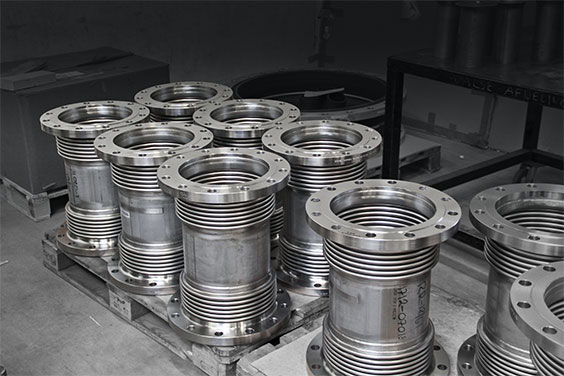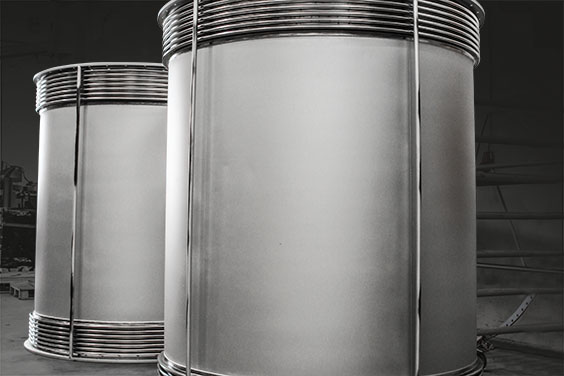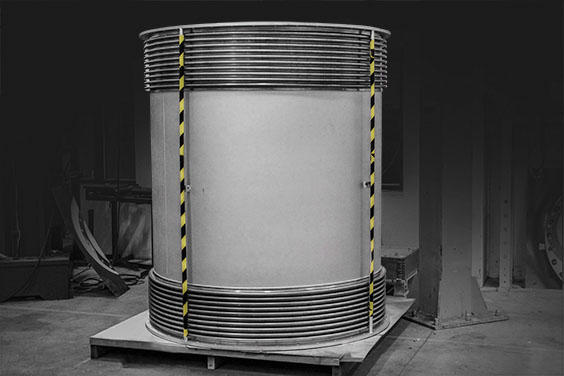 CUSTOMISED UNIVERSAL EXPANSION JOINTS
Not only do these Expansion Joint have a large diameter, and abosrb both axial and lateral movements in combination. These Expansion joints are also 8 meter long and made according to demanding requirements, as they are installed in a Nuclear Power plant.
UNIVERSAL EXPANSION JOINTS
Universal Expansion Joints can absorb movements in all directions, and are used in uncritical, low pressure installations like ventilation ducts, exhaust gas systems, fresh air ventilation and process equipment.
ADVANTAGES & REQUIREMENTS
Universal Expansion Joints represents several advantages for the piping designers, thus they also set some requirements for the installation. These can be seen here along with more facts about Universal Expansion Joints:
What are the advantages of using
Universal Expansion Joints?
Absorb movements in all directions
Absorption of large axial movements and lateral movements in one expansion joint (Universal expansion joints)
Can be modified to suit existing installation gap
What are the requirements for using
Universal Expansion Joints?
Only for low pressure applications
Fix points and good guides are required
Many fix points and guides are needed for long pipe sections
The Universal Expansion Joints allow a large amount of lateral offset in multiple planes, and the lateral deflection can be increased or decreased by changing the length of the intermediate pipe. Universal Expansion Joints do not use tie rods, and are therefore suitable only for low pressure applications. Fix points and guides must be sufficiently designed to withstand the full pressure thrust forces and other loads. Universal Expansion Joints is not to be confused with Lateral Expansion Joints.
Definitions
Movement is shown as AX (axial), LA (lateral), AN (angular) mm + deg. The parallel displacement is indicated as negative (-) and positive (+) respectively. It is very important to notice if the movements is stated in combination (universal), or as an alternatively combination of the different directions.
Example
The elongation of the Bellow is +10 and the compression of the bellow is -20. This will be shown as: +10/-20 mm. Equal parallel displacement is shown as: +/-20 mm.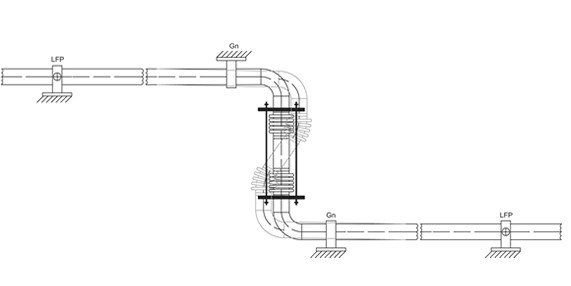 Universal expansion joint to absorb lateral movement
Shows a tied universal expansion joint used to absorb lateral deflection in a single plane "Z" bend. Where dimensionally feasible, the expansion joint should be designed to fill the entire offset leg so that its expansion is absorbed within the tie rods as axial movement.
The tie rod should be extended to the elbow centre line when practical. The thermal movement of the horizontal lines is absorbed as lateral deflection by the expansion joint.
Only directional guiding is required since the compressive loading on the pipe consists only of the force necessary to deflect the expansion joint. Any thermal expansion of the offset leg external to the tie rods, such as that part of the elbows at either end, must be absorbed by bending of the horizontal pipe legs.
Provisions should be made in the design of the guides to allow for both this deflection and the reduced length of the expansion joint in its deflected position.
Universal expansion joint in "Z" bend
Shows a typical application of a tied universal expansion joint in a three plane "Z" bend.
Since the universal expansion joint can absorb lateral deflection in any direction, the two horizontal piping legs may lie at any angle in the horizontal plane.
GET MORE

INSTALLATION EXAMPLES

UNIVERSAL EXPANSION JOINTS
To ease the work with Expansion Joints for everyone being involved with Expansion Joints
Belman provides here useful Engineering tools and further technical information.
Here you can download useful technical information and further materials related to Expansion Joints such as:
Guide & Catalgoue
Product brochures
Look Books showing design options
Data sheets
In Belman Academy we help you increase your knowledge on Expansion Joints and get tips and tools that will ease your work with Expansion Joints, such as:
Technical articles and videothek
How to guides
Technical tutorial videos
Trainings (video, live)
ENGINEERED EXPANSION JOINTS
EXPERTLY FINDING THE RIGHT SOLUTION

LATEST PROJECTS & REFERENCES
Belman expertly engineer the optimum flexible solution to absorb movements in the pipe system as well as ensuring smooth operation and solutions to any operational issues for the clients. By customising as well as optimising the flexible solution Belman supply Expansion Joint solutions providing a better TCO (total cost of ownership). See some latest projects and references here.
REASONS TO DO BUSINESS WITH US