Through our intensive cooperation with the leading manufacturers of Metallic Flexible Hoses Belman can deliver effective solutions across a wide range of applications.
Metallic Flexible Hoses are very flexible, they can absorb large movements and can be supplied with customised lengths to suit the installation. This gives great design freedom, enabling their installation in the most limited of spaces, where no other appropriate flexible solution could be used. Metallic Flexible Hoses are frequently deployed in situations where it is not operationally or economically viable to use Expansion Joints for the absorption of movement. Metallic Flexible Hoses are fitted to permit movements created by thermal changes in the system or mechanical influences such as vibrations from pumps or compressors installed with flexible mounts.
Metallic Flexible Hoses are manufactured as a convoluted tube and are usually fitted with a wire over braid. The convoluted core is produced from stainless steel or nickel alloy sheet with annular or spiral convolutions. For some applications the core can be produced as a multi-ply arrangement. The braid acts to support the core against pressure and also provides a restraint to prevent the expansion of the length of the core under positive internal pressure. For use in higher pressures environments multiple layers of braid are used to increase the pressure resistance of the Metallic Flexible Hoses assembly.
Design range within Metallic Flexible Hoses
Belman Metallic Flexible Hoses can be designed within the range:

SiZES:
6 mm (1/4″) – 300 mm (12″)
Other sizes on request.

PRESSURE:
Up to 200 Barg / 2900 psi
Depending on temperature and design.

TEMPERATURE:
From -200°C to +650°C

MATERIALS:
Hose: AISI 321, AISI 316, AISI 316L
Braid: AISI 304, AISI 316
Connection ends: As per client request.

TESTS:
Visual test, pressure test
or as per
client specifications

CERTIFICATES:
Bureau Veritas, Lloyd's Register,
DNV, RINA,
and more on request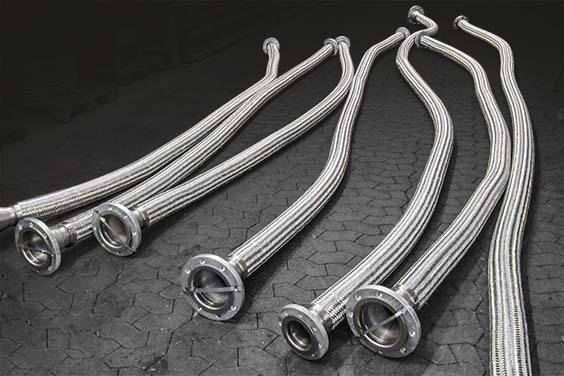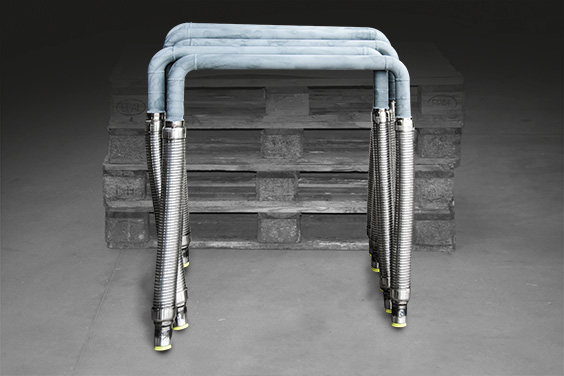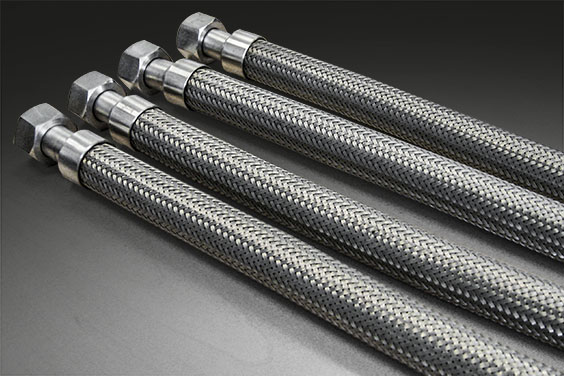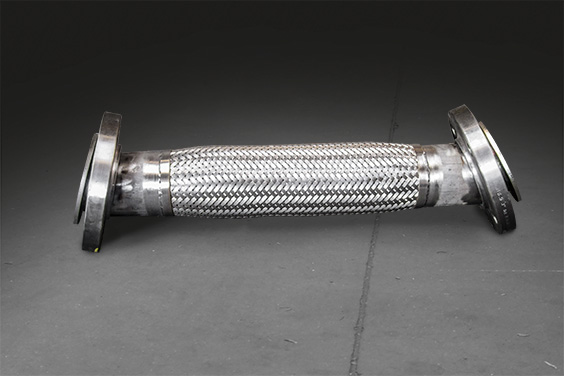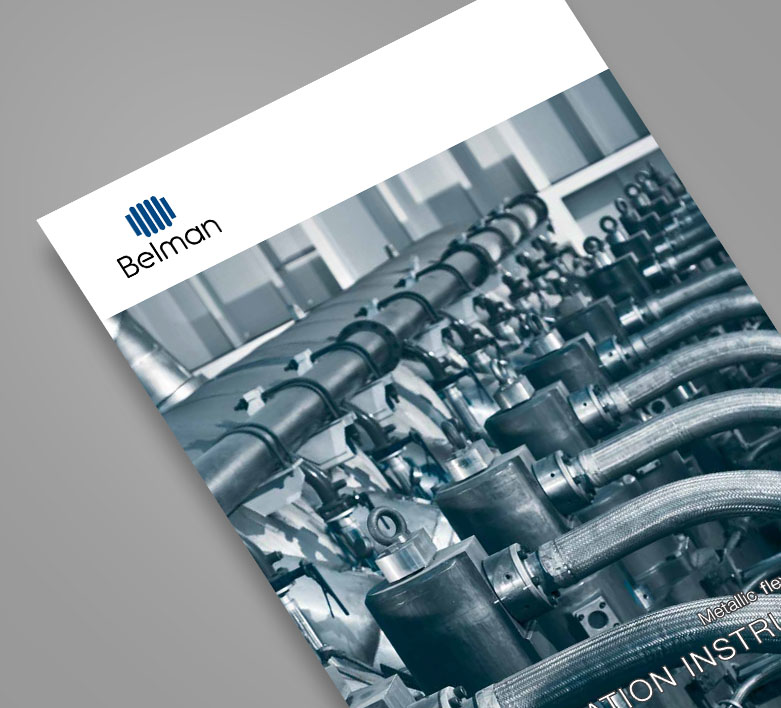 GET THE
INSTALLATION

INSTRUCTION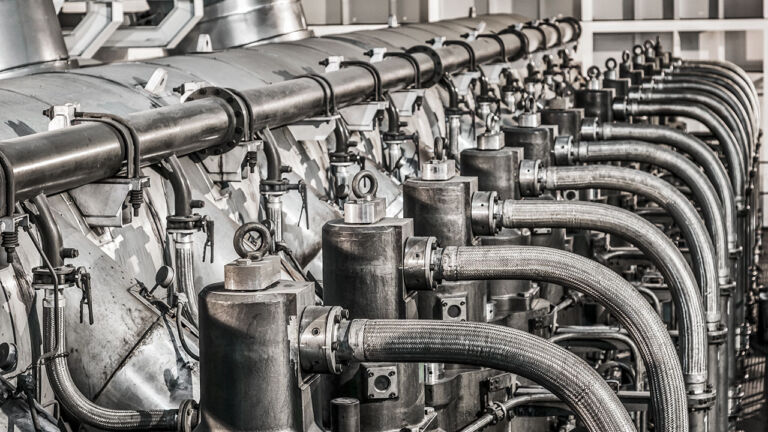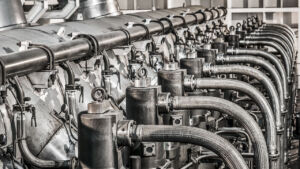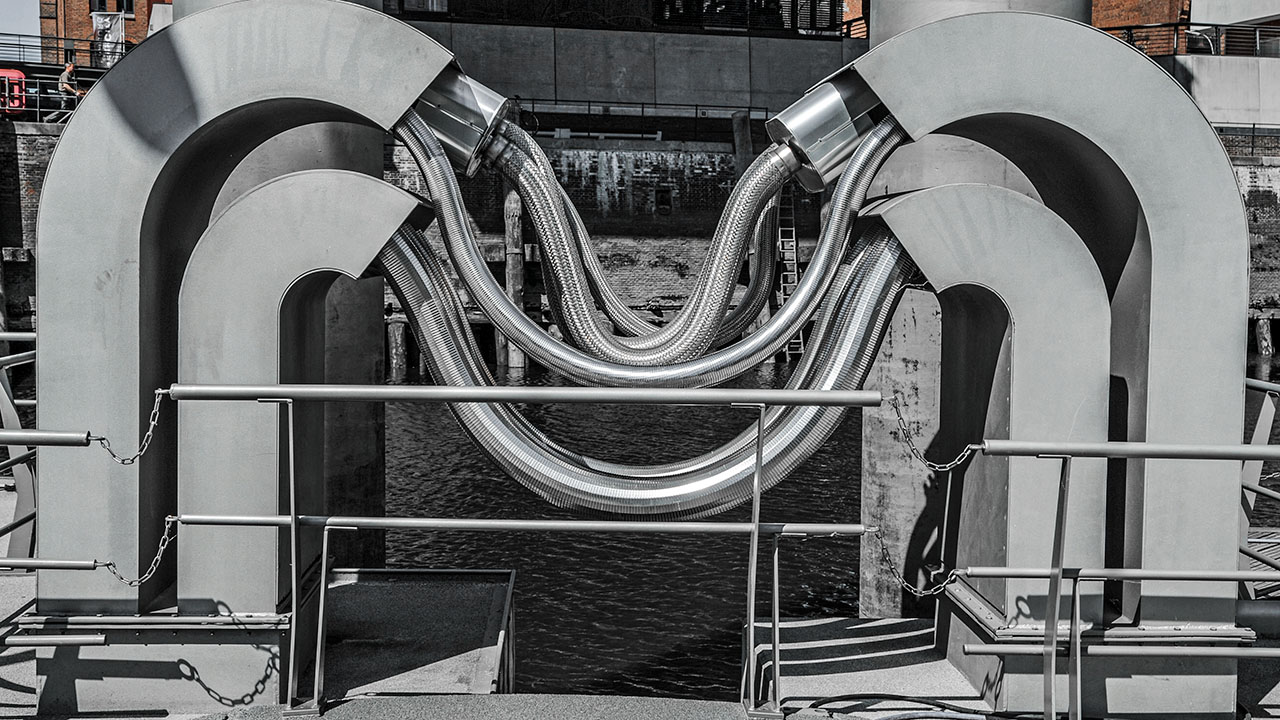 Because of their characteristics and multiple construction options, Metallic Flexible Hoses are well-suited for use in a wide range of applications in many industries. They are found in the chemical and petrochemical sector, the nuclear and general power industries, pulp and paper processing, steel plants, food industry, breweries and shipping. Moreover, Metallic Flexible Hoses are further used in exhaust systems, sprinkler systems, as bunker hoses for heavy fuel oil, on steam distribution systems, boilers and in heating and ventilation systems.
The illustrations show how movements can be absorbed in the Metallic Flexible Hoses. Please note that it is imperative that during the movement of the Metallic Flexible Hose it is not subjected to torsion. If any additional clarification of this point is required, do not hesitate to contact us for advice.
Vibrations
Metallic Flexible Hoses are often used to minimize the effects of vibration from rotating equipment, where the amplitude is relatively high double-braided constructions and special arrangements may be required. Please contact us to discuss your specific requirements.

Metallic Flexible Hoses can be supplied with an extensive range of fittings, typically fixed or swivel flanges, threaded ends (fixed or swivel), stand-pipe or welding ends to suit customer preferences. The fittings are made from carbon or stainless steel with brass or copper materials also available upon request.

High strength, light weight and high flexibility
Suitable for use across a wide range of temperatures
Absorb movements caused by thermal fluctuations, vibrations and noise from rotating equipment such as pumps, compressors and engines
Can be used to correct misalignment in the system installation, providing this is agreed in the basic specifications
Fire and corrosion resistant, unaffected by moisture and abrasion
Can absorb large movements and provide an optimum solution under both extreme pressure and temperature
Belman is known for high quality products and therefore our quality control is a fundamental part of our business. All processes during production designed by the Belman quality engineers, is strictly follow and implement according our procedures and instructions and carefully inspected by Belman quality inspectors. All checks and inspections are done according to the strict prevailing Belman quality control procedures which is part of the Belman ISO 9001 quality management system approved by DNV.
ITP & Test
Inspection test Plan generated by the quality management system makes sure that each step of manufacturing has the appropriate inspection points such as Hold and Witness points.
Based on manufacturing code, project specification, application, media, and eventual ship classification rules Belman performs a large variety of quality tests including destructive, non-destructive testing and proof testing. All tests can be witnessed by the 3rd part based on the customer and classification requirements.
Destructive test: such as life cycle test and burst test to validate the design, i.e., vessels and offshore platforms
Non-destructive test such as Visual testing, dye penetrant test, Radiography examination, Magnetic testing, ultrasonic testing, hardness testing and PMI for all applications
Proof tests: leak test with air, leak test with helium and former gas, hydrostatic pressure test for all application
EXPERIENCED & APPROVED SUPPLIER
E.ON • Kala Naft • Ceylon Petroleum Storage Terminals • CERN • Mruco Petroleum • CABOT • Johnson Control • Forskningscenter RISØ • Allen Diesels • OMV Exploration •
VKG Oil • EVG Group • Chevron • Maersk Line • Hellenic Minerals Mining • ALFA LAVAL • Fjell Technology Group • Arizona Chemicals • Alcoa
WE HAVE ENGINEERED

FLEXIBLE SOLUTIONS SINCE 1994

This enable us to find you the optimum solution to your piping system.
REASONS TO DO BUSINESS WITH US