Belman has developed a series of Vibration Absorbers, which are designed for versatile usage in any system where pump vibrations occur. The standard range is made from multi-ply bellows with several very thin layers of stainless steel. This delivers maximum performance regarding: pressure and temperature bearing capacity, noise and vibration absorption and overall cyclic service life.
They have a standard overall length of 130 mm for the easy replacement of any Rubber Expansion Joint. The range of Vibration Absorbers can resolve any problems related to mechanical vibration and have a higher pressure and temperature capacity than rubber bellows. Unlike Rubber Expansion Joints, stainless steel bellows do not suffer from atmospheric damage when used in an outdoor installation.
Design range within Vibration Absorbers
Belman Vibration Absorbers can be designed within Belmans design range:


PRESSURE:
Up to 150 Barg (2176 psi)

TEMPERATURE:
-256°C to +1000°C

MATERIALS:
Austenitic stainless steels, High alloys, Duplex, Titanium, Hastelloy,
Incoloy, Inconel, Alloy 59

DESIGN CODES:
EN 13445, EN 13480, EN 14917
ASME VIII, div.I, ASME B31.3
ASME B31.1, EJMA
and others on request

TESTS:
Radiographic examination (X-ray), Helium leak testing, Pressure test, Air test, Dye penetrant test, Magnetic particle examination and many more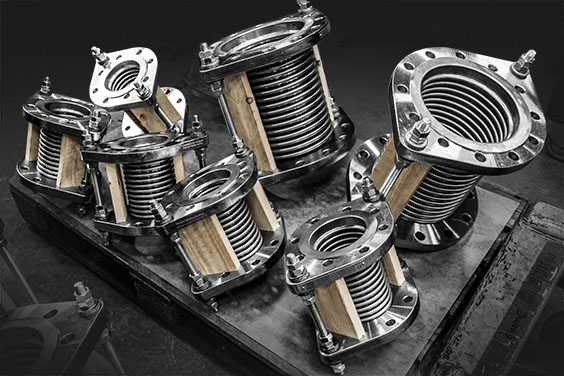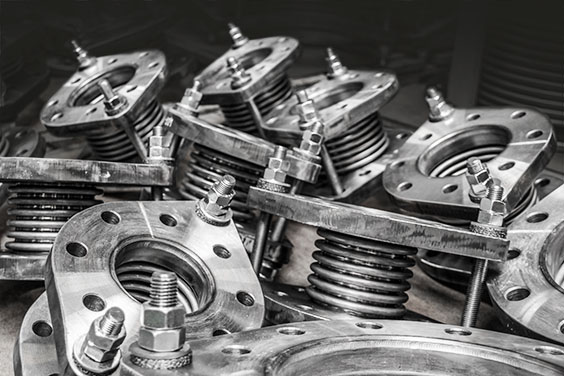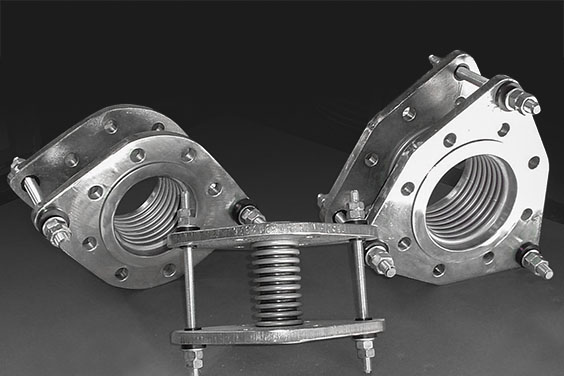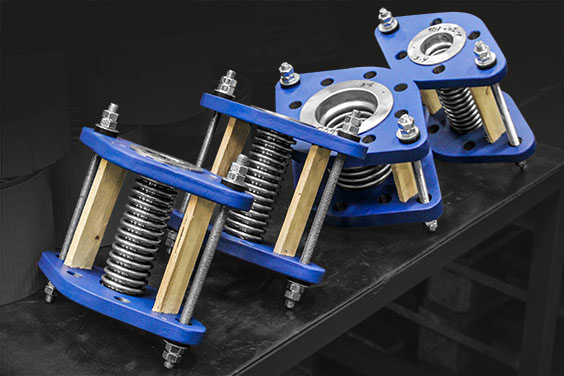 In pipe systems and installations where vibrations and stresses occur
Pumps, compressors, engines, burners etc.
House installations, industrial installations etc.
Heating, climate, ventilation and heat recovery installations
Gas, water and sewage treatment plants
The Vibration Absorbers feature rubber bushes for the tie rods for maximum noise and vibration reduction. They can withstand high pressure at elevated temperatures, with flat steel springs holding the tie rods. The tie rods ensure that pressure thrust forces from the pump are not transferred to the adjacent pipe system.
Compensate for installation misalignments between pipe systems and pumps, and
thermal growth
Eliminates pressure thrust forces and torques on pumps and other equipment
Reduces vibrations, oscillations, and noise (sound and vibration) from pumps into pipe systems
The multi-ply bellow ensures maximum performance regarding pressure, temperature and service life
Standard design is: 16 BarG, and overall length of 130 mm for easy replacement of rubber bellows
Special designs are available to any specification
Vibration Absorbers represents several advantages for the piping designers.
What are the advantages of using
Vibration Absorbers?
Unlike Rubber Expansion Joints, the vibration absorbers are resistant against
ageing, high temperatures and UV-radiation
Reduction of long-term operation and maintenance costs
Increased reliability and prolongation of the service life of the pipe system and
connected equipment
Tie rods as standard for minimum fixation of pipe system (available without tie rods, on request)
To ease the work with Expansion Joints for everyone being involved with Expansion Joints
Belman provides here useful Engineering tools and further technical information.
Here you can download useful technical information and further materials related to Expansion Joints such as:
Guide & Catalgoue
Product brochures
Look Books showing design options
Data sheets
In Belman Academy we help you increase your knowledge on Expansion Joints and get tips and tools that will ease your work with Expansion Joints, such as:
Technical articles and videothek
How to guides
Technical tutorial videos
Trainings (video, live)
ENGINEERED EXPANSION JOINTS
EXPERTLY FINDING THE RIGHT SOLUTION

LATEST PROJECTS & REFERENCES
Belman expertly engineer the optimum flexible solution to absorb movements in the pipe system as well as ensuring smooth operation and solutions to any operational issues for the clients. By customising as well as optimising the flexible solution Belman supply Expansion Joint solutions providing a better TCO (total cost of ownership). See some latest projects and references here.
REASONS TO DO BUSINESS WITH US