Ring reinforced
expansion joints
Belman designs, manufactures and delivers high pressure Ring Reinforced Expansion Joints. We have successfully manufactured Expansion Joints with different dimensions and for different applications, designed for a working pressure of up to more than 185 barG/ 2683 psi. Belman has even manufactured an Expansion Joint that was tested for 365 barG/ 5293 psi.
Why ring reinforcement?
By supporting a multi-layered Expansion Joint Bellows with Ring Reinforcement, an optimum combination of both pressure integrity and service life is achieved.
Design range and scope of supply within Ring Reinforced Expansion Joints
Ring reinforced Expansion Joints are customised solutions designed to fit the application. They are available in all designs, all sizes and all materials.


PRESSURE:
Up to 185 barG/ 2683 psi.

TEMPERATURE:
-256°C to +1000°C

MATERIALS:
Austenitic stainless steels, High alloys, Duplex, Titanium, Hastelloy,
Incoloy, Inconel, Alloy 59

DESIGN CODES:
EN 13445, EN 13480, EN 14917
ASME VIII, div.I, ASME B31.3
ASME B31.1, EJMA, AD 2000
and others on request

TESTS:
Radiographic examination (X-ray), Helium leak testing, Pressure test, Air test, Dye penetrant test, Magnetic particle examination and many more
RING REINFORCED
EXPANSION JOINTS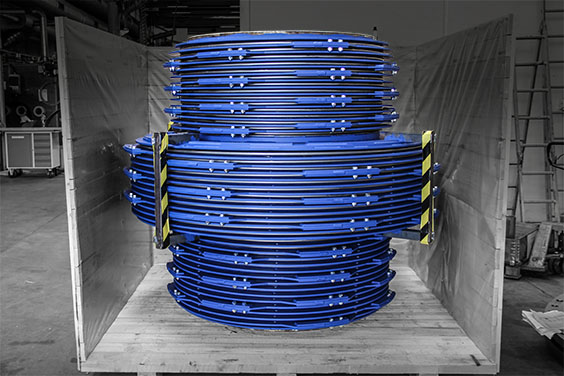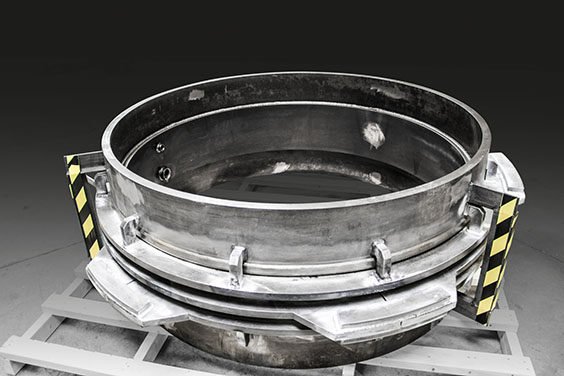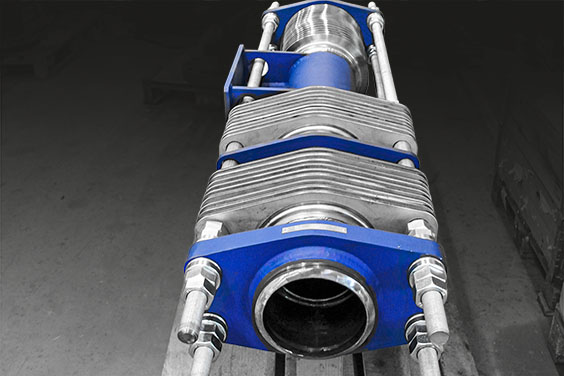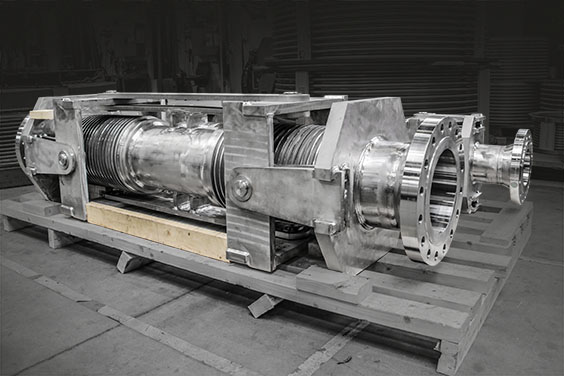 RING REINFORCED EXPANSION JOINTS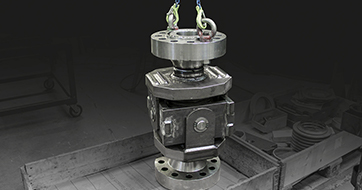 TESTED AT 356 BARG
Spectacular Gimbal Expansion Joint designed for 215 barg, and tested at 356 barg, for a petrochemical facility.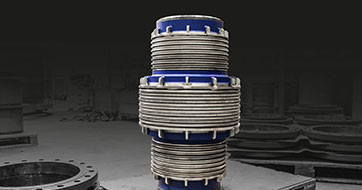 RING REINFORCED FOR 82 BARG
Equalizing Ring Reinforced Expansion Joint was the solution for a manufacturer of fertilizers.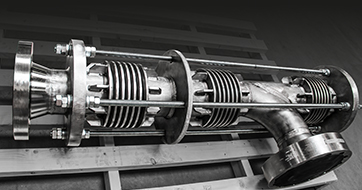 TESTED AT 200 BARG
Remarkable Corner Relief Expansion Joints designed for 145 barg, and tested at 200 barg, for Nuclear Power Plant.
RING REINFORCED EXPANSION JOINTS
Ring Reinforced Expansion Joints with equalising rings and reinforcing ring bellows are usually chosen for high-pressure installations.
Ring Reinforced Expansion Joints with equalising rings and reinforcing ring bellows are usually chosen for high-pressure installations. Equalising rings are solid stainless steel rings fitted externally on the bellows of the Ring Reinforced Expansion Joints. The rings are precisely machined so they fit into the root between each of the bellows convolutions. The purpose of the rings is to reinforce the bellows against internal pressure. By adding moment of inertia to the bellows cross section, this counteracts the bellows ability to blow out or buckle (also called squirm) and enhances its stability and pressure integrity. Bellows with reinforcing rings can be made for any type of Expansion Joint (Axial, Lateral or Angular etc.) The disadvantage of the Ring Reinforced Expansion Joints having reinforced bellows are the significantly increased stiffness of the bellows and their limited movement properties.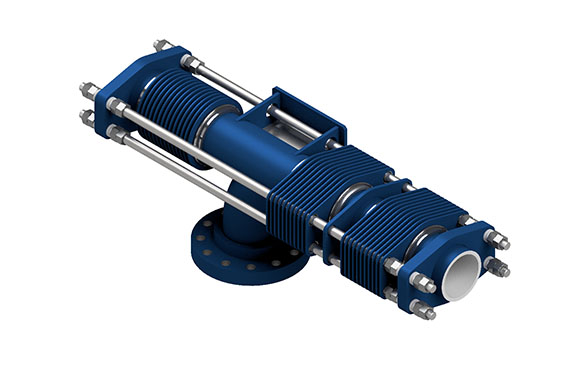 Special ring reinforced solutions
For Expansion Joints with demanding operating conditions, the ring reinforcement is designed with bellows of thicker plies, of duplex stainless steel for additional strength. The reinforcement rings are supported by tie rods, which are connected to lugs. The improved flexibility of the Expansion Joints is further enhanced by an extra balancing bellow, which in combination with the Pressure Balanced design help to bring the reaction forces towards an acceptable level.
What are the advantages of using Ring Reinforced Expansion Joints?
Both pressure integrity and service life is achieved
Customised for the operating pressure of the exact application
Allow the use of Expansion Joints even in high pressure applications
Cost efficient solution for high-pressure applications
Belman is known for high quality products and therefore our quality control is a fundamental part of our business. All processes during production designed by the Belman quality engineers, is strictly follow and implement according our procedures and instructions and carefully inspected by Belman quality inspectors. All checks and inspections are done according to the strict prevailing Belman quality control procedures which is part of the Belman ISO 9001 quality management system approved by DNV.
ITP & Test
Inspection test Plan generated by the quality management system makes sure that each step of manufacturing has the appropriate inspection points such as Hold and Witness points.
Based on manufacturing code, project specification, application, media, and eventual ship classification rules Belman performs a large variety of quality tests including destructive, non-destructive testing and proof testing. All tests can be witnessed by the 3rd part based on the customer and classification requirements.
Destructive test: such as life cycle test and burst test to validate the design, i.e., vessels and offshore platforms
Non-destructive test such as Visual testing, dye penetrant test, Radiography examination, Magnetic testing, ultrasonic testing, hardness testing and PMI for all applications
Proof tests: leak test with air, leak test with helium and former gas, hydrostatic pressure test for all application
FAMILIAR WITH
MANY DESIGN CODES
Belman can design, manufacture and deliver ring reinforced expansion joints in accordance to:
EN 13445
EN 14917
EJMA
Other design codes are available on request
WE HAVE ENGINEERED

EXPANSION JOINTS SINCE 1994

This enable us to find you the optimum solution to your piping system.