Lateral Expansion Joints are used to absorb lateral deflection. Lateral Expansion Joints can move in all lateral directions simultaneously for absorbing expansion from two pipe sections in different directions. The Lateral Expansion Joint is normally equipped with fixtures such as external tie rods, which allow the unit to absorb movements in all lateral directions but also to absorb the pressure thrust (incl. full vacuum).
Design range within Lateral Expansion Joints
Belman Lateral Expansion Joints can be designed within the range:


PRESSURE:
Up to 150 Barg (2176 psi)

TEMPERATURE:
-256°C to +1000°C

MATERIALS:
Austenitic stainless steels, High alloys, Duplex, Titanium, Hastelloy,
Incoloy, Inconel, Alloy 59

DESIGN CODES:
EN 13445, EN 13480, EN 14917
ASME VIII, div.I, ASME B31.3
ASME B31.1, EJMA
and others on request

TESTS:
Radiographic examination (X-ray), Helium leak testing, Pressure test, Air test, Dye penetrant test, Magnetic particle examination and many more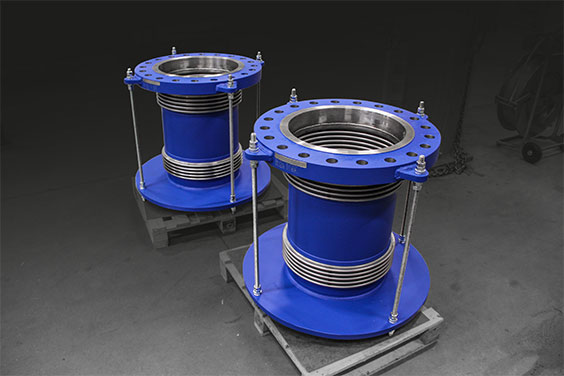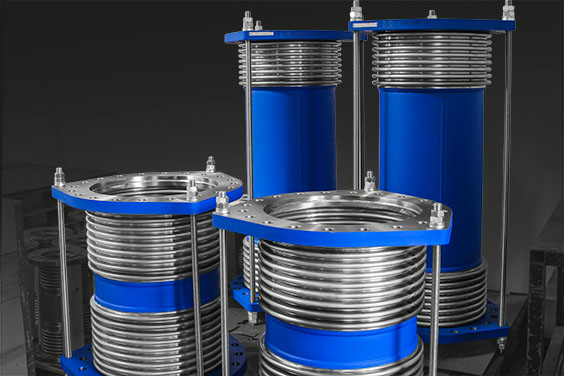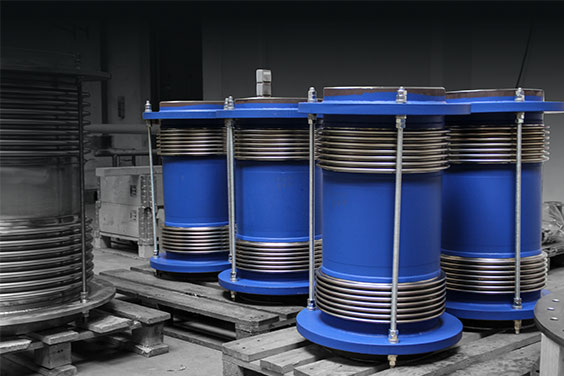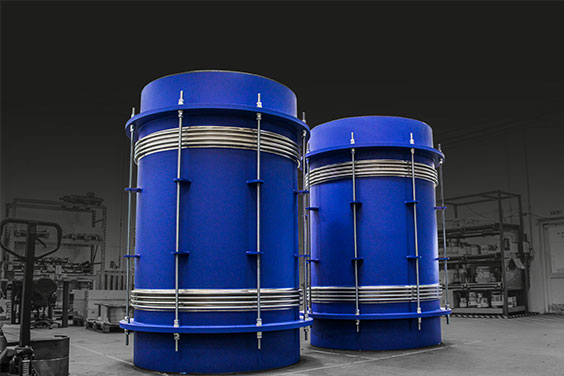 CUSTOMISED FOR LATERAL MOVEMENTS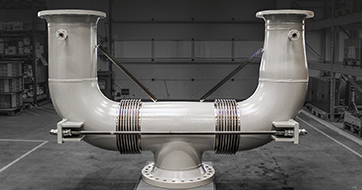 U-SHAPE FOR LATERAL MOVEMENTS
This customised Tied U-shaped Pipe Assembly with Expansion Joints will absorb lateral movements in a pipeline section where two pipes merge into one.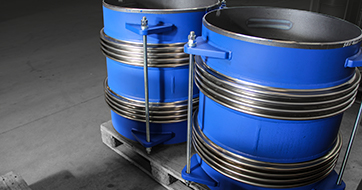 AXIAL AND
LATERAL MOVEMENTS
For a green energy project in Denmark the solution for absorbing the movements in the power plant was Tied Expansion Joints.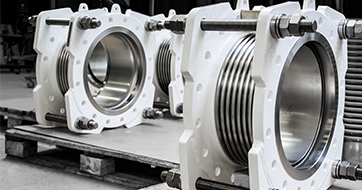 TIED Expansion Joints FOR LATERAL MOVEMENT
Tied Expansion Joints for absorbing lateral movement in a crude oil storage tank farm, and therefore the Expansion joints are made completely from 254 SMO.
As Lateral Expansion Joints absorb movements in lateral directions in one or more planes, and absorb adjusting forces, they are widely used in more complex pipe systems with many different directions and levels. Lateral Expansion Joints make possible the absorption of movements which are perpendicular to the longitudinal direction of the pipeline, and are therefore ideal for installation in pipe systems with bends, Z shaped pipe systems and in 3 hinged systems.
Lateral Expansion Joints can be used as tank settlement bellows, vibration absorbers and in all pipe systems with bends or a change in the pipe direction.
The Lateral Expansion Joints are available with one or two bellows (universal type) as well as with a number of end connections like welding ends, flanges and/or a combination thereof. Additionally, it can be equipped with accessories like: inner sleeves, covers, intermediate pipe and tie rods.
The type of Expansion Joint selected depends on both its cost effectiveness and its suitability for the function to be fulfilled. The economic consideration should not only take into account the cost of the Expansion Joints, but also the required fix points, guides and structures.
ADVANTAGES & REQUIREMENTS
Lateral Expansion Joints represents several advantages for the piping designers, thus they also set some requirements for the installation. These can be seen here along with more facts about Lateral Expansion Joints:
What are the advantages of using
Lateral Expansion Joints?
Absorb movements in all lateral directions
Absorption of large lateral movements with only one Lateral Expansion Joint
Reduced loads on all fix points as the tie rods on the Lateral Expansion Joints
Absorb the loads without transferring pressure thrust on to the fix points
What are the requirements for using
Lateral Expansion Joints?
For absorption of large expansions several Lateral Expansion Joints are needed
Many fix points and guides are needed for long pipe sections
Lateral movement is a sideways (lateral) displacement of the ends of the expansion joint in a direction perpendicular to its longitudinal axis. Lateral movement can be absorbed both in the horizontal and the vertical axis/direction according to the design of the pipe system. Lateral movement can, to a limited degree, be absorbed by one bellow. If larger movements are to be absorbed, we recommend a design with a universal expansion joint (two bellows with an intermediate pipe) absorbing the movement and this also results in lower offset forces.
Definitions
Lateral movement is shown as LA and stated in mm. The parallel displacement is indicated as negative (-) and positive (+).
Example
The elongation of one side of the bellow is +10 and the compression of the other side of the bellow is -20. This will be shown as: LA +10/-20 mm. Equal parallel displacement is shown as: LA +/-20 mm (2λN).
HOW DOES THE
LATERAL EXPANSION JOINT
WORK?
This animation is showcasing how lateral movement is absobed by
the Lateral Expansion Joint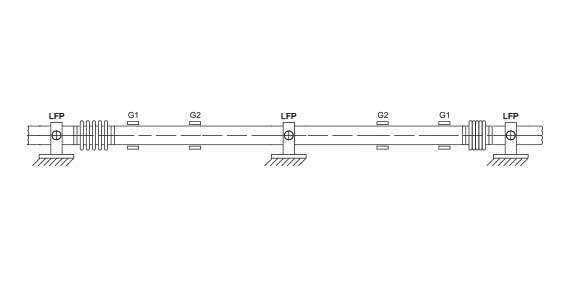 Expansion Joint installed in the short piping leg
The configuration is an alternative arrangement in which the Expansion Joint is installed in the short piping leg and the principal expansion is absorbed as lateral deflection.
The longer piping leg is free of compressive pressure loading and requires only fix points and a guide (Gn).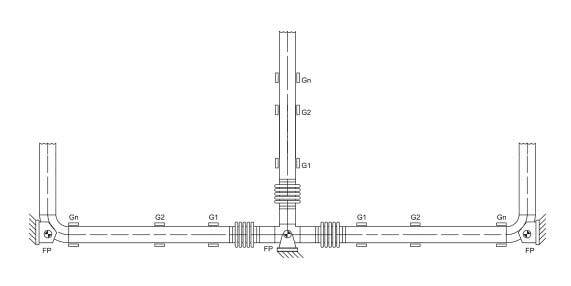 Tie rods to prevent axial movement
A piping configuration that permits the use of adapted tie rods to prevent axial movement frequently simplifies and reduces the cost of the installation.
Due to the tie rods, the expansion joint is incapable of absorbing any axial movement other than its own thermal expansion. The thermal expansion of the piping in the shorter leg is, as
a result, imposed as deflection on the longer piping leg. Where the longer piping leg is not sufficiently flexible and where the dimension of the shorter leg is suitable, tie rods may be installed spanning the entire short leg so that no deflection is imposed on the longer run from its source.
GET MORE

INSTALLATION EXAMPLES

To ease the work with Expansion Joints for everyone being involved with Expansion Joints
Belman here provides useful Engineering tools and further technical information.
Here you can download useful technical information and further materials related to Expansion Joints such as:
Guide & Catalgoue
Product brochures
Look Books showing design options
Data sheets
In Belman Academy we help you increase your knowledge on Expansion Joints and get tips and tools that will ease your work with Expansion Joints, such as:
Technical articles and videothek
How to guides
Technical tutorial videos
Trainings (video, live)
ENGINEERED EXPANSION JOINTS
EXPERTLY FINDING THE RIGHT SOLUTION

LATEST PROJECTS & REFERENCES
Belman expertly engineer the optimum flexible solution to absorb movements in the pipe system as well as ensuring smooth operation and solutions to any operational issues for the clients. By customising as well as optimising the flexible solution Belman supply Expansion Joint solutions providing a better TCO (total cost of ownership). See some latest projects and references here.
REASONS TO DO BUSINESS WITH US