Belman's intensive cooperation with competent and experienced manufacturers of Fabric Expansion Joints enables us to deliver operationally effective and economically attractive solutions.
Fabric Expansion Joints are extremely flexible and can be made from a variety of special woven fabrics coated or laminated with selected elastomers or fluoropolymers. Fabric Expansion Joints are used to insulate, to avoid mechanical loads and to protect against abrasion. They offer advantages for the pipe work designer as they can absorb movements simultaneously in several directions. Further, they have almost no reactive forces and require little space. Fabric Expansion Joints are easy to customise to suit existing operating conditions and are easy to transport and install. In comparison to Metallic Expansion Joints, Fabric Expansion Joints offers almost unlimited flexibility, giving the pipe work designer more options.
Fabric Expansion Joints are installed in systems operating with low pressure and dry media.
Design range within Fabric Expansion Joints
Belman Fabric Expansion Joints can be designed within the range:

SiZES:
All sizes and shapes

PRESSURE:
Up to +/-20.000 Pa (+/- 2000 mmWg)
Special constructions are
available on request

TEMPERATURE:
Up to 750°C, minimum
temperature -35°C

MATERIALS:
Flexible parts: Glass fabric, Wool material, PTFE, Silicones, Wire mesh amongst others
Connection ends & Hardware: As per client request.

TESTS:
Visual test, dimension check
or as per
client specifications

CERTIFICATES:
On request certificates for steel
parts can be supplied.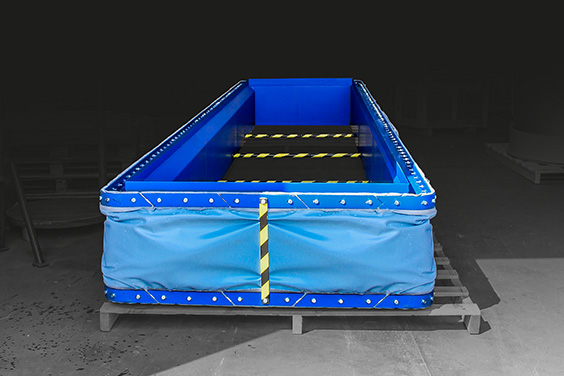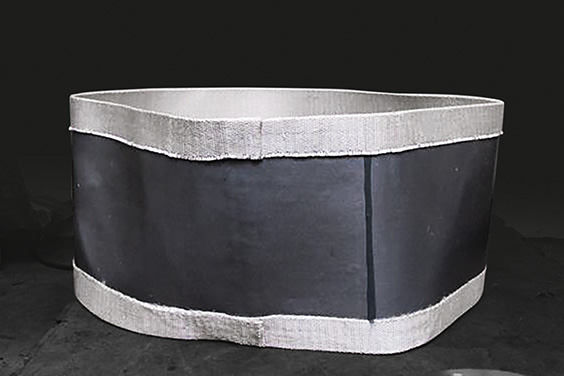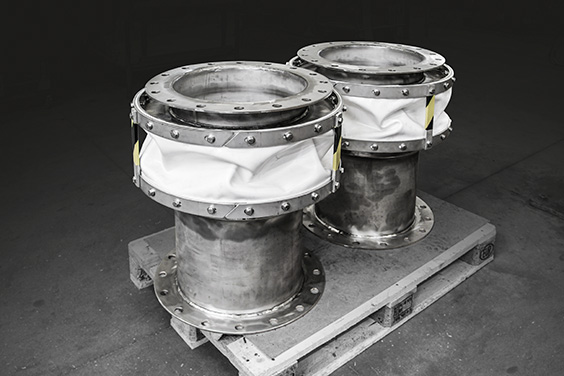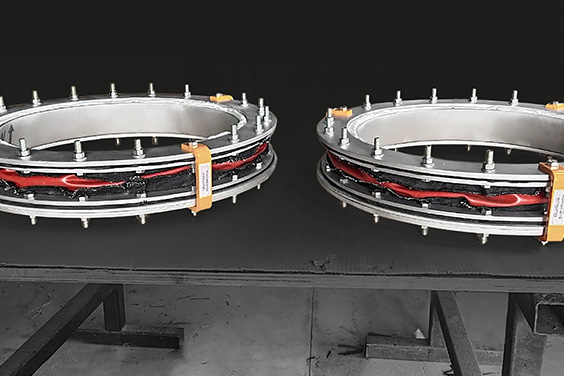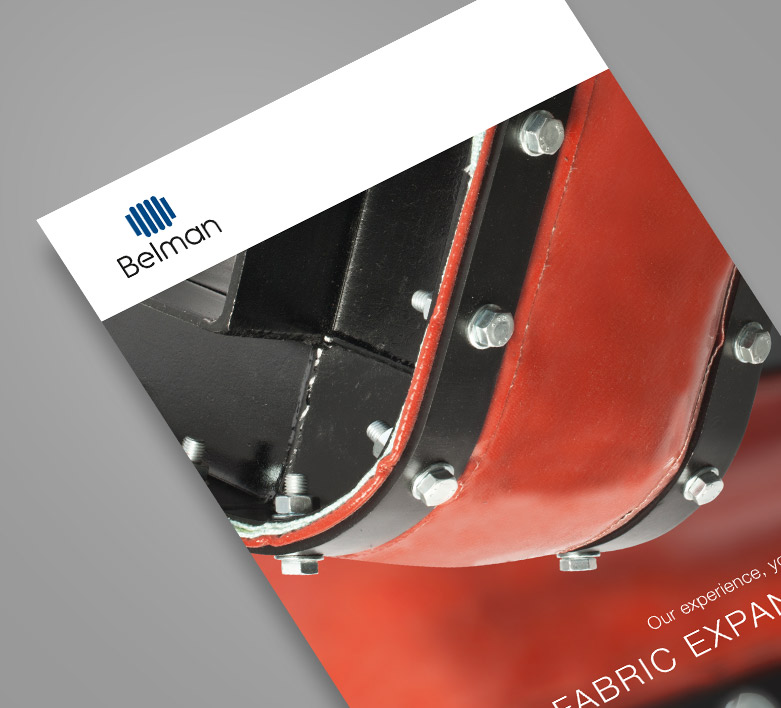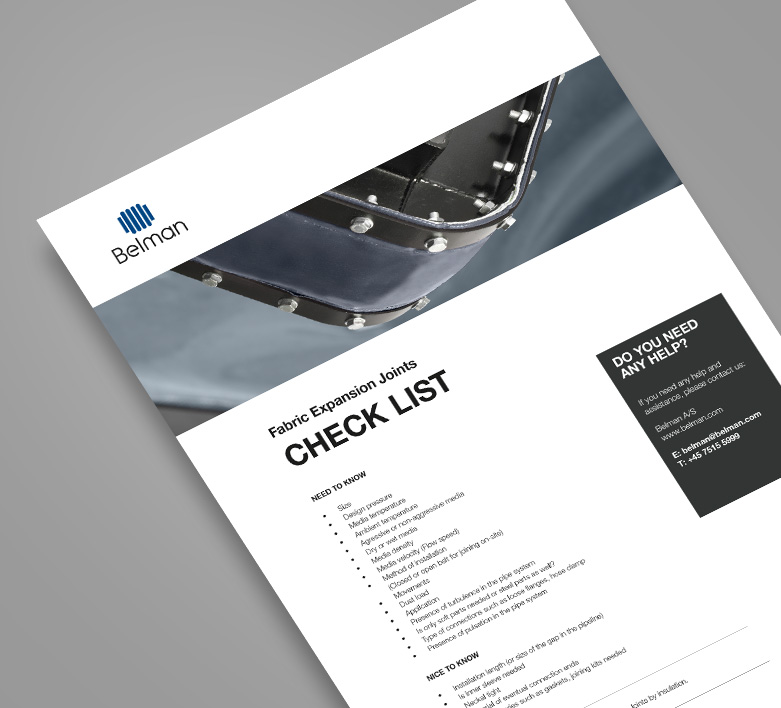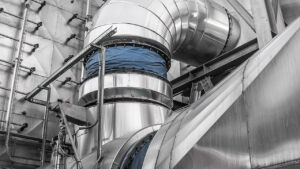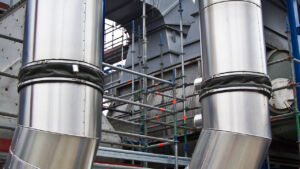 As Fabric Expansion Joints are customized designs (either closed or as open belt for joining on-site) with bellows designed to solve the movement absorption in the application as well as meet requirements made by the gap in the pipeline.
Fabric Expansion Joints of single-layer design can safely absorbs movements caused by thermal expansions in pipelines and duct systems. Accordingly, it has the possibility to design to accommodate the misalignments on request.
Fabric Expansion Joints are applicaple for: Chemical industry, Oil & Gas, Power Plant, Pulp & Paper, Steel plants, Process industry, Flue Gas Systems, Boilers & Stacks and many more
Fabric Expansion Joints absorb large movements within short built-in lengths ( due to multi layer construction). Fabric Expansion Joints Absorb movements in multiple directions simultaneously (several planes).  The movements that the Fabric Expansion Joints are capable of accepting can be singular or a combination of:
Axial movement (compression and extension)
Lateral movement
Angular rotation
Torsional rotation
A significant difference between Fabric Expansion Joints and Metallic- or Rubber Expansion Joints is that Fabric Expansion Joint types can readily accept the torsion which is undesirable with Metallic- and Rubber Expansion Joints. Furthermore, in addition to absorbing movements in the system, Fabric Expansion Joints can also absorb vibrations and help to reduce or eliminate noise.
CONNECTION ENDS & HARDWARE
The Belman Fabric Expansion Joint type is delivered as a customized design (either closed or special requirements as open belt for joining on-site) with Bellows designed to solve the movement absorption in the application as well as meet requirements made by the gap in the pipeline. The Belman Fabric Expansion Joints are supplied as standard as a stand-alone Fabric Expansion Joint (with parallel or vertical f ixing flange arrangement) that may be supplied with customized connection ends and including hardware, but not limited to:
Complete units (flanged or with welding ends)
With loose flanges
With clamping bands
Special transport fixtures
Flowliners / inner sleeves
Pre-setting construction
Belman always supply complete Fabric Expansion Joint solutions for quick and simple installation into the duct or pipework. When necessary due to transport or installation considerations we can supply Fabric Expansion Joints in segments for later assembly at the jobsite.
Reduced heat loss by low surface temperature
Minimum reaction forces
Excellent movement absorption and flexibility
Noise reduction
High chemical resistance
Higher flow velocity
Can accommodate misalignments and a large amount of lateral offset (special design may be required and needs to be specified at inquiry stage)
Good vibration resistance depending on design and materials
Belman is known for high quality products and therefore our quality control is a fundamental part of our business. All processes during production designed by the Belman quality engineers, is strictly follow and implement according our procedures and instructions and carefully inspected by Belman quality inspectors. All checks and inspections are done according to the strict prevailing Belman quality control procedures which is part of the Belman ISO 9001 quality management system approved by DNV.
ITP & Test
Inspection test Plan generated by the quality management system makes sure that each step of manufacturing has the appropriate inspection points such as Hold and Witness points.
Based on manufacturing code, project specification, application, media, and eventual ship classification rules Belman performs a large variety of quality tests including destructive, non-destructive testing and proof testing. All tests can be witnessed by the 3rd part based on the customer and classification requirements.
Destructive test: such as life cycle test and burst test to validate the design, i.e., vessels and offshore platforms
Non-destructive test such as Visual testing, dye penetrant test, Radiography examination, Magnetic testing, ultrasonic testing, hardness testing and PMI for all applications
Proof tests: leak test with air, leak test with helium and former gas, hydrostatic pressure test for all application
EXPERIENCED & APPROVED SUPPLIER
Andritz • Solvay • AS LTH Baas • Siemens • Alfa Laval •
EPCO ltd. • Standardkessel Baumgarte • Steelcon •  PEMI Parts Cooperation
WE HAVE ENGINEERED

FLEXIBLE SOLUTIONS SINCE 1994

This enable us to find you the optimum solution to your piping system.
REASONS TO DO BUSINESS WITH US