Expansion Joint Specialist : Belman
Belman is an internationally recognized designer and a manufacturer of Expansion Joints and Bellows. Belman, headquartered in Denmark, has entities in United Kingdom, Russia (Closed), Poland and India, and is 100% owned by MOU Holding in Denmark. We provide high-quality customized Expansion Joints. The investment in continuous development is a significant reason for our success. As a result, our position in the market is now firmly established as a recognized global supplier.
Founded in 1994
Belman was founded in 1994 in Denmark, and throughout the period, we have built a solid technical competence and industry-specific expertise, enabling us to handle complex and demanding projects (incl. FCCU). Furthermore, Expansion Joints are our everyday life, and we are experts in the industry; this leads us to specialize in providing extensive technical support by understanding the customer and their project requirements at best.
We Belman – We deliver "trust"
We deliver Expansion Joints worldwide under the Belman Brand promise. It is our passion, dedication, and experience for Expansion Joints that bring the excellence of our customised Expansion Joint solutions. We deliver trust – Trust it in the Expansion Joint design, and in the quality, and in having someone to turn to when you don't who else to ask.
PASSION, DEDICATION & EXPERIENCE
Dedicated leadership committed to delivering trust with every product that we deliver under Belman brand promise. CEO Rolf Rasmussen was one of the co-founders back in 1994 and has been running the Belman Group ever since. His long-term commitment ensures the preservation of the core values, which were the basis for the company's original foundation. Rolf is an active member of the sales and design team and understands Belman inside and out. He works tirelessly to transfer his experiences across the company and drives business along the innovative path chosen decades ago.
Years of experience and innovation, combined with extensive references from multiple industries, illustrate our abilities as a committed, problem-solving and rapidly developing manufacturer. Utilizing the very latest technologies, we maximize efficiency throughout the entire design and manufacturing process of Expansion Bellows. We strive to deliver excellence. We dare to take on challenging tasks and develop client-centered solutions to match customer requirements. It's our firm belief that commitment to customers and staying true to our values results in long lasting and mutually valuable business partnerships.
VISION
"Belman strives to be the preferred solution provider within the global market for expansion joints"
MISSION
"We provide engineered expansion joint solutions – for the benefit of customers worldwide"
International team passionate for Expansion Joints that deliver significant value to our clients. Belman's team spirit brings the excellence of our passion, dedication, and experience in Expansion Joints. We are one global team consisting of different nationalities committed to achieving one goal to ensure the Belman brand promise. The Belman staff are from Russia, Spain, Poland, Denmark, Hungary, Sri Lanka, Iran and many more. No matter the nationality, the Belman Team is one team – and one team that is always strong together. A team that has a wide understanding of international business culture and can adapt to many languages, country specific requirements while at the same time being focused on putting the need of the client first. Our experince and passion ensure the client, that Belman will always find the best and most cost-efficient solution to them. This is why clients trust Belman.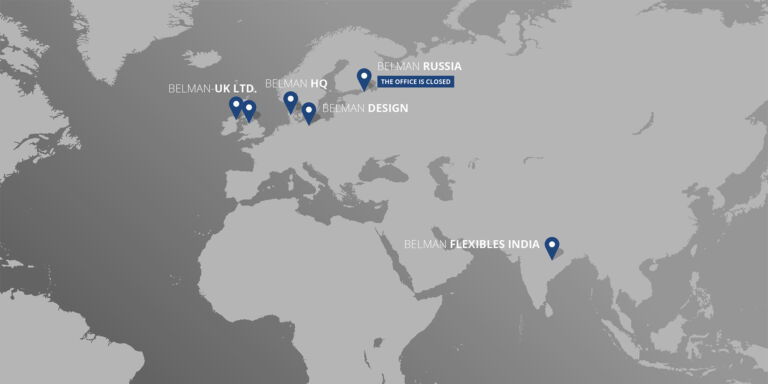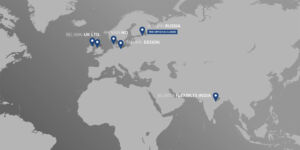 You will find Belman Expansion Bellows installed in every corner of the world and to service clients globally we have established a broad network of offices, partners and distributors.
All Expansion Bellows are manufactured at the headquarter in Denmark and at our manufacturing facility in United Kingdom. Beside our headquarter in Denmark and sales and manufacturing facility in United Kingdom, we have non-manufacturing operations in Norway and Russia.
For more information on Belman partners, distributors and offices globally, please contact us.
98% of clients think Belman has
high product quality.*
95% of clients think Belman is good at tailoring Expansion Joint solution to their needs.*
95% of clients think Belman is
flexible and helpful*
89% of clients think Belman has
short delivery time*
97% of clients think Belman
delivers on-time*
91% of clients think Belman
responds quickly*
*Source: Belman customer satisfaction survey 2021
MADE IN EUROPE, MADE WITH CARE
Care is fundamental priority at Belman. We see it as our respinsibility to run a environmetally, ethically and socially responsible operation. This orientation is reflected in everything we do. Belman Expansion Joints are made in Europe and made with care. Care for the environment as well as care for humanity, which is why Belman is not only enrimentally focused but also focused on humanity as well as donating to charity.
The Belman production facilities are modern, spacious, light and offers a high level of safety. Through our innovative approach to equipment, processes and procedures Belman strive to constantly improve our machinery, technical equipment and production facilities to continuosly manufacture high-tech Expansion Joints of high quality.
Therefore the Belman facilites consist of among others:
Covered production area 5.300m²
Open area 20.000m²
Office buildings 500m²
Seperate painting cabinet
Door sizes 5m x 6m
Lifting capacity 30 tonnes (or more on project request)
Expanders and Cutting machinery
Test areas with largest test rig handling Expansion Joints up to DN 3500 and 500 tonnes
Extensive stock of raw materials and spare parts (flanges, pipes, metal sheets)
Lifting capacity 30 tonnes (or more on project request)
Bellow manufacturing machinery (including rolled forming, punch forming)
High performance and high tech welding equipment (incl. automatic welding)