Angular Expansion Joints allow angular movements only, contrary to Axial Expansion Joints which elongate and compress in the pipeline axis. The Angular Expansion Joints move in an angular rotation in one or several planes, controlled by a pair of hinges or a gimbal. The Angular Expansion Joints are as standard delivered with either hinges or gimbals, and can be manufactured with any end connections such as welding ends, welded flanges, or loose flanges or combinations thereof, depending on client requirements.
Design range within Angular Expansion Joints
Belman Angular Expansion Joints can be designed within the range:


PRESSURE:
Up to 150 Barg (2176 psi)

TEMPERATURE:
-256°C to +1000°C

MATERIALS:
Austenitic stainless steels, High alloys, Duplex, Titanium, Hastelloy,
Incoloy, Inconel, Alloy 59

DESIGN CODES:
EN 13445, EN 13480, EN 14917
ASME VIII, div.I, ASME B31.3
ASME B31.1, EJMA
and others on request

TESTS:
Radiographic examination (X-ray), Helium leak testing, Pressure test, Air test, Dye penetrant test, Magnetic particle examination and many more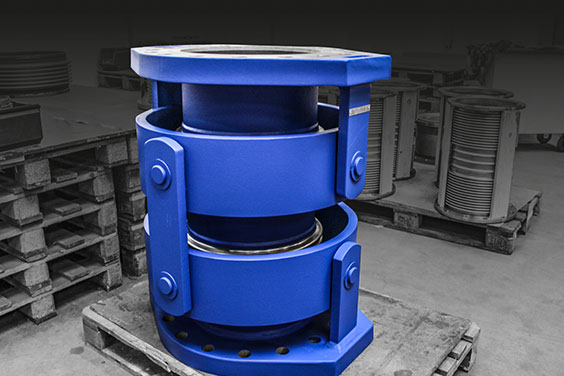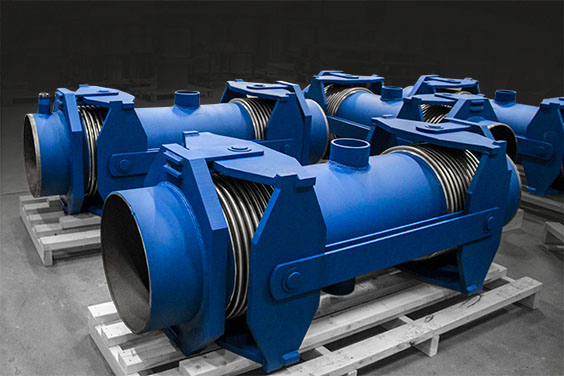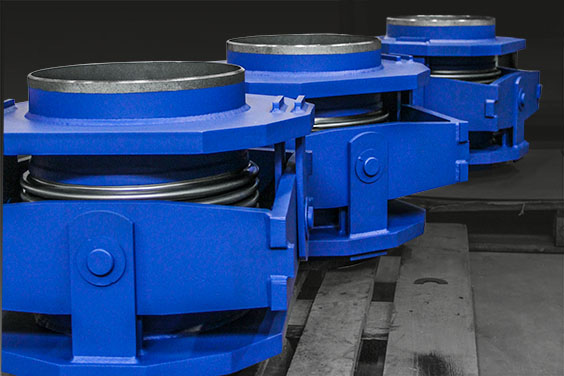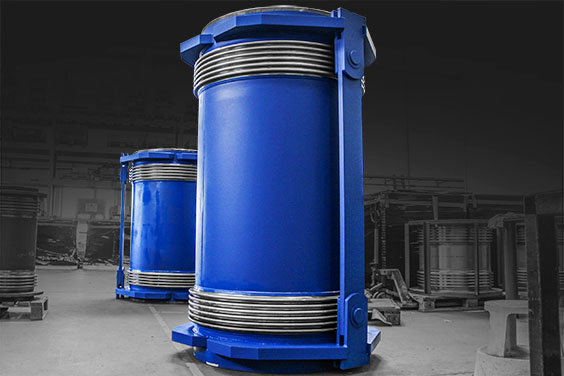 CUSTOMISED FOR ANGULAR MOVEMENTS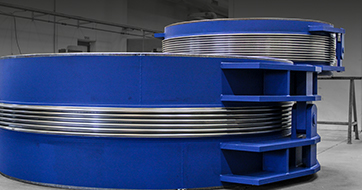 GIMBAL AND HINGED UNITS
These DN 2500 Gimbal Expansion Joints and a DN 2800 Hinged Expansion Joint are designed to absorb angular movement in an exhaust steam pipeline in a green energy power plant. The hinges and gimbals control the movements absorbed.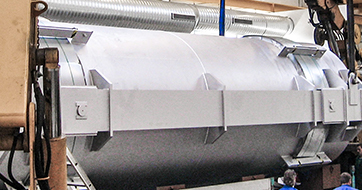 40 tONNE eXPANSION jOINTS
This 40 tonne heavy Universal Hinged Expansion Joint and a single Angular Expansion Joint are installed in the change of direction in the run of the pipeline in a steel plant. In this way they work as a three-hinge system absorbing angular movement.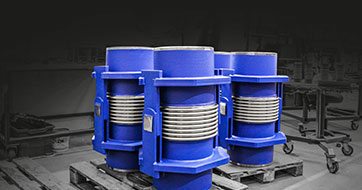 3 HINGE SYSTEM
A three-hinge system, also known as U-pipe or 3 pin system consisting of three Angular Expansion Joints with hinges absorb large angular movement. This constellation keeps the reaction forces and spring rates at an acceptably low level.
HINGED ANGULAR
EXPANSION JOINTS
Hinged Angular Expansion Joints are equipped with hinges, to absorb angular movement/rotation in one plane only. The hinges are designed to resist the pressure thrust from the pipe system. Single Hinged Angular Expansion Joints are generally used in pairs or threes with a connecting pipe system between, and widely used in irregular and complex pipe systems.
GIMBAL ANGULAR
EXPANSION JOINTS
ANGULAR EXPANSION JOINTS
IN GENERAL
Angular Expansion Joints offer a wide range of options, and when built into two or three pinned pipe systems, they can accommodate very large movements with very low reaction forces, without the need for fix points and structures. As Angular Expansion Joints are fully restrained, they require only inexpensive guides or intermediate guides. This gives an economic advantage in large diameter, hot piping systems, even if the movements are complex and in several planes. Further, the hinges or gimbal can be designed to support the dead weight loads from the adjacent pipes and connected equipment, and to carry wind loads, snow loads, and any other external loads from the pipe system, minimizing the need for fix points and structures.
The hinge can also be designed to eliminate torsion forces acting on the bellow. The bellow does not allow any torsion, and this should be counteracted against in all cases. When the Angular Expansion Joints are installed in two hinged or three hinged systems, the distance/intermediate pipe between each unit should be as large as possible, as this allow maximum lateral deflection or movement to be absorbed. If the thermal growth of the intermediate pipe is significant, a three hinged system is required.
ADVANTAGES & REQUIREMENTS
Angular Expansion Joints represents several advantages for the piping designers, thus they also set some requirements for the installation. These can be seen here along with more facts about Angular Expansion Joints:
What are the advantages of using
Angular Expansion Joints?
Absorb angular movements in single or multi plane
Use of normal guides
Reduced loads on all fix points
What are the requirements for using
Angular Expansion Joints?
Changes in flow direction/pipe direction is required
More space consuming than Axial Expansion Joints
Two or three Expansion Joints are required for a system
Angular movement is an angular/rotational displacement of the expansion joint where its longitudinal axis is displaced as an arc from its initial position. This is to be understood as an angulation of the expansion joints two end planes relative to each other, which results in the longitudinal centerline becoming an arc, like a pipe bend. The convolutions are uniformly compressed along the inside of the bellows longitudinal centerline, and uniformly elongated along the outer radius of the arc. Torsion or twisting of one end with respect to the other end about its longitudinal axis, and is not to be understood as angular rotation.
Definitions
Angular movement is shown as AN and stated in degrees. Angular rotation is indicated as negative (-) and positive (+) respectively.
Example
Angular movement positive +5 and negative -10 will be stated as: AN +5/-10°. An equal angular rotation over the bellows longitudinal centerline are stated as AN +/-10° (2αN).
HOW DOES THE
ANGULAR EXPANSION
JOINT WORK?
This animation is showcasing how angular movement is absorbed by the Angular Expansion Joint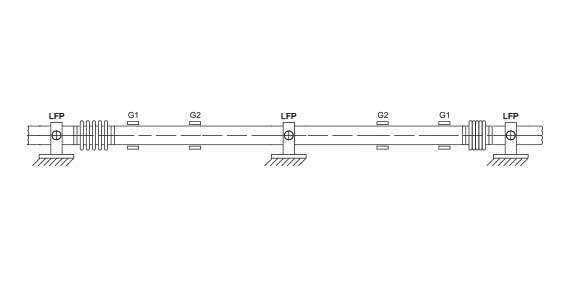 Hinged angular expansion joints can, in sets of two or three, be used for absorbing large lateral and axial movements. In general, there should not be more than three angular expansion joints installed between two fix points, of which a maximum of two can be gimbal angular expansion joints.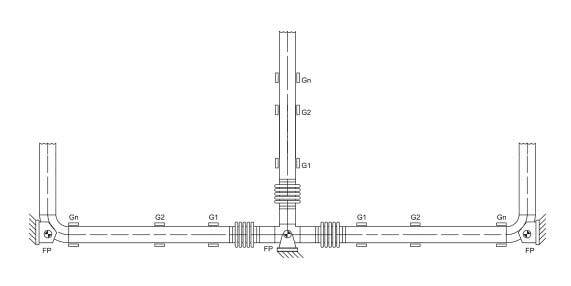 Two gimbals in a three-dimensional system
Just as hinged angular expansion joints offer great advantages in single plane applications, gimbal angular expansion joints are designed to deliver similar benefits in multi-plane systems. The gimbal angular expansion joints ability to absorb angular rotation in any plane is most frequently achieved by utilising two such units to absorb lateral deflection. An application of this type is shown in the illustration. Since the pressure loading is absorbed by the gimbal structure, fix points only are provided. Guides are provided to restrict the movement of each piping leg. As in the case of hinged angular expansion joints, the location of pipe supports is simplified by the load carrying ability of the gimbal structure. Since, in a two gimbal system, the growth of the vertical pipe leg will be absorbed by bending of the longer legs, spring supports (SP) may be required on either or both of these. Guides must be designed to allow for the thermal expansion of the leg containing the expansion joints and for the shortening of this leg due to deflection.
GET MORE

INSTALLATION EXAMPLES

To ease the work with Expansion Joints for everyone being involved with Expansion Joints
Belman provides here useful Engineering tools and further technical information.
Here you can download useful technical information and further materials related to Expansion Joints such as:
Guide & Catalgoue
Product brochures
Look Books showing design options
Data sheets
In Belman Academy we help you increase your knowledge on Expansion Joints and get tips and tools that will ease your work with Expansion Joints, such as:
Technical articles and videothek
How to guides
Technical tutorial videos
Trainings (video, live)
ENGINEERED EXPANSION JOINTS
EXPERTLY FINDING THE RIGHT SOLUTION

LATEST PROJECTS & REFERENCES
Belman expertly engineer the optimum flexible solution to absorb movements in the pipe system as well as ensuring smooth operation and solutions to any operational issues for the clients. By customising as well as optimising the flexible solution Belman supply Expansion Joint solutions providing a better TCO (total cost of ownership). See some latest projects and references here.
REASONS TO DO BUSINESS WITH US