40 TONNE EXPANSION JOINT
THE HEAVIEST EVER MADE AT BELMAN

Steel plant

Germany

AD 2000 Merkblatt
This Expansion Joint was designed, manufactured and supplied back in 2007 and is still operating successfully where it was installed, in the blast furnace of a German steel plant. This Expansion Joint still holds the record of being the heaviest expansion joint ever made at Belman. Since then we have expertly designed, manufactured and arranged transportation for numerous heavy and big dimension Expansion Joints. However, since this project Belman has never surpassed its record of 40 tonnes. Because of its size and weight this Expansion Joint was dispatched with special transport, including a police escort and a carefully planned route to the steel plant.
A total of 60 tonnes of Expansion Joints were actually delivered
The 40 tonne heavy Expansion Joint, which is almost 10 meters long and 2,8 meter in diameter, was delivered together with an additional Expansion Joint. This was another heavy weight, weighing in at 20 tonnes with a length of 3,5 meters and a diameter of 2,8 meters. It was installed at a height of 100 meters at the steel plant due to its required location in a fall-pipe. When the iron is melted in the blast furnace different mixes of gases and emissions are released amongst the blast furnace gas. This 300°C hot gas is purified in a special decontamination unit, which is installed in the blast furnace system.
Optimized movement absorption ensures stability with two Expansion Joints working as one
Installing an Expansion Joint in a pipeline entails cutting the pipeline and in doing so multiple forces are released. In this case 250 tons of forces are released. Further, the height in itself limited the options for fixing the Expansion Joint – therefore a customized solution was required. The solution for the optimized absorption of movements was provided by a single Angular Expansion Joint and one Universal Expansion Joint with hinges, working together as a double Angular Expansion Joint. The Expansion Joints were placed in a change of direction in the run of the pipeline and installed as a three-hinge system. In this way the optimal absorption of the two plane movements is delivered. The hinges ensure that the Expansion Joints and the movements are guided and resist the influence of wind and momentum. Finally, yet critically important, these hinges bring stability into the pipeline and contribute positively to the challenges with limited options for fixation.
Special requirements for the 40 tonne and 20 tonne Expansion Joint
The bellows of both Expansion Joints are made of the corrosion resistant material Inconel 625. The media contains abrasive particles, in order to combat this the inner sleeve is made from Hardox 400 abrasion-resistant steel. Welding ends, intermediate pipe and hinges are made from P355NH high-strength steel which is also resistant towards high temperatures. These materials were specified as a necessary requirement from the customer.
Many large size and heavy Expansion Joints delivered since this project
Belman has expertly designed, manufactured and supplied many large size and heavy Expansion Joints for steel plants and also for other industries. This includes, the complicated FCC Expansion Joints for oil refineries, DN 4200 diameter Expansion Joints for pulp and power plants and large Corner Relief Expansion Joints and Pressure Balanced Expansion Joint for fertilizer, power plants amongst many others.
The heavy weight Expansion Joints have the following design parameters:
Quantity: 1 pcs • Dimension: DN 2800 • Built-in length: 9457 mm • Medium: HO-Gas, sodium • Design temperature: -10/300°C • Design pressure: 3,1 barG • AX: +/-26 mm • AN: +/-7° • Bellows: 2.4856 • Inner sleeve: Hardox 400 • Welding ends: 1.0565 • Middle pipe: 1.0565 • Design code: AD 2000 Merkblatt
Quantity: 1 pcs • Dimension: DN 2800 • Built-in length: 3510 mm • Medium: HO-Gas • Design temperature: 300°C • Design pressure: 3,1 barG • AN: +/-4° • Bellows: 2.4856 • Inner sleeve: Hardox 400 • Welding ends: 1.0565 • Design code: AD 2000 Merkblatt
An innovative and top engineered Expansion Joint
Short on-time delivery
The correct Expansion Joint solution for the application
Expertly assisted by manufacturer experienced with heavy Expansion Joints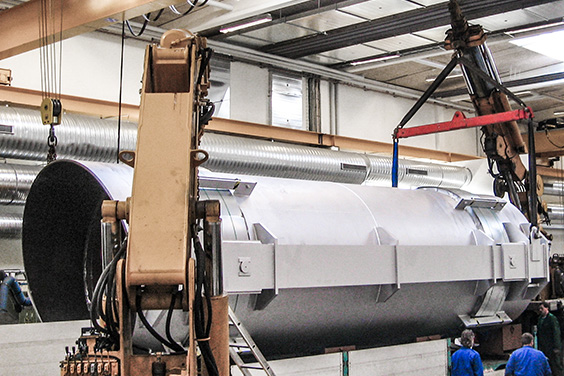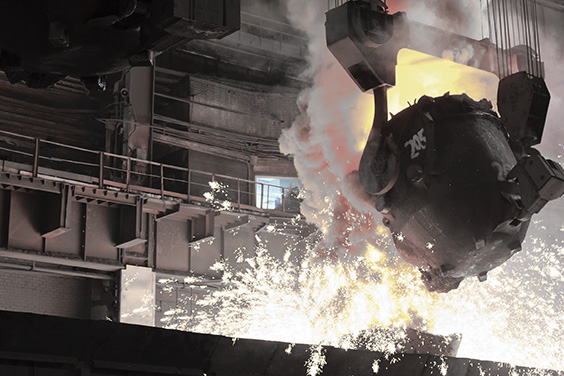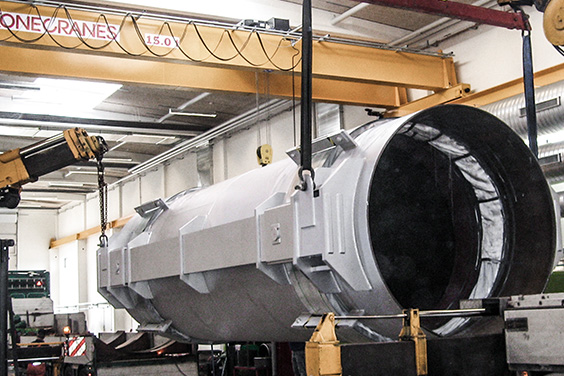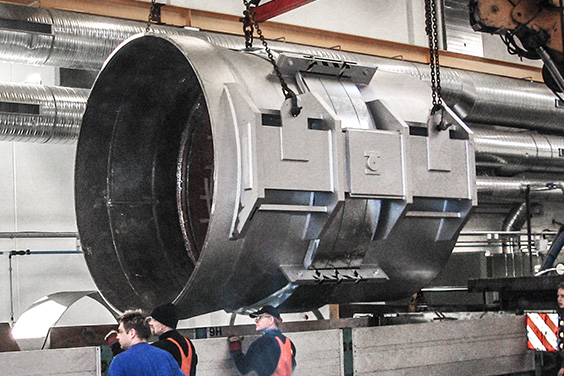 Technical information on Hinged Expansion Joints is available in the Expansion Joint Catalogue
pages 29-31
Installation examples of Hinged Expansion Joints
are available in the Expansion Joint Catalogue
pages 68 -71

Thyssenkrupp • Severstal • TATA • ArcelorMittal • SSI (CORUS) • SSAB • Salzgitter • NLMK Group • Nornickel • Ruukki • AET Technologies • ISD Dunaferr • Gerdau • Salzgitter Flachstahl GmbH • TRIMET • Voestalpine • Steel dynamics • Usiminas • Hüttenwerke Krupp Mannesmann (HKM) • Al Ezz Dekheila •  FENI • Steel – EZDK • Evraz • Paul Wurth • Siemens VAI • Corus • Aurubis • SMS Group • Kalugin