EXPANSION JOINT SITE SERVICES
It is crucial that the pipe system runs smoothly without the risk of unexpected, problematic and costly shutdowns. To achieve a trouble free and reliable operation, all of the components of the system including the Expansion Joints must be well managed. To obtain the maximum benefit from an Expansion Joint, it is not only important to consider its design and construction features, but also its function as part of the overall pipe system design. Further, key issues which critically affect performance are the location of the Expansion Joints in the system, its correct installation and planned inspections during its service life. Having carefully considered these factors, we have extended our core competences from the design and manufacture of Expansion Joints to on-site services such as:
Installation of Expansion Joints
Clamshell Bellows emergency repair
Repair/refurbishment
Inspection
Supervision
Technical consulting
These services are performed by our worldwide on-site service team. The team is experienced in all industries and available to respond to urgent requests. We also service Expansion Joints that were not of our original manufacture.
ON-SITE SERVICES BY BELMAN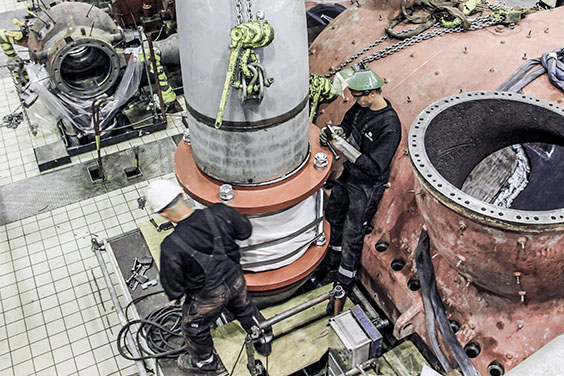 INSTALLATION OF
EXPANSION JOINTS
Expansion Joints can be complex to handle and install. The experienced Belman on-site service team expertly perform installation of Expansion Joints into a gap in the piping system as well as replacements of Expansion Joints. When replacing Expansion Joints, the Belman on-site service team do the removal of existing Expansion Joints and install and weld the new Expansion Joints.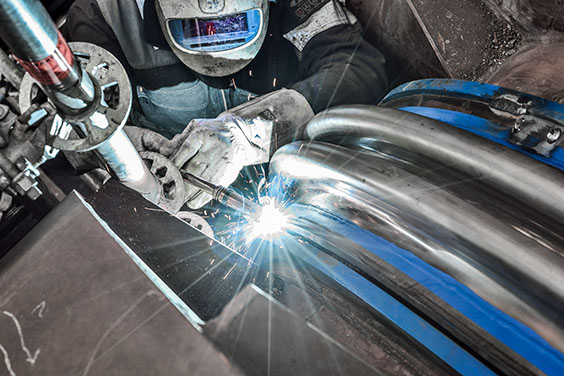 CLAMSHELL BELLOWS
EMERGENCY REPAIR
Clamshell Bellows provide a very effective solution when a quick and unplanned replacement of the Bellows is needed. If an unplanned leakage occur it can be very critical, costful and of risk to safety, health and plant operation. Clamshell Bellows are two-pieces Expansion Joints that are welded together on-site. The use of Clamshell Bellows invariably yields huge cost savings and reduces downtime significantly. However Clamshell Bellows requires skilled experts for the installation and therefore Belman's on-site service team is available 24/7.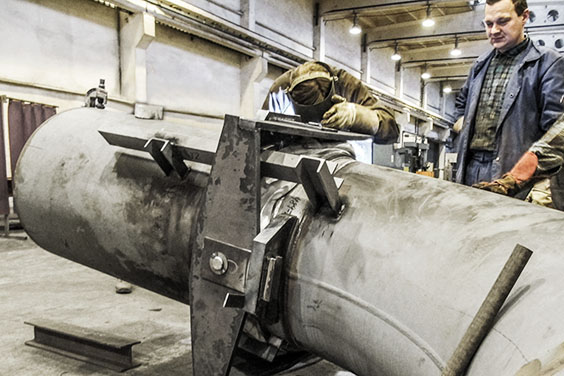 Bellow REPAIR
In some situations only the bellow needs to be replaced, whereas all the hardware on the Expansion Joints such as thickwalled flanges etc. has a longer sevice life. To save costs and time,  the complete Expansion Joint can either be dimantled and shipped to Belman for refurbishment or if the client prefer the Belman on-site team can do the repair on-site.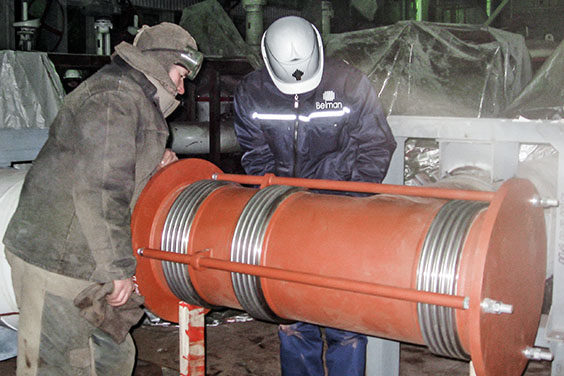 EXPANSION jOINT SUPERVISION
Belman assisting, guide and instruct clients own maintenance team/installation team before and/or during the installation of the Expansion Joints. Furthermore Belman can also inspect if the installation of the Expansion joint is done correct.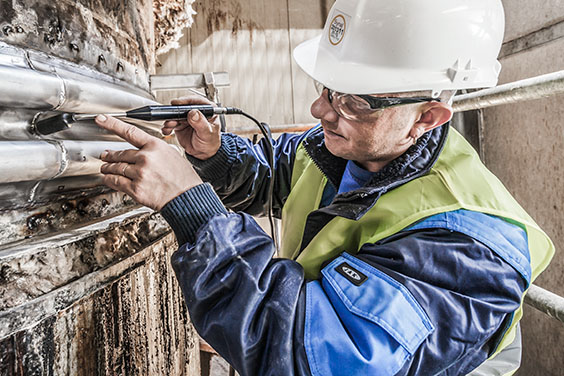 EXPANSION JOINT INSPECTION
Belman perform inspections of Expansion Joints including providing status report and recommendations after the inspection. To ensure reliable operation and avoid unplanned and premature failures of the Expansion Joints, inspections carried out by Expansion Joint experts will provide information on the status of the Expansion Joints and estimated remedial actions needed. Based on the Belman report the client is able to plan replacements and repairs in due time.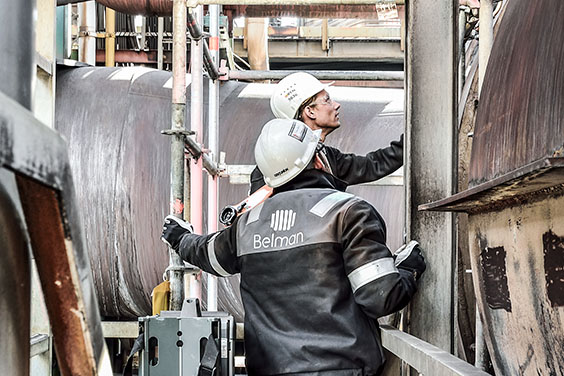 EXPANSION JOINTS TECHNICAL CONSULTING
Client often contact Belman when they have operational issues with existing Expansion Joints. Belman go on-site to inspect and discuss the current situation and issues with the client. Back at the office Belman analyse the data and reported issues from the inspection. Based on this trouble shooting Belman engineer an improved Expansion Joint solution. If neccessary Belman can also involve Belman Design to analyse a larger part of the piping system to improve the operation and Expansion Joints even further.
Clamshell Bellows installation
Clamshell Bellows provide a very effective solution when a quick and unplanned replacement of the bellows is needed. The experienced and certified Belman on-site service team has recently completed a project at a German steel plant. The project involved the installation of Clamshell Bellows in sizes DN 2400 and DN 2500.
EXPERIENCED & APPROVED SUPPLIER
Shell • SABIC • Nyrstar • Hofor • TOR • Saudi Iron & Steel Company • Ineos •
Rosneft • SSI (Corus) • E.On • ThyssenKrupp • ArcelorMittal • ZAK •
Uniper • Salzgitter • Tereos Syral • Vattenfall • Proviron • Essent/RWE •
Kraftwerk Mehrum • Basin Electric •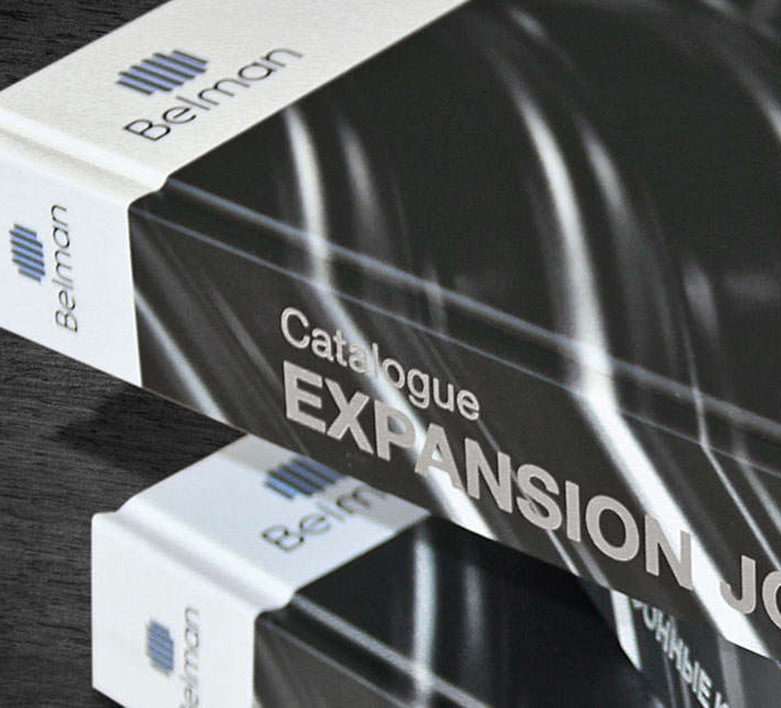 EXPANSION JOINT

CATALOGUE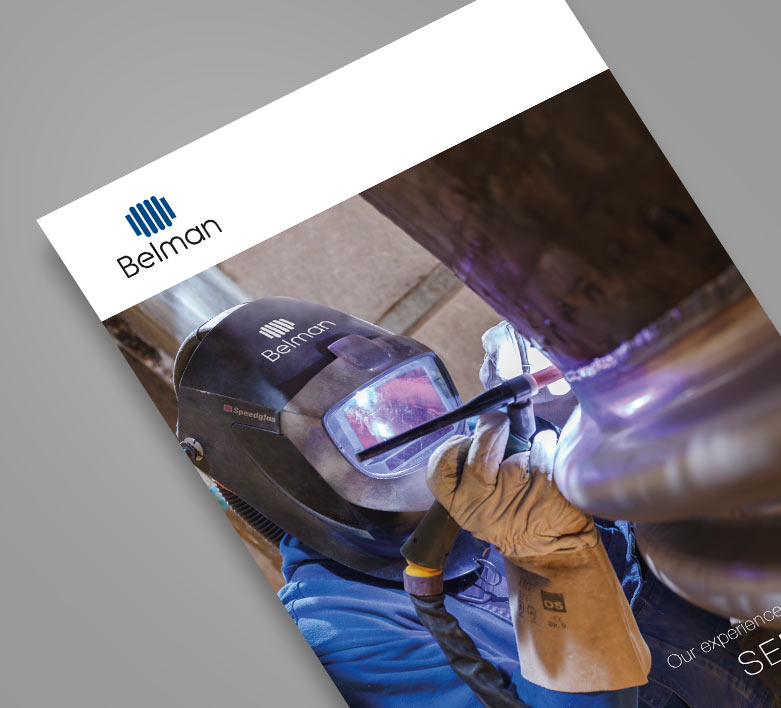 THE ON-SITE SERVICE TEAM ADDING SIGNIFICANT VALUE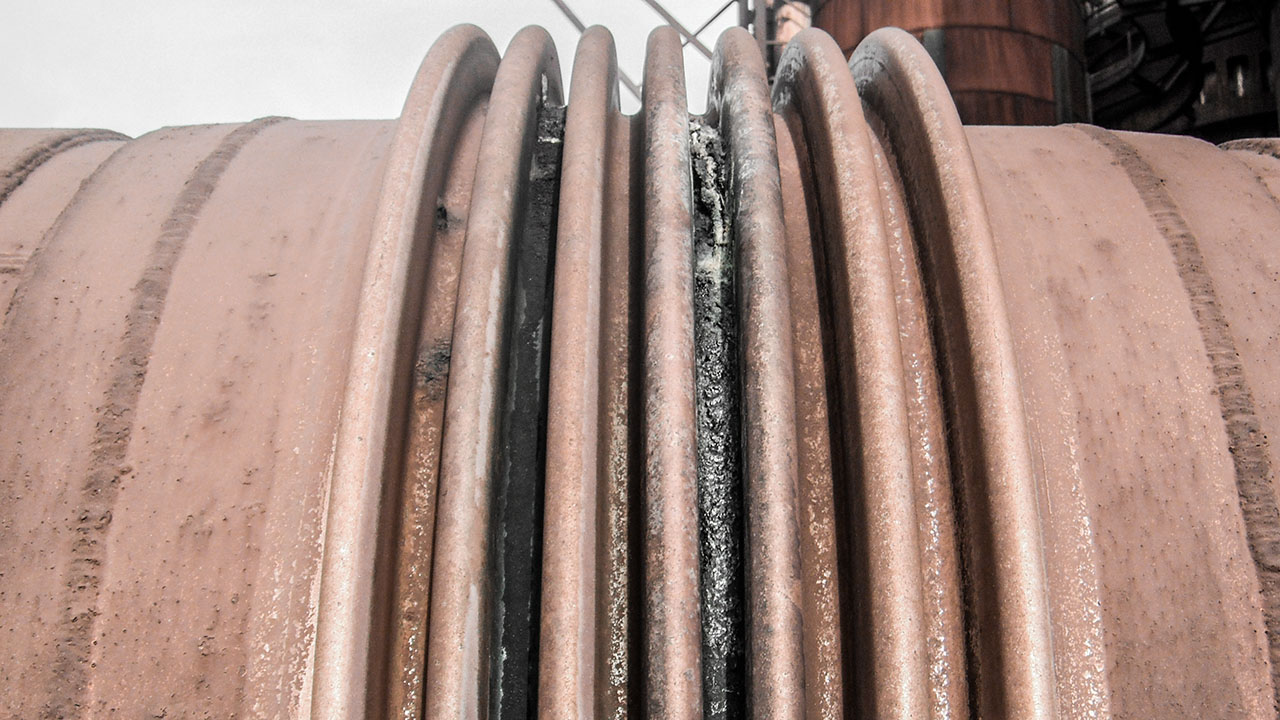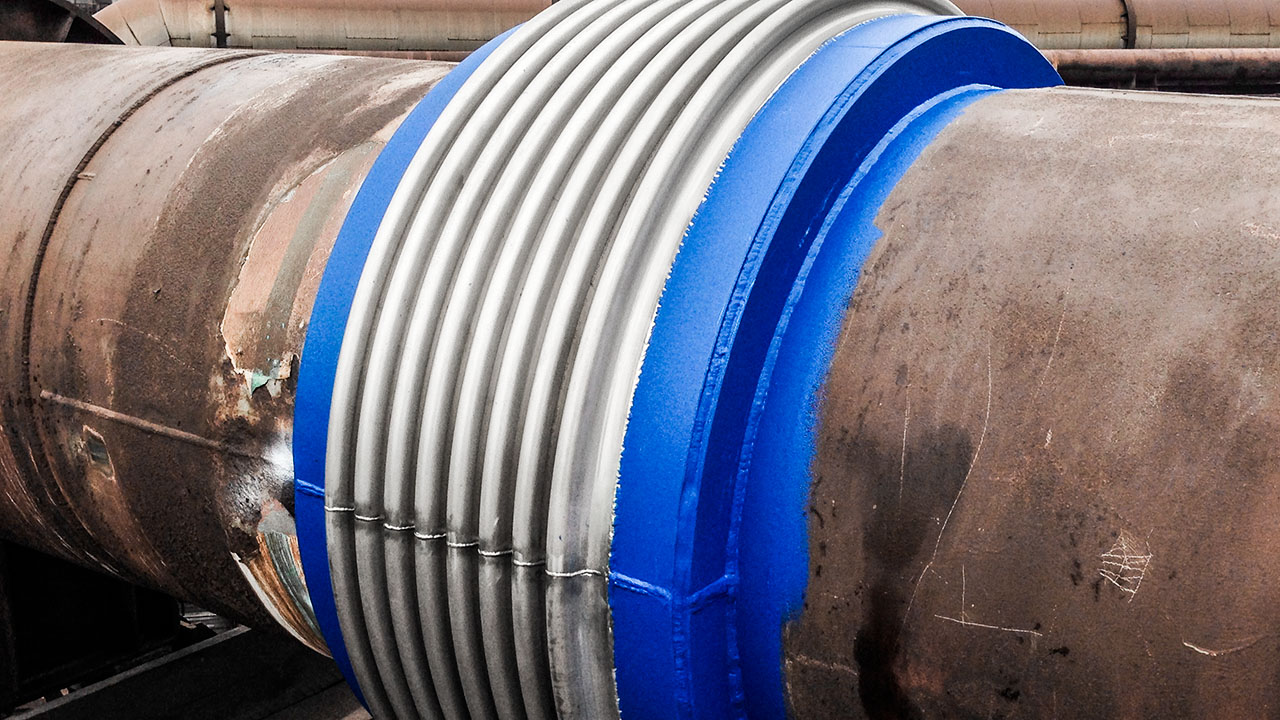 Installation of Metallic Expansion Joints and in particular Clamshell Bellows requires skilled and experienced installation professionals. In many instances customers prefer the manufacturer to perform such installation work to minimise the risks from an incorrect installation. In these cases, Belman's on-site service team of skilled and certified welders expertly assists our clients.
Belman has an on-site service team of several assigned welders. In case the project demands more resources, Belman has additional skilled welders in our workshop that are qualified to join the on-site service team.
The on-site service team has worldwide experience and has worked in places such as; Siberia, Saudi Arabia, United States, Netherlands, South Africa, China among many other places.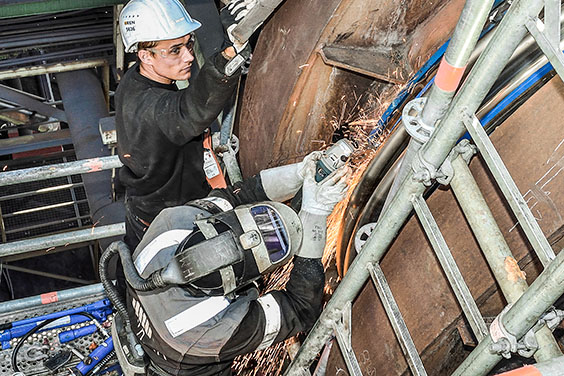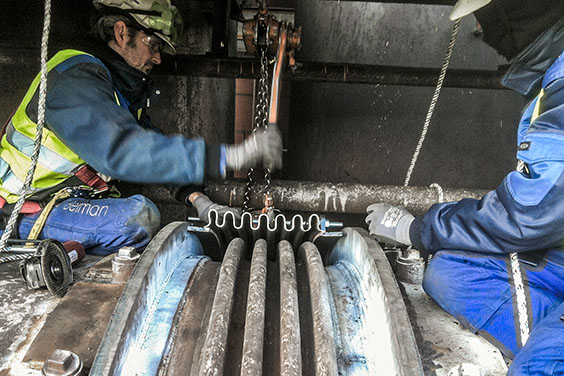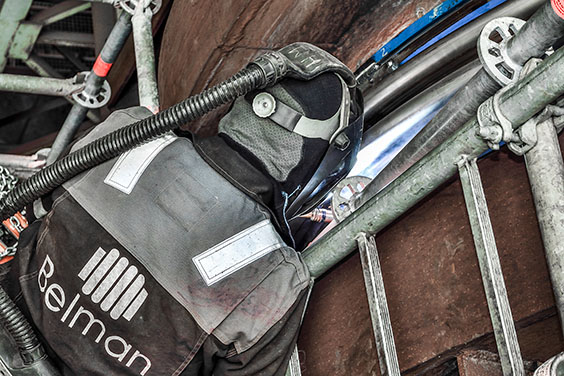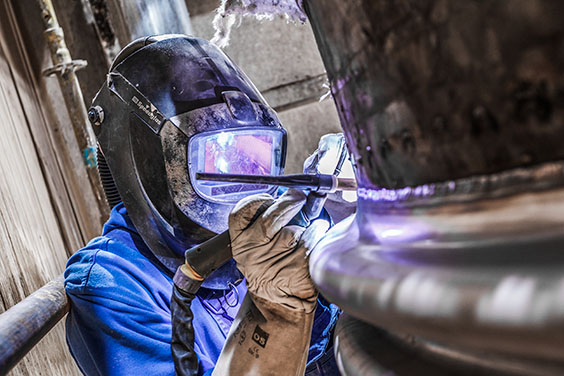 All standard equipment needed for an installation/replacement job is packed and available for immediate use in Belman's on-site service container. This ensures that the on-site service team can be available and ready to work on-site within short notice.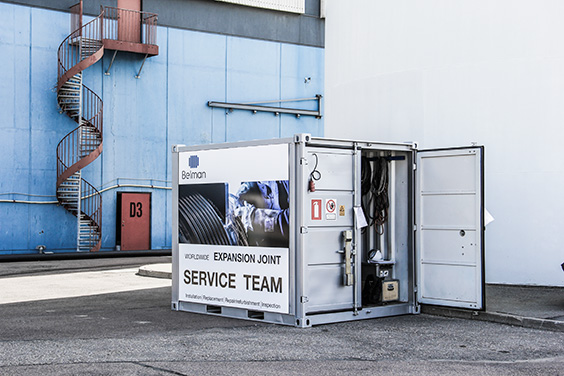 CERTIFICATES
The on-site service team members have extensive experience in working on-site worldwide and in various industries. They are certified for welding according to ASME IX, EN 287 and EN 1418. Furthermore, they are certified to operate overhead travelling cranes and forklift trucks. The welder certificates can be forwarded upon request as part of the welding documentation. Among other the on-site service team of course hold the VCA approval, which is mandatory in the petrochemical industry in countries such as Germany, the Netherlands and Belgium.
SITE APPROVAL
Belman's on-site service team has completed lot of mandatory coursers and own the certificates and necessary approvals. They are also ready to take other relevant coursers according to customer requirements.
SAFETY
The on-site service team members attend courses in first aid, and due to previous project demands, they have attended several additional safety courses, helping them to comply easily with any safety requirements mandated by clients.
FLAME RESISTANT CLOTHING
All clothing worn by the on-site service team makes use of flame retardant/antistatic materials especially designed for the purpose and according to the relevant standards: EN 1149-5, EN 11611, EN 11612 and EN 61482-1.

CERTIFICATES & APPROVALS: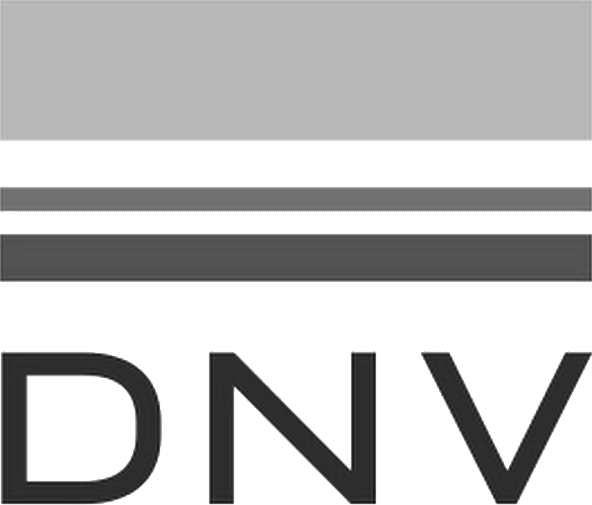 WHENEVER YOU NEED ASSISTANCE



ANYTIME, ANYWHERE
The Belman on-site service team can quickly go to any site of yours to help on emergency repairs, Clamshell Bellows installations etc.
They have done it many times before.