HEAT EXCHANGER
EXPANSION JOINTS
Heat Exchanger Expansion Joints are installed in the heat exchanger itself or in the pipeline connection the heat exchanger and the compressor to accommodate thermal contraction and expansion, by absorbing the movements generated. Heat Exchanger Expansion Joints offers the optimal solution to manage and control movements generated in heat exchangers and thereby ensure safe operation and reliability. As this application operates under high pressure it requires special designed Heat Exchanger Expansion Joints made by experienced producers. Belman expertly design and manufacture Heat Exchanger Expansion Joints as per many different design codes, design specifications and industry regulations required by the client and application.
Design range and scope of supply within Heat Exchanger Expansion Joints
The capability design range for Belman and Heat Exchanger Expansion Joints are:


PRESSURE:
Up to 150 barg or more if required

TEMPERATURE:
-256°C to +1000°C

MATERIALS:
Austenitic stainless steels, High alloys, Duplex, Titanium, Hastelloy,
Incoloy, Inconel, Alloy 59

DESIGN CODES:
EN 13445, EN 13480, EN 14917
ASME VIII, div.I, ASME B31.3
ASME B31.1, EJMA, AD 2000
and others on request

TESTS:
Radiographic examination (X-ray), Helium leak testing, Pressure test,  Air test, Dye penetrant test,  Magnetic particle examination and many more
HEAT EXCHANGER EXPANSION JOINTS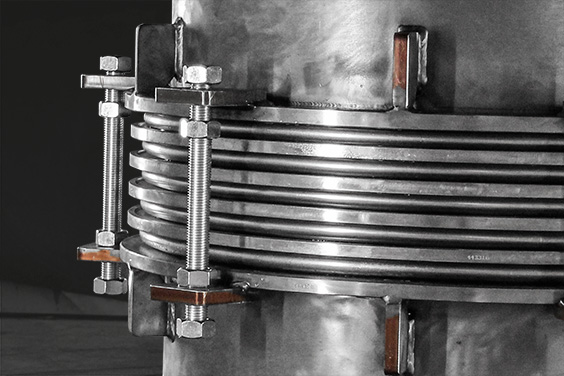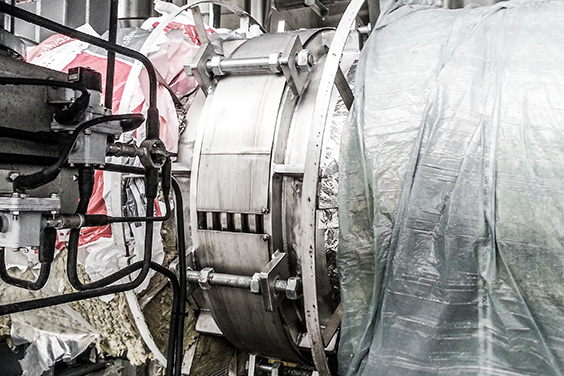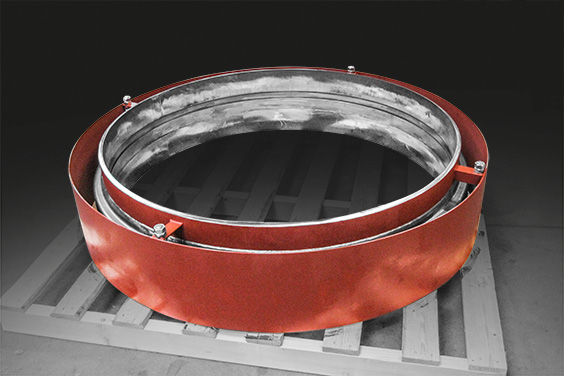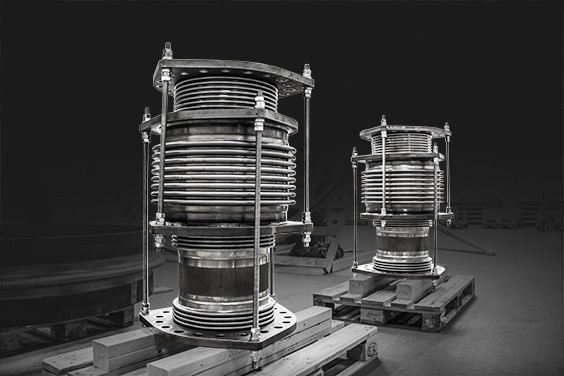 EXPANSION JOINT DESIGNED TO REDUCE FORCES

ON HEAT EXCHANGER NOZZLES
For installation in a exhaust vapour pipeline section in a Chemical Plant in Europe, Belman designed and manufactured a Corner Relief Expansion Joint in order to reduce the forces acting on the heat exchanger nozzle. This solution absorbs the thermal movements from both directions, while reducing the pressure thrust on the connection. Due to the location in the plant, the Expansion Joint was made entirely from Hastolley.
EXPERIENCED & APPROVED SUPPLIER
Bronswerk • Schiller Apparatebau GmbH • Zaklad Mechaniczny Azomet • Fanø Kran Service • Alfa Laval • ATHCO Engineering •
Solvay • Arvos Group • Falk •  Schrader Apparatebau GmbH  • ÖMV AB • Japrotech • Kelvion • Terbud •
HEAT EXCHANGER EXPANSION JOINTS
In the Heat Exchanger
As the Heat Exchanger per design is a cylindrical shell containing a bundle of tubes. axial expansion between the shell and the tubes is a well-known challenge for heat Exchanger designers. Expansion Joints are installed in Heat Exchangers to accommodate these axial movements, as the tubes and the shell in Heat Exchangers do not expand in a uniform way due to varying materials, temperatures as well as other factors. If the Heat Exchanger is not designed to control these movements (expansion) this will cause damages on the heat exchanger. By installing Heat Exchanger Expansion Joints in the outer shell, movements are absorbed and pressure integrity and durability of the Heat Exchanger is achieved.
In the piping system around the Heat Exchanger
The movements generated in the piping system by connected equipment, fluctuations in temperature in the piping as well as pressure and pressure changes are specific for each piping system. No matter if they are axial, lateral or angular movements the Expansion Joints can be designed to handle and control these to protect the piping system and connected equipment.
Belman is experienced in customised Heat Exchanger Expansion Joints to the exact application.
Belman designs and manufactures a wide range of Heat Exhcanger Expansion Joints for installation in heat exchangers and the piping system around the heat exchanger. Heat Exchanger Expansion Joint design and types are selected based on wether they are installed in the Heat Exchanger itself or in the piping system around the heat exchanger. The design of the Expansion Joint is specified by the amount of movements, the media and the operating parameters in the Heat Exchanger and its piping system.
Design
For most applications the Heat Exchanger Expansion Joints used are multi-ply bellows with ring reinforcement, but some clients prefer thick walled singly ply bellows (Lens Expansion Joints). For the piping aorund the Heat Exchanger Pressure balanced Expansion Joints are applied. The designs mainly used are: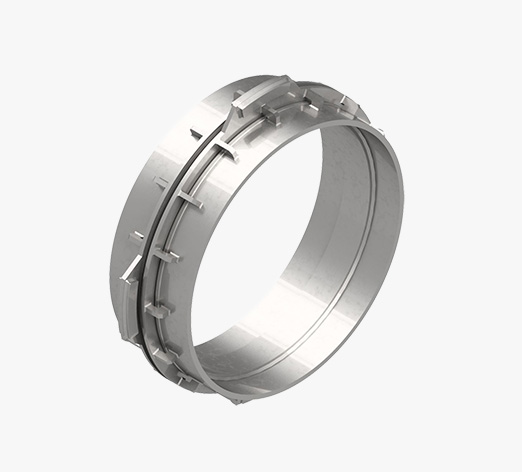 RING REINFORCED
EXPANSION JOINTS
By supporting a multi-layered Expansion Joint bellows with ring reinforcement, an optimum combination of both pressure integrity and service life is achieved.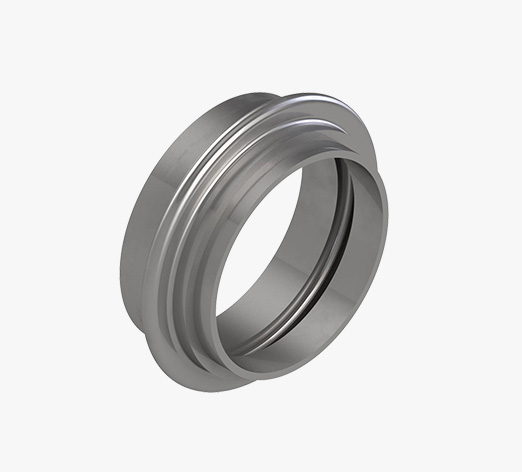 UNRESTRAINED AXIAL
EXPANSION JOINTS
Inside the Heat Exchanger unrestrained Expansion Joints with welding ends are often used.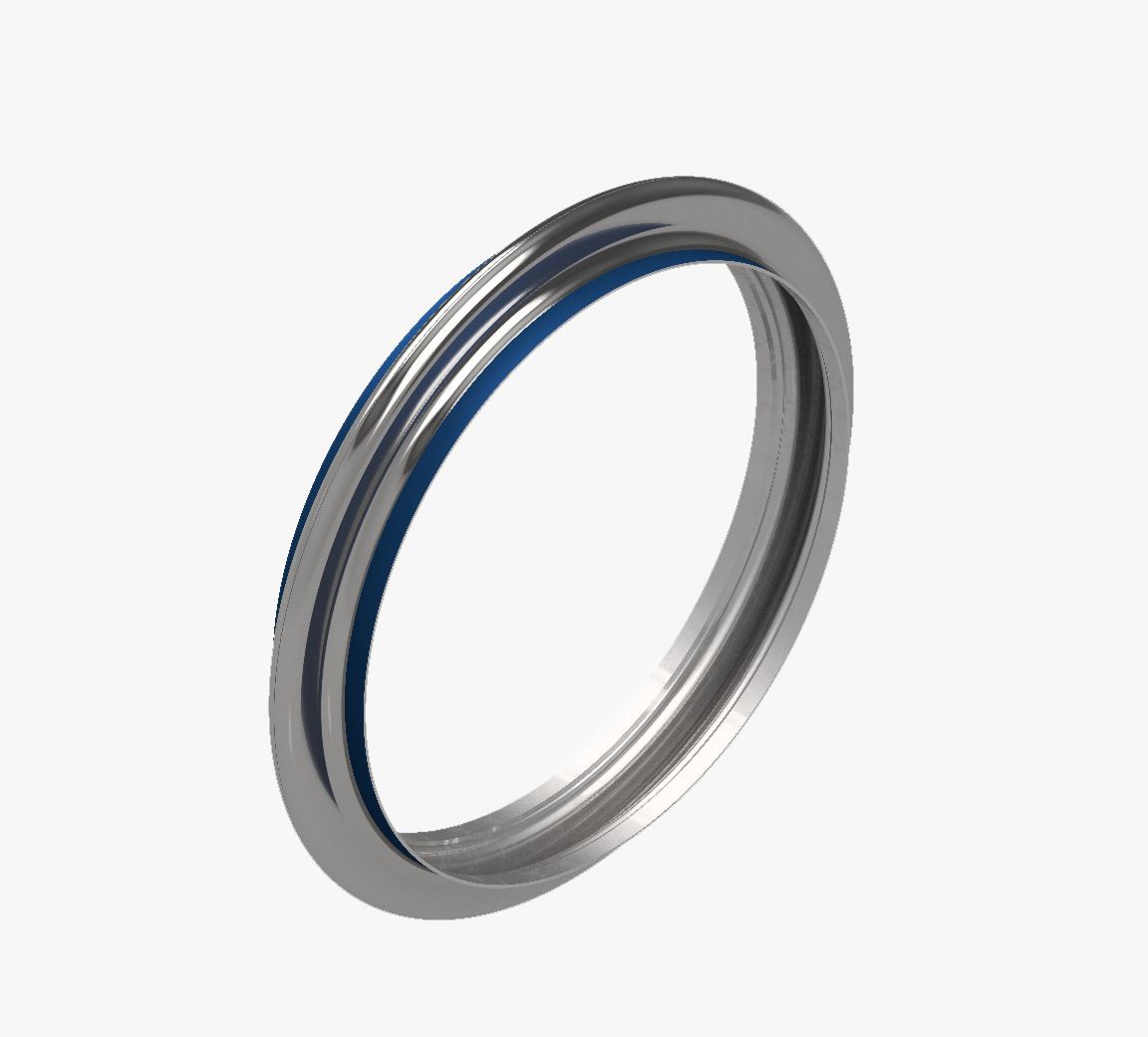 LENS
EXPANSION JOINTS
Lens Expansion Joints are single layer bellows, with a greater material thickness. In heat exchangers and equipment operating under high pressure this type is often preferred.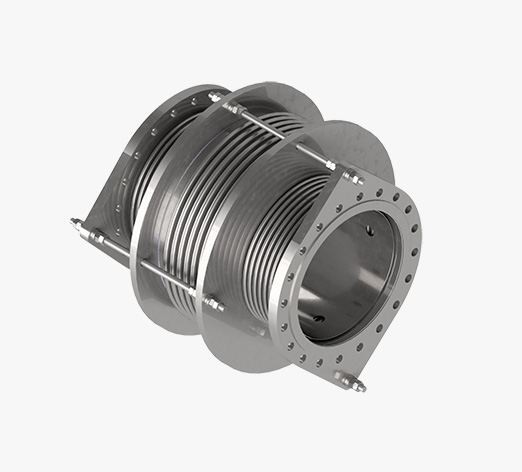 PRESSURE BALANCED
EXPANSION JOINTS
Pressure Balanced Expansion Joint are prefered to abosrb movements in the piping system around the heat exchanger  while reducing the pressure thrust on the connection.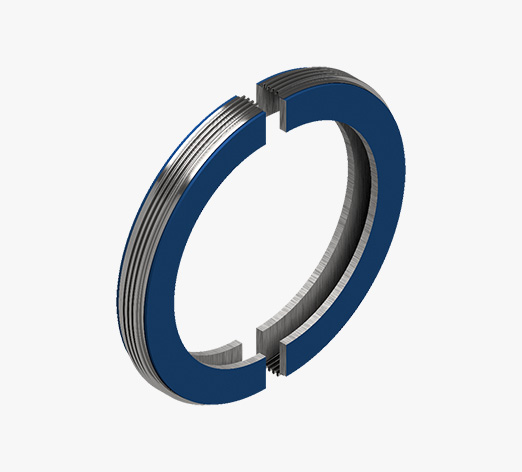 CLAMSHELL
BELLOWS
Clamshell Repair Bellows provide a very effective solution when a quick and unplanned replacement of the bellows is needed.
In most projects Belman customise the Expansion Joints for Heat Exchangers and the piping system around the Heat Exchanger.
Heat Exchanger Expansion Joints from Belman can be designed and manufactured from all kind of materials. Expansion Joints for Heat Exchangers and the piping system around it are mainly made from austenitic stainless steel as well as higher alloyed steels such as Hastelloy. The choice of material is based on the media and the sorrounding environment. The connection ends are made in austenitic stainless steels or if required carbon steel with a client specific coating system applied.
Both pressure integrity and service life is achieved
Customised for the operating pressure of the exact application in the Heat Exchanger and the piping system around it
Allow the use of Expansion Joints even in high pressure applications
Cost-efficient solution for high-pressure applications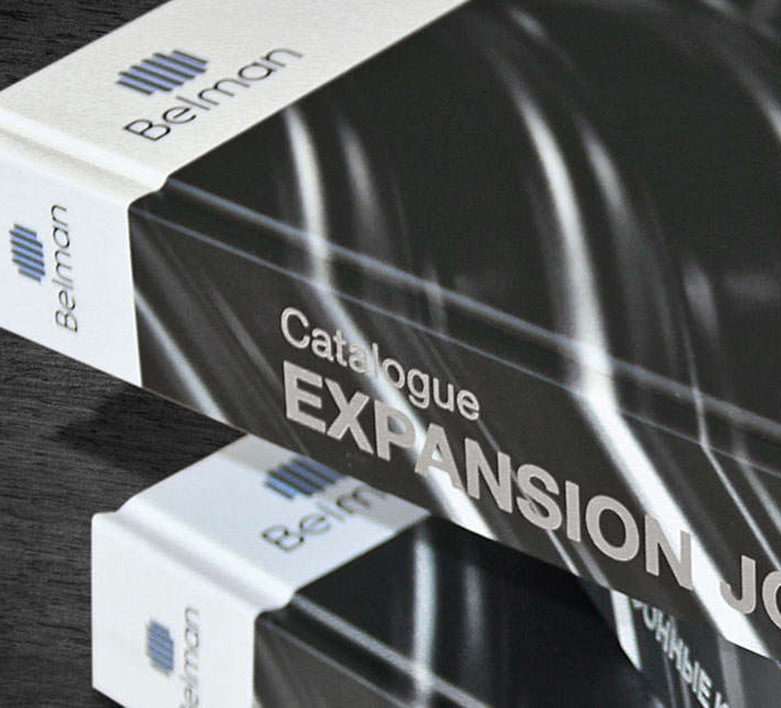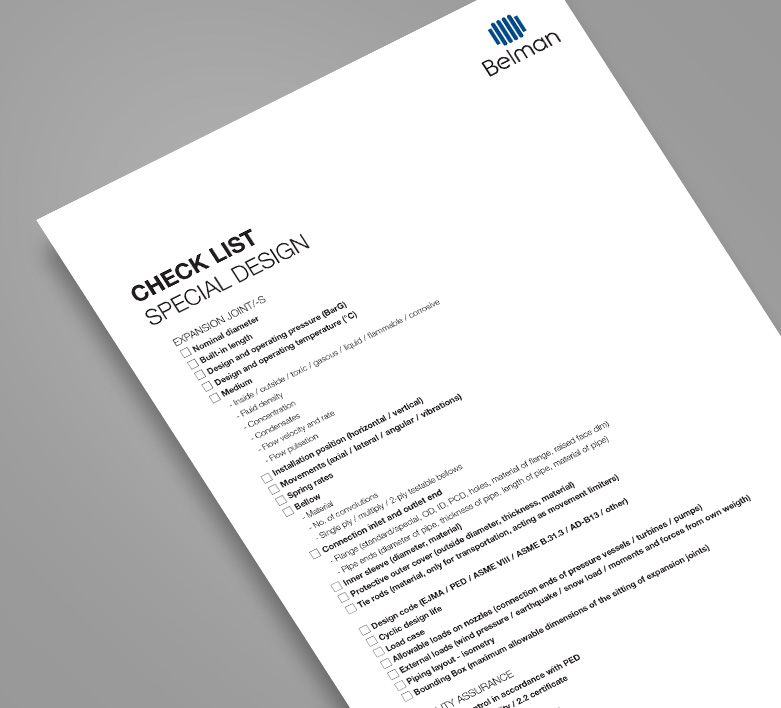 Belman is known for high quality products and therefore our quality control is a fundamental part of our business. All processes during production designed by the Belman quality engineers, is strictly follow and implement according our procedures and instructions and carefully inspected by Belman quality inspectors. All checks and inspections are done according to the strict prevailing Belman quality control procedures which is part of the Belman ISO 9001 quality management system approved by DNV.
ITP & Test
Inspection test Plan generated by the quality management system makes sure that each step of manufacturing has the appropriate inspection points such as Hold and Witness points.
Based on manufacturing code, project specification, application, media, and eventual ship classification rules Belman performs a large variety of quality tests including destructive, non-destructive testing and proof testing. All tests can be witnessed by the 3rd part based on the customer and classification requirements.
Destructive test: such as life cycle test and burst test to validate the design, i.e., vessels and offshore platforms
Non-destructive test such as Visual testing, dye penetrant test, Radiography examination, Magnetic testing, ultrasonic testing, hardness testing and PMI for all applications
Proof tests: leak test with air, leak test with helium and former gas, hydrostatic pressure test for all application
WE HAVE ENGINEERED

EXPANSION JOINTS SINCE 1994

This enable us to find you the optimum solution to your piping system.