EXTERNALLY PRESSURISED
EXPANSION JOINTS
Externally Pressurised Expansion Joints are the perfect solutions when the Expansion Joints must absorb very large axial movements under high pressure. In principle, there are no limits to the size of axial movement that can be absorbed by this type of Expansion Joint. In Externally Pressurised Expansion Joints, the bellows element(s) is arranged so that the media flow is on the external side of the bellows, while the inside part of the bellows is only subjected to atmospheric pressure with this side being in direct connection with the atmosphere. External pressurising of the bellows eliminates pressure instability as a design limitation and permits the absorption of large axial compression. Where an internally pressurised bellows will become unstable and buckle due to internal pressure, the pressure around an externally pressurised bellows will have a stabilising effect on the bellows. This makes it possible to achieve a construction of Externally Pressurised Expansion Joints with great flexibility for large axial compensation. With only the outside of the bellows subjected to pressure and the convolutions packed under a cover, the perfect conditions for external insulation or underground installation can be achieved. As the convolutions of Externally Pressurised Expansion Joints are well protected under a cover, transport damage to the convolutions is unlikely to occur but most importantly, the cover offers maximum protection against leaking bellows or bellows failure.
Design range within Externally Pressurised Expansion Joints
Belman Externally Pressurised Expansion Joints can be designed within the range:


PRESSURE:
Up to 150 barg or more if required

TEMPERATURE:
-256°C to +1000°C

MATERIALS:
Austenitic stainless steels, High alloys, Duplex, Titanium, Hastelloy,
Incoloy, Inconel, Alloy 59

DESIGN CODES:
EN 13445, EN 13480, EN 14917
ASME VIII, div.I, ASME B31.3
ASME B31.1, EJMA, AD 2000
and others on request

TESTS:
Radiographic examination (X-ray), Helium leak testing, Pressure test, Air test, Dye penetrant test, Magnetic particle examination and many more
EXTERNALLY PRESSURISED
EXPANSION JOINTS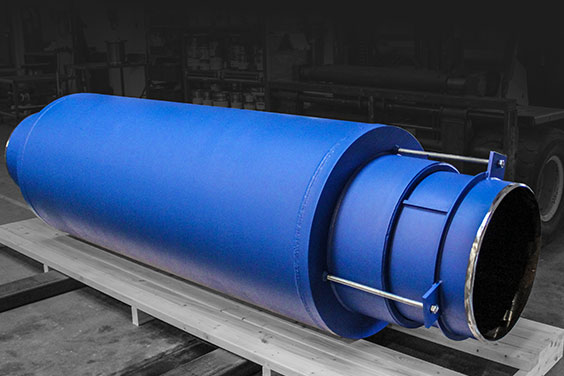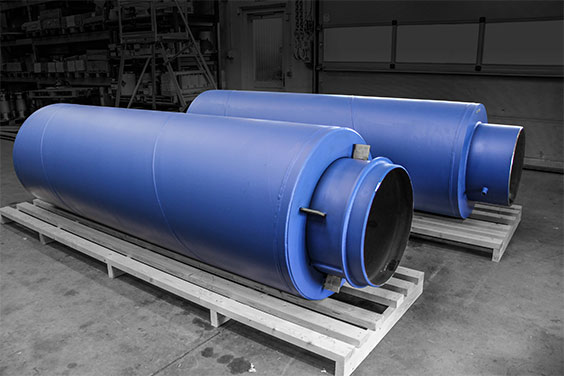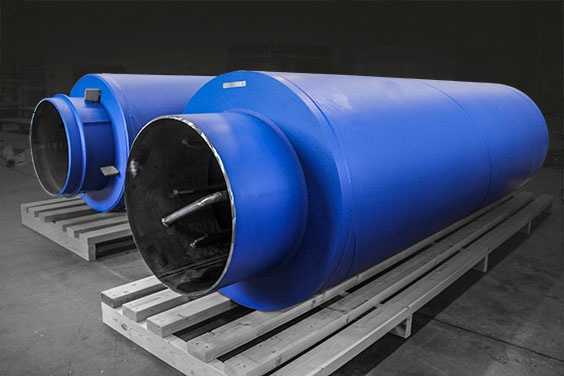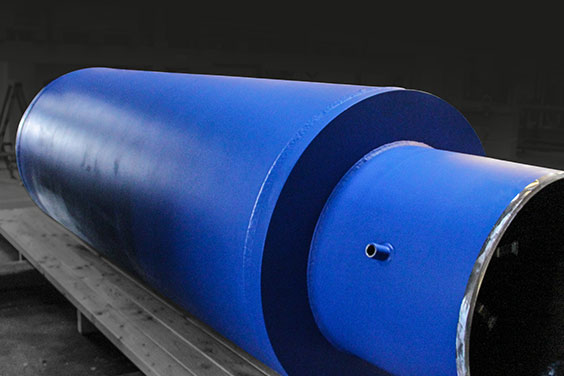 EXTERNALLY PRESSURISED EXPANSION JOINTS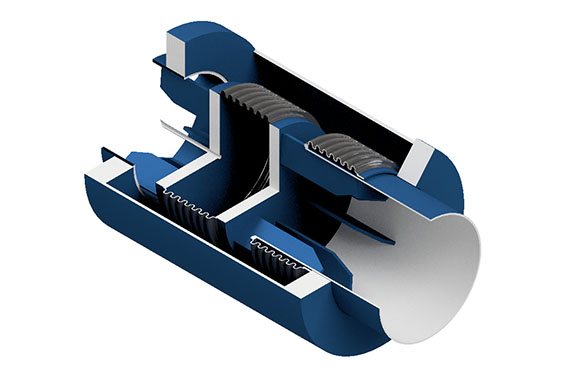 Cover
The cover of Externally Pressurised Expansion Joints, is often subject to relatively high stresses through the combination of diameter and pressure with the choice of material for the cover being based on the operating conditions. In some cases, high strength steel can minimise the total weight of the unit compared to regular steel types.
Drain
In order to avoid corrosion, it may be desirable to have the capability to drain the medium surrounding the Externally Pressurised Expansion Joints. This is possible with this Expansion Joint design.
HOW DOES THE
EXTERNALLY PRESSURISED
EXPANSION JOINTS
WORK?
This animation is showcasing how movements are absorbed by the Externally Pressurised Expansion Joints
Belman is known for high quality products and therefore our quality control is a fundamental part of our business. All processes during production designed by the Belman quality engineers, is strictly follow and implement according our procedures and instructions and carefully inspected by Belman quality inspectors. All checks and inspections are done according to the strict prevailing Belman quality control procedures which is part of the Belman ISO 9001 quality management system approved by DNV.
ITP & Test
Inspection test Plan generated by the quality management system makes sure that each step of manufacturing has the appropriate inspection points such as Hold and Witness points.
Based on manufacturing code, project specification, application, media, and eventual ship classification rules Belman performs a large variety of quality tests including destructive, non-destructive testing and proof testing. All tests can be witnessed by the 3rd part based on the customer and classification requirements.
Destructive test: such as life cycle test and burst test to validate the design, i.e., vessels and offshore platforms
Non-destructive test such as Visual testing, dye penetrant test, Radiography examination, Magnetic testing, ultrasonic testing, hardness testing and PMI for all applications
Proof tests: leak test with air, leak test with helium and former gas, hydrostatic pressure test for all application
WE HAVE ENGINEERED

EXPANSION JOINTS SINCE 1994

This enable us to find you the optimum solution to your piping system.