QUALITY ASSURED EXPANSION JOINTS
QUALITY ASSURANCE
& QUALITY CONTROL
The focus on quality has always been a central part of the Belman's mission and Belman is known for high quality.
The focus on quality has always been a central part of Belman's mission. We strive to provide services of consistently high quality that fully meet the expectations of our clients. Implementation and adherence to recognised quality assurance systems ensures that all processes have been accurately performed – starting from the initial review of the submitted specifications to their design, manufacturing, testing and documentation in accordance with the customers' requirements. The accreditations and certificates we possess enable us to shorten lead times and optimise resources by performing testing and inspection procedures in-house.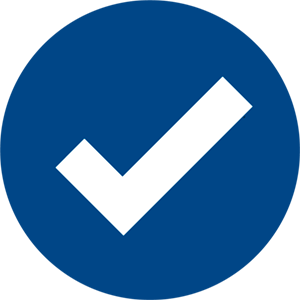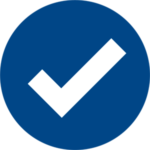 QUALITY AS A CENTRAL PART
The basic principle at Belman is that clients should have trust and faith in us and our products. Quality assurance is a prerequisite for Belman's continued development, as well as the most important reason for customers to choose Belman's products. Quality is an integral part of Belman's culture and its activities. Comply with customers' quality requirements and exceed them whenever possible. Base handling of quality issues based on "no defects" at each step through the process. The purpose of the progress work is to develop products that live up to customers' expectations, in the correct manner, and that can be produced in accordance with the principle of "no defects". Train employees in quality issues and enable responsible participation in the work of achieving continuous improvements. Ensure that along with initiatives to protect people and the environment, quality issues must be given the highest priority when an error occurs. Ongoing evaluation and documentation of how the market and the individual customers experience the quality of Belman's products and services, and respond quickly to the answer to the evaluation.
ARE
SATISFIED WITH THE QUALITY
OF BELMAN'S PRODUCTS
THINK BELMAN'S
PRODUCTS HAVE A CONSISTENT QUALITY
Source: Belman Customer satisfaction survey 2021.
Quality-assured solutions
CERTIFICATES  & TYPE APPROVALS
Belman Expansion Joints are certificed by recognised accrediation bodies and classification societies.
EN ISO 9001:2015
EN ISO 3834-2
2014/68/EU Module H
AD 2000-Merkblatt HP0
BV Mode I
TR CU 032/2013 (GOST-R)
Type and manufacturing approvals (incl. LNG/LPG):
DNV (Pressurized and exhaust)
DNV (LNG-LPG)
Lloyd's Register (LNG-LPG)
Bureau Veritas (Pressurized, exhaust and LNG-LPG)
ABS
RINA
CE & UKCA markings
Achilles JQS
UTILITIES NCE
Declaration of conformity (Russian Rostechnadzor)
ENSURING HIGH PRODUCT QUALITY 
USING RECOGNISED SUPPLIERS
Belman has an approved supplier list prepared by the procurement and engineering departments and approved by the quality department based on the Belman supplier evaluation with outstanding focus on:
Financial aspects;
Quality aspects;
Market-related aspects;
Delivery time;
Strategic aspects
The QA/QC department undergoes audits at regular intervals with the significant partners to always ensure their ability to live up with Belman's requirements for error-free deliveries.
CLIENTS ARE ASSURED HIGH QUALITY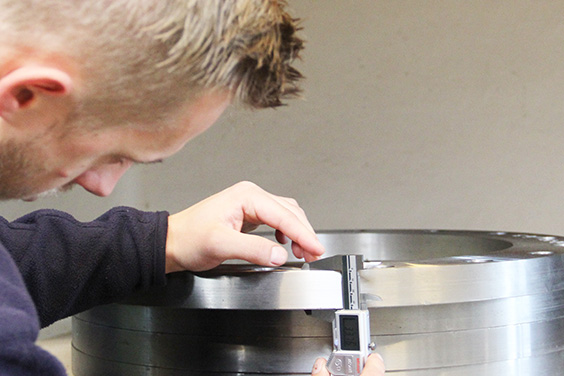 Incoming material control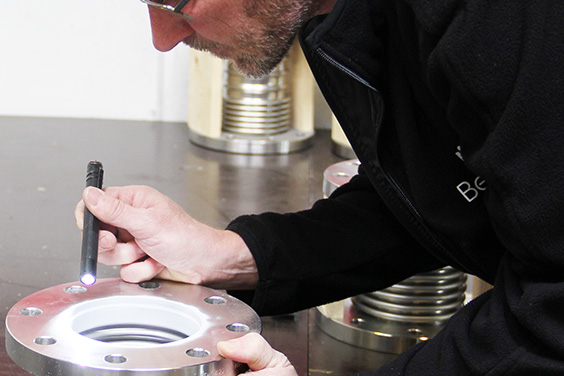 Positive material identification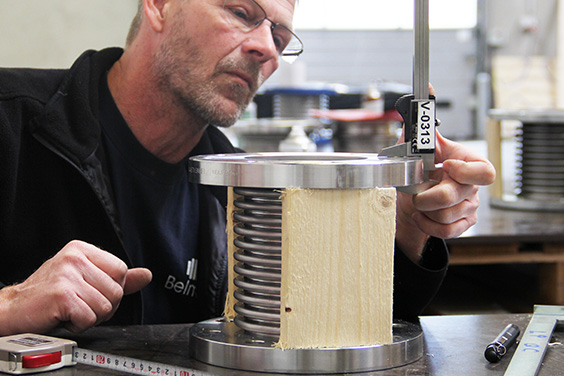 As Belman is often involved in projects, where Expansion Joints are a part of a critical application, we understand the importance of the supporting documentation. Thus detailed quotation, supporting calculations, extensive quality control and testing procedures will generally be a part of the project documentation. This also includes a study of provided specifications, close dialogue with the customer, inspection of welding consumables, materials and a sub-supplies audit, test, documentation and final inspection.
Not only does Belman concentrate on the quality and finish of its Bellows, the same careful attention is also applied to the associated documentation.
Belman claim that we are the best in documentation preparation. We generate the full documentation digitally to keep the full traceability, avoid typing mistakes and ensure on-time delivery of the Manufacturing Data Book (MDB).
Standard documentation is including inspection certification 3.1 and Declaration of conformity (DoC) or Certificate of confirmity (CoC)
Standard Manufacturing Data Book which is including 10 different sections such as ISO certifications, drawing and calculation reports, ITP, inspection certification and MTC, welding documentation, testing reports and procedures
Customised Manufacturing Data Book will be prepared as per request of the client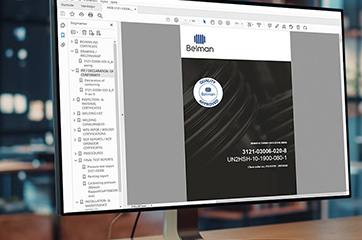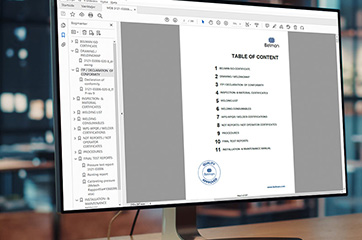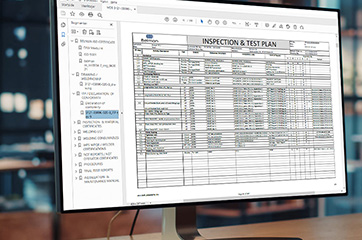 Belman has different marking and name plates available upon requested by the customer or required by international standards and codes.
As an example for PED III application, name plate is including:
the serial number, type, design data, pressure test, year of manufacture, CE marking, NoBo code and customer part number or customer order number.