Expansion joints for
THE MARINE INDUSTRY
Expansion Joints are widely used in the Marine industry. As trouble-free operation and safety is crucial onboard any vessel, to avoid a vessel stopped in the middle of the sea. This fact and marine conditions such as corrosive media and sourroundings set demands for equipment installed being of the correct material, product quality, design as well as covered by the approvals specified by the classification society. No matter the application, Belman has extensive experience and expertly design, test and manufacture of Expansion Joints for a large range of vessel types and applications onboard them including:
Container ships
Cargo vessels
Bulk carriers
Tankers
Pasenger ships (Cruise ships and ferries)
Naval vessels (incl. submarines)
Design range and scope of supply within Expansion Joints for the Marine Industry
Diameter, installation length and design criteria of Expansion Joints for for the Marine Industry can be changed upon customer's request and are available in:

DIMENSIONS:
DN 25 – 12.000

PRESSURE:
full vaccum up to 150 barG

TEMPERATURE:
-256°C to +1000°C

MATERIALS:
Austenitic stainless steels, High alloys, Duplex, Titanium, 254 SMO,
Incoloy, Inconel, Alloy 59

DESIGN CODES:
EN 13445, EN 13480, EN 14917
ASME VIII, div.I, ASME B31.3
ASME B31.1, EJMA, AD 2000
and others on request

TESTS:
Radiographic examination (X-ray), Helium leak testing, Pressure test, Air test, Dye penetrant test, Magnetic particle examination and many more.
Inspected by: DNV, BV, RINA, NK, KRS, Lloyd's Register and many more.
EXPANSION JOINTS
FOR THE MARINE INDUSTRY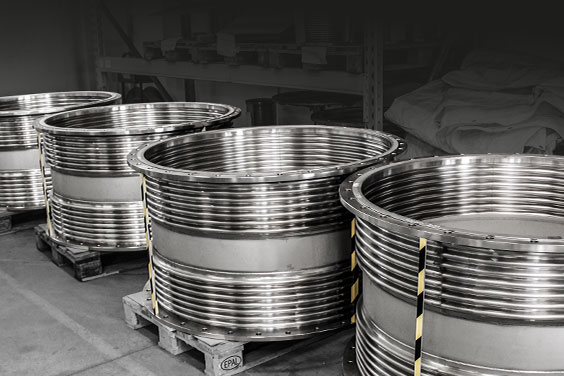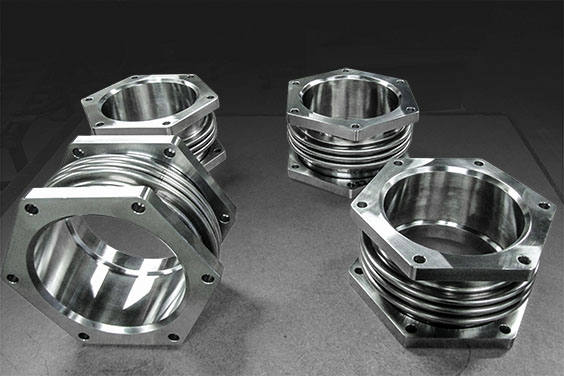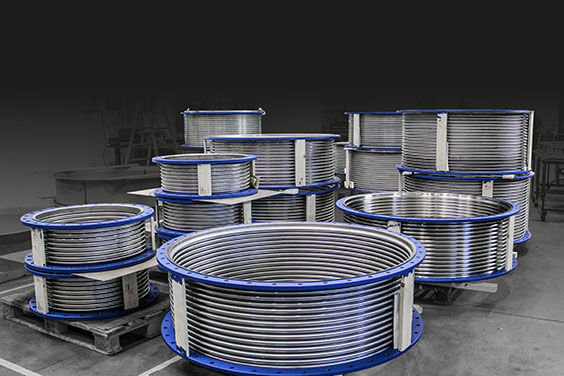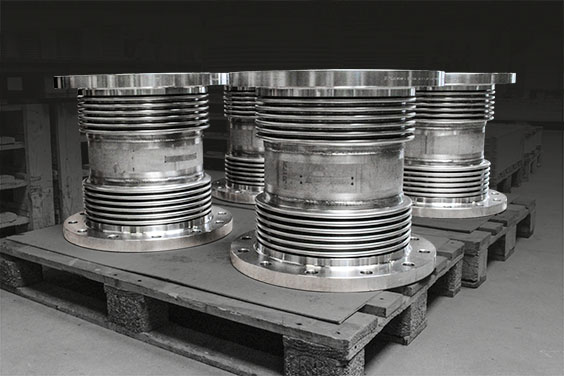 EXPANSION JOINTS FOR THE MARINE INDUSTRY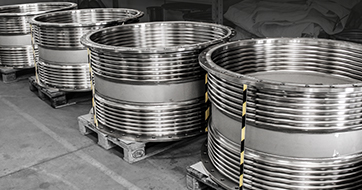 254 SMO EXPANSION JOINTS
Expansion Joints for exhaust gas cleaning (Scrubbers) for a passenger ship. Expansion Joints for Scrubbers are often made from 254 SMO.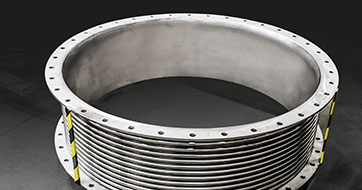 URGENT DELiVERY
A Bulk carrier was in urgent need for a replacement Expansion Joint for their scrubber system. Belman helped out by offering extremely short delivery time.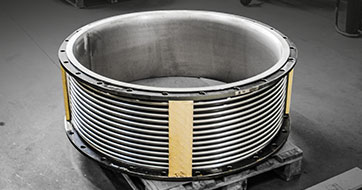 ALLOY 59 WAS THE SOLUTION
In some situations, austenitic stainless steels and 254 SMO is not resistant to the media in Scrubber system. In those cases, Alloy 59 is the solution.
EXPERIENCED & APPROVED SUPPLIER
MAN Diesel & Turbo • MSC • Dresser-Rand • Kawasaki • Wärtsilä Gas Solutions • Samsung Heavy Industries • Peter Brotherhood • DFDS • Drydocks World • Mærsk • Royal Caribbean Cruise Lines • Hyundai Heavy Industries • IHI Europe • Langh Tech • TORM • Baltec Marine • Fayard • AS LTH Baas • U.N. Ro-Ro Isletmeleri •
YARA • Pure-Teq A/S • ME Production • CMA CGM • Dream Cruises • Stena • Southern Route Marine • SPX • Sembcorp Marine • Matson • Navios • Jubilant • Breeze Marine Group • Finnlinnes • P&O • Eastern Mediterran Maritime • Chantier de naval marseille • Grandi Navi Veloci • Grimaldi Lines •
EXPANSION JOINTS FOR THE MARINE INDUSTRY
Vessels operate with corrosive media and in corrosive environments and this set high demands for equipment installed. This equipment including the Expansion Joints needs to be of the correct resistant material, product quality, design as well as covered by the approvals specified by the classification society. The media and the operating data of the vessel determine the material requirements for the Expansion Joints.
Belman offers Expansion Joints in a wide range of materials. Belman is highly experinced on the material selection for marine vessels. The materials mainly used are:
254 SMO (1.4547)
Alloy 59
1.4539 (AISI 904L)
Duplex
Superduplex
1.4571 (AISI 316 Ti)
1.4404 (AISI 316 L)
Material selection
Many marine vessel experience issues with the material of their components not being resistant to the acidic, salty and corrosive environments they operate in. Often higher alloyed chloride and acid resistant materials. Selecting the correct material therefore is crucial for trouble-free operation. Furthermore Expansion Joints may have to be designed with inner sleeves due to high media velocities and choice of material will be that of the bellow.
Belman has seen many situations were the vessels are struggling with unplanned stops due to leakages on their Expansion Joints. As the Expansion Joints are a wearing part the problems will show first here. To help clients Belman has made a case study on material selection for scrubbers, and this can serve as a guideline for other applications onboard the vessels as well. Furthermore Belman has made a video explaining this issue: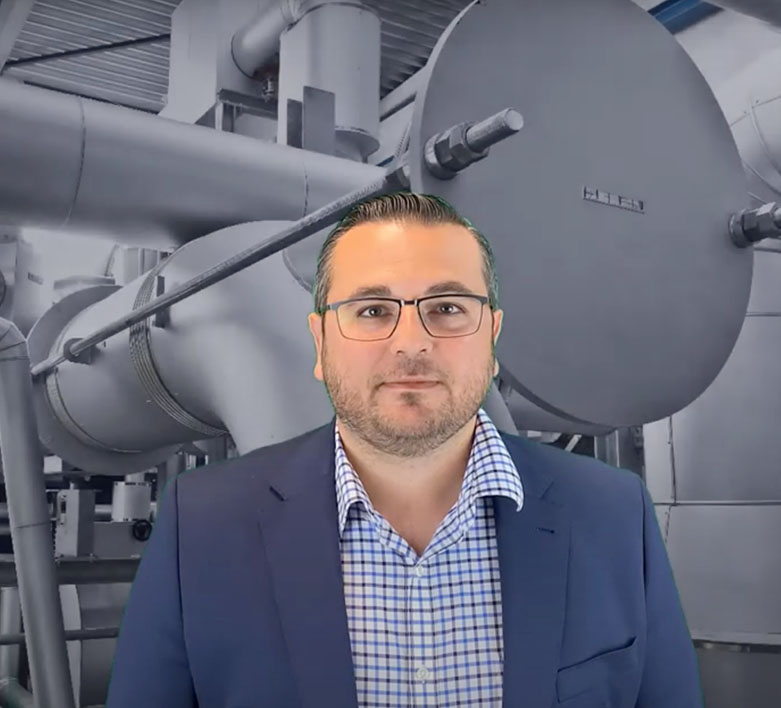 VIDEO
WHEN 254 SMO
IS NOT RESISTANT
ENOUGH
CASE STUDY ON

MATERIAL SELECTION FOR MARiNE
Belman is known for high quality products and therefore our quality control is a fundamental part of our business. All processes during production designed by the Belman quality engineers, is strictly follow and implement according our procedures and instructions and carefully inspected by Belman quality inspectors. All checks and inspections are done according to the strict prevailing Belman quality control procedures which is part of the Belman ISO 9001 quality management system approved by DNV.
Classification Societies
Belman hold type approvals from several classification societies such as NK, DNV, BV, RINA and furthermore Belman hold the BV Mode I certification. Belman can guide clients on the requirements and design the exact Expansion Joint neded to meet requirements and operating parameters.
ITP & Test
Inspection test Plan generated by the quality management system makes sure that each step of manufacturing has the appropriate inspection points such as Hold and Witness points.
Based on manufacturing code, project specification, application, media, and eventual ship classification rules Belman performs a large variety of quality tests including destructive, non-destructive testing and proof testing. All tests can be witnessed by the 3rd part based on the customer and classification requirements.
Destructive test: such as life cycle test and burst test to validate the design, i.e., vessels and offshore platforms
Non-destructive test such as Visual testing, dye penetrant test, Radiography examination, Magnetic testing, ultrasonic testing, hardness testing and PMI for all applications
Proof tests: leak test with air, leak test with helium and former gas, hydrostatic pressure test for all application
GET THE CORRECT
APPROVED EXPANSION JOINT
Get the one-pager describing how to get the correct approved Expansion Joints by explaining what is important to understand, what questions you as a client need to ask the supplier as well as much more useful information.
Aside from high product quality, Belman is known worldwide for our short delivery time. Not only is it short, we also pride ourselves for guaranteed on-time delivery. Actually clients of Belman agree:
THINK BELMAN
DELIVERS
ON-TIMe
THINK BELMAN
HAs SHORT DELIVERY TIME
Source: Belman satisfaction survey 2021.
EXTRA SHORT DELIVERY TIME
Belman is known for helping clients in urgent need
A stop in the middle of the ocean due failures on the system is critical, and furthermore is extra waiting time in ports and yards for components. Belman's fast track service is the solution for clients that have unplanned shutdowns, leaking Expansion Joints, part failures and other such problems. In such circumstances clients need extraordinary short delivery times, emergency service or additional assistance. If express delivery is required, we ensure the shortest possible delivery time on Expansion Joints. Our delivery response is in accordance with the customer's delivery time needs and the complexity of the design. Get in touch to learn more about the shortest fast track delivery time Belman can provide for your project.