PANTOGRAPHIC GIMBAL EXPANSION JOINT

Oil refinery

The Netherlands

ASME B31.3
Belman has just designed and manufactured a 5 meter long Expansion Joint with pantographic gimbal for an European oil refinery. The design of the product was challenging because it needed to absorb large movements, therefore it required a special solution.
Why Pantographic Gimbal Expansion Joint
Expansion Joints can incorporate multiple numbers of Bellows in one unit, depending on the movement they should compensate and also the installation environment. Several Bellows in a sequence allows the absorption of very large movements but in order to ensure a uniform movement of each Bellow, a Pantographic Linkage is needed.
What is a Pantographic Gimbal?
Pantographic Linkages are devices that distribute the total amount of axial movement and divide it equally to each bellow within the unit in order to avoid the premature wear out of bellows. Pantographic Linkages can be designed to absorb also single and multi-plane lateral movements. Expansion Joints that need to absorb lateral movements in two different planes would require the Pantographic Linkage to be connected with a gimbal ring in the center of the unit.
The Pantographic Gimbal Expansion Joint has the following design parameters:
Dimension: DN 500 • Installation length: 5000 mm • Medium: Vent gas • Design pressure: 0,5 BarG • Design temperature: 120°C • AX: up to +240/-0 mm • Bellow: 1.4571 • Flanges: 1.4306 • Inner sleeve: 1.4571 • Pantographic gimbal: 1.4301
Uniform absorption of large movements to avoid premature wear out on the Expansion Joint
Expansion Joint suitable for the application and its requirements
Expert assistance from a manufacturer experienced in engineered Expansion Joints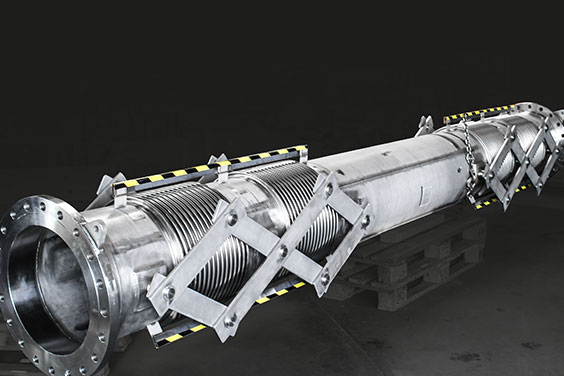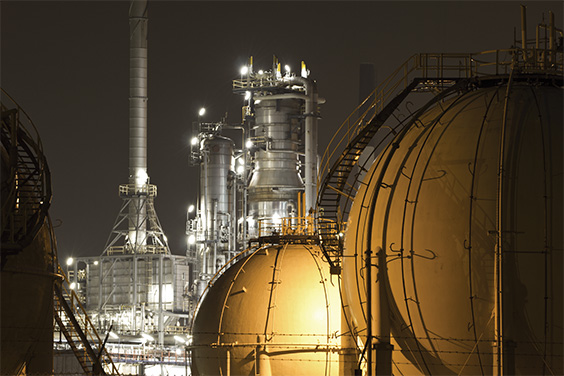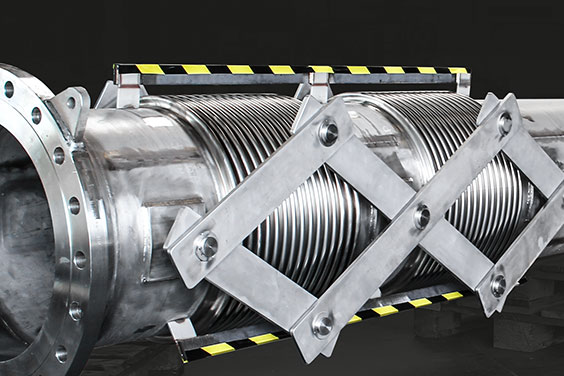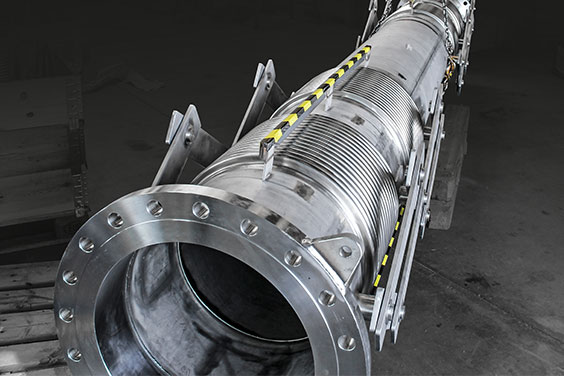 Technical information on Pantographic Gimbal Expansion Joints is available in the Expansion Joint Catalogue
page 377
Technical information on movements is available in the Expansion Joint Catalogue
pages 22 – 23

Total Fina Elf • BP • OMV • Gunvor Petroleum (Prev. Kuwait Petroleum Europoort B.v (Q8)) • Shell • Statoil • Rosneft • Enap • TOR • MOL • Chevron • Eni • Murco Petroleum Limited • Linde Ag • Qapco • Lukoil • Preem • Total • PKN Orlen • Saudi Aramco • KNPZ • Maersk Oil • Tatneft • Ceylon Petroluem • Termo Petroleo • Repsol • Equinor (Statoil) • Novatek • Valero • China National Petroleum Corporation (CNPC) • Ineos • National Refinery • Valero • GE Oil & Gas • ExxonMobil • Sinopec • Petrogal • NOV • Ruhr Oel •