TWO-PLY BELLOWS
FOR FERTILIZER PRODUCER


 Fertilizer manufacturing plant

Europe

EJMA + EN 14917
Belman has designed and manufactured 7 pcs. two-ply bellows Expansion Joints that meet the special material requirements for installation in a European fertilizer manufacturing plant. Belman has once again demonstrated its expertise in custom design, materials, welding procedures and innovative testing.
Client challenge – complex media composition
The fertilizer manufacturing plant needed an Expansion Joint solution that was corrosion-resistant to handle the aggressive media and would also ensure a long service life. in addition, the client required a solution that could continue to offer trouble-free operation in the event that one ply in the multiple bellows failed. The Expansion Joints were a repurchase as a planned replacement of some old Belman Expansion Joints that has ended their service life.
BELMAN'S SOLUTION – two-ply bellows Expansion Joints made from special materials
The two-ply bellows Expansion Joints were a mix of tied Expansion Joint, hinged Expansion Joint and corner relief Expansion Joint solutions designed for the specific locations in the pipeline and its operating data. Due to the critical medium complexity, the Expansion Joints were designed with two-ply testable bellows as per the client's request for 100% redundancy. The bellows were made from 1.4539 (AISI 904L) with pipe end, flanges and the middle pipe made from 1.4307 (AISI 304L). All these materials were selected to meet the client request of low molybdenum content in the used materials to avoid corrosion.
Two-ply testable bellows
Due to the critical medium, two-ply testable bellows were selected for the design, as they can provide an early warning if a bellow ply fails. Two-ply testable bellows consist of two plies of material with the same thickness. The plies can be made either from the same or different materials. A small space exists between the plies. The bellow is designed in such a way that each ply is able to take up the full load independently. So, if one ply fails/is leaking the other ply will take up the load, operate and ensure pressure integrity alone until the next scheduled shutdown.
Special Welding Procedures (WPS) made due to special material requirements
As the medium in the pipelines where the Expansion Joints are to be installed is a complex chemical composition, special materials were required. The Expansion Joints are made from AISI 904L – and the requirement for them was that they contained a low content of molybdenum, as the combination of the media and molybdenum would corrode the Expansion Joints. This could be avoided by selecting the correct materials and was therefore selected as the solution. Belman is highly experienced in sourcing and working with very special materials, making it the go-to company for many clients who have special requests. Due to the client's requests for low molybdenum content, special filling material was required as well as special welding procedures. Belman did not have these welding procedures already in place, but as Belman is known for being flexible to meet client needs, we quickly obtained the necessary welding procedures (WPS).
Experienced in the design and manufacture of Expansion Joints made from special materials
Belman is the go-to company for Expansion Joints in special materials. Since 1994, Belman has customised and engineered Expansion Joint solutions for clients in many different industries worldwide. Many of these Expansion Joints are designed and manufactured in special materials. Belman excels in providing Expansion Joint s made from materials such as: Alloy 59, Alloy 188, Titanium (several different grades), Nickel, 254 SMO, Duplex, Superduplex etc.
Design parameters of the Two Ply Testable Bellow Expansion Joints:
Type: Hinged Expansion Joint • Quantity: 1 pc. • Dimensions: DN 1000 • Installation length: 2645 mm • Medium: Ammonium Nitrate/Steam • Design pressure: -0,01/+0,5 barg • Design temperature: -10°C/+210°C • LA: +/-20 mm • Bellow: 1.4539 (AISI 904L) • Inner sleeve, pipe end, middle pipe: 1.4307 (AISI 304L) • Design code: EJMA
Type: Tied Expansion Joint  • Quantity: 1 pc. • Dimensions: DN 900 • Installation length: 1305 mm • Medium: Ammonium Nitrate/Steam • Design pressure: -0,01/+0,5 barg • Design temperature: -10°C/+210°C • LA: +28,3/-0 mm • Bellow: 1.4539 (AISI 904L) • Inner sleeve, pipe end, flange, middle pipe: 1.4307 (AISI 304L) • Design code: EJMA
Type: Corner relief Expansion Joint  • Quantity: 1 pc. • Dimensions: DN 1000 • Installation length: 2410 mm • Medium: Ammonium Nitrate/Steam • Design pressure: -0,01/+0,5 barg • Design temperature: -10°C/+210°C • Bellow, inner sleeve: 1.4539 (AISI 904L) • Pipe end, flanges, middle pipe: 1.4307 (AISI 304L) • Design code: EN14917
Type: Corner Relief Expansion Joint • Quantity: 1 pc. • Dimensions: DN 600 • Installation length: 3600 mm • • Medium: Ammonium Nitrate/Steam • Design pressure: -0,01/+0,5 barg • Design temperature: -10°C/+210°C • LA: +/-12 mm • Bellow, inner sleeve: 1.4539 (AISI 904L) • Pipe end, flanges, middle pipe: 1.4307 (AISI 304L) • Design code: EN14917
Type: Tied Expansion Joints • Quantity: 2 pcs. • Dimensions: DN 600 • Installation length: 1226 mm • Medium: Tail gas • Design pressure: 11,5 barg • Design temperature: +280°C • LA: +/-20 mm • Bellow: 1.4306 (AISI 304L) • Inner sleeve: 1.4307 (AISI 304L) • Flanges, middle pipe: 1.4307 (AISI 304L) • Design code: EN14917
Type: Tied Expansion Joint  • Quantity: 1 pc. • Dimensions: DN 800 • Installation length: 1671 mm • Medium: Nitrous oxide gas • Design pressure: 6 barg • Design temperature: +120°C • LA: +25/-0 mm • Bellow, inner sleeve: 1.4307 (AISI 304L) • 1.4307 (AISI 304L) • Design code: EN 14917
Expert assistance from a flexible supplier with the capacity to offer the special welding procedures needed
Safe absorption of movements and the assurance of trouble-free operation in the event one ply fails, due to the two-ply bellow design
The considerable know-how of an experienced manufacturer that can produce in special materials
An Expansion Joint that is designed to work under specified operating parameters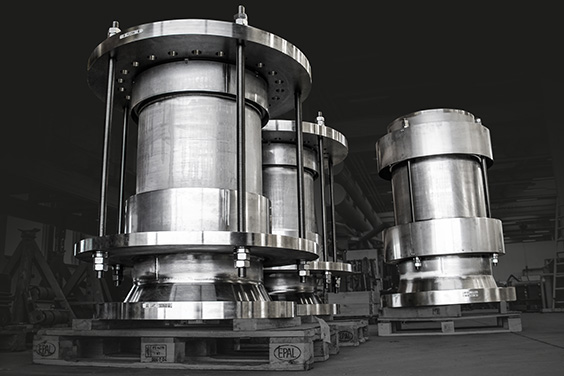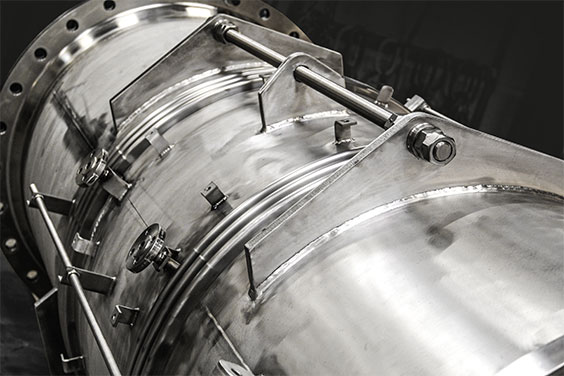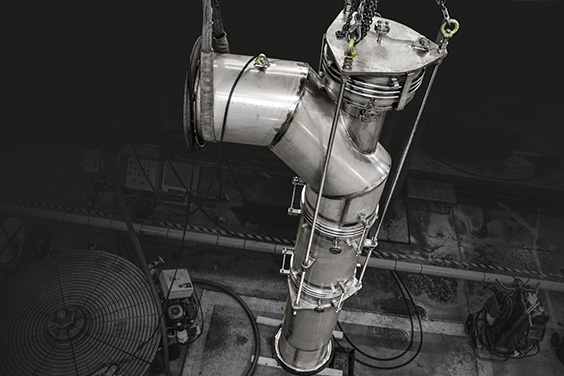 Technical information on the different materials we can make your Expansion Joints from, as well as their properties and benefits, can be found in the Expansion Joint Catalogue on
pages 53-55
You can find resistance tables to help you select the right material for the medium in question in the Expansion Joint Catalogue on
pages 439-459

PhosAgro • Air Liquide • ICL • Cabot Corporation • Unilever • Schenectady Europe • Metafrax • Johnson Formox • OCI • Solvay •  SASA • IBN Sina • Xstrata • SABIC • Ineos • Mexichem • BASF • Borsod chem • ENI • Messer Group • Croda • Nouryon • Swecem • SILA • Dow •  CF Fertilizers • SSAB • Kronospan • Wanhua • Perstorp • FMI Process • Dovechem • Masisa • Norcarb • Adama • Sasol • SIBUR • BAGFAS • Norcarb • Nouryon • Celanese • KGHM • Aurubis • Pfizer • Haldor Topsoe •