TANK FARM BELLOWS
AS FLEXIBLE CONNECTION BETWEEN STORAGE TANK AND MANIFOLD
A Dutch refinery wanted to reduce unwanted spills and sought a more reliable, flexible connection between their storage tanks and manifolds.
Current situation
The refinery was using VJ couplings as the flexible connection between the storage tanks and the manifolds. As the seal of the VJ couplings has a rubber ring, which is compressed by longbolts, regular maintenance had to be carried out in order to prevent leakages These couplings demanded a considerable amount of attention from the maintenance crew, particularly in the warm summer months, with the constant risk of spills.
New situation – The solution
The solution proposed to the refinery was the use of Tank Farm Bellows. This type of expansion joints look like standard lateral expansion joints, but are specifically designed for tank farm applications. These particular Tank Farm Bellows provided the refinery with a reliable, flexible connection that could absorb the tank settlements with a minimal risk of unwanted spills during the entire service life time of the storage tank. The integrated inner sleeves design ensures that there is no disturbance to the flow of the medium which could negatively influence the time needed to fill or empty the storage tank.
The bellows were made from Incoloy which gives a superb resistance against corrosion. The other expansion joint components are made from A105 and A106 Gr.B and coated with a special multi-layer coating system as per the customers' requirements. The Tank Farm Bellows complied with PED/CE and were delivered with full documentation, user guide and fabrication book. The expansion joints could be installed as soon as they arrived on site as no further NDE tests were required.
Added value
With this solution the oil refinery benefitted from:
A reliable alternative solution for VJ couplings that is significantly reducing the risk of unwanted spills
Extended service life with less maintenance costs
Guaranteed a 100% clear bore and no disturbance of flow of medium so no time loss during filling and emtying the storage tank
Technical data on the Tank Farm Bellows for the refinery:

Dimension: DN 200 & DN 400 • Installation length: 1300 mm & 2600 mm • Medium:  Kero/Jet A1 • Design pressure: 15,5 barg • Design temperature: -10/+150°C • LA:  +0/-100 mm • AN: +0/-1,5° •Bellow: 2.4858 • Flanges: A105 • Welding ends and Intermediate pipe: A106 Gr.B
Experienced
Our long reference list of customised expansion joints designed and manufactured for oil refineries and terminals is supported by all necessary approvals and accreditations. We are familiar with prevailing design codes such as PED, NORSOK, ASME, EJMA etc.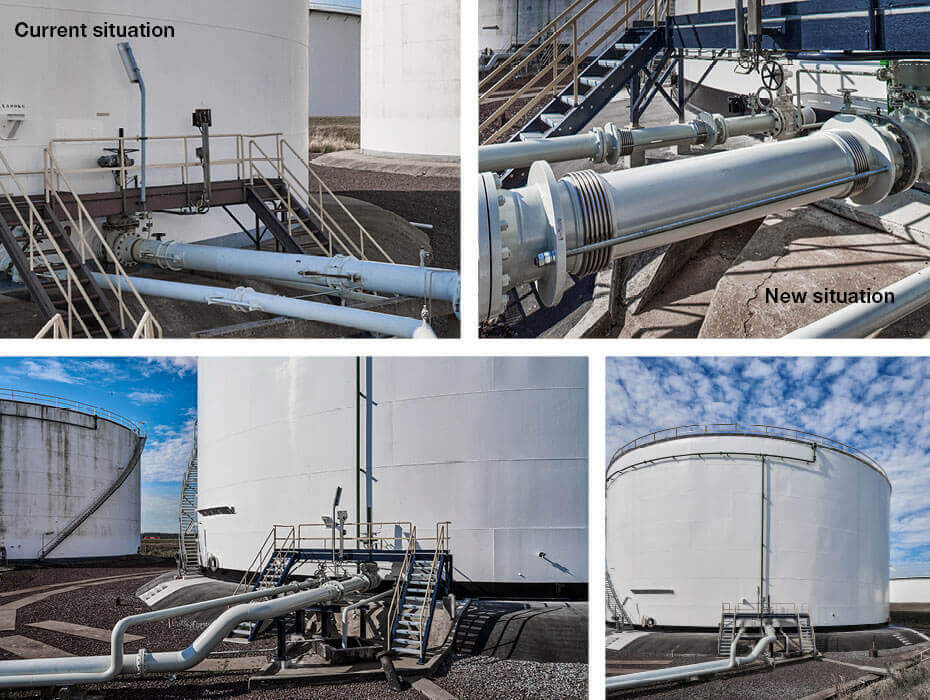 Contact our engineers
Get more information...
Tank Farm Bellows
BROCHURE