EXPANSION BELLOWS
FOR FORMULA 1
AUTOCLAVES


Formula 1

United Kingdom

EJMA
Belman has engineered and manufactured two Universal Expansion Bellows for installation in the autoclaves at a Formula 1 team's facility in the United Kingdom. The autoclaves are used to produce carbon fibre parts for the team's Formula 1 cars.
CLIENT ISSUES
The client contacted Belman after its high-performance engineering team detected a broken Expansion Bellow in their autoclave, which meant that they were unable to use it to produce parts. They needed a replacement unit for the worn-out Expansion Bellow, which was originally supplied by Belman back in 2014. Due to the age of the other Expansion Bellows in the autoclave, the team wanted to keep a still functioning one as a spare – which is why their enquiry was for two pieces. They needed sound, engineered replacement Expansion Bellows at extremely short notice to limit downtime. Even though the client had several autoclaves, they needed them all in operation.
Importance of the autoclave for the Formula 1 team*
Formula 1 cars represent the most advanced and innovative engineering techniques that exist. Engineers are always striving to take Formula 1 cars to the next level in an extremely competitive environment and ultra-fast world, where the smallest details count. Therefore, among many other impressive inventions, most of the parts you see on a Formula 1 car (i.e. the chassis, survival cell etc.) are made from carbon fibre composite, which is 10 times stronger than steel and half the weight. These carbon fibre parts are made by the teams themselves in custom designs and patterns using autoclaves. This complex process is all done in a clean room, where the layers of carbon fibre (sometimes up to 100 of them) are laid up and sealed and then placed under a vacuum to suck the air out and clamp them. The piece is then moved into the autoclave, which is basically a 'pressure cooker' where the resin embedded in the carbon fibre is cured and put under extreme pressure to squeeze the layers together. This process is usually done at around 180°C and up to 7 barg (100 psi) and each part spends anything from 2-8 hours in the autoclaves.
Carbon fibre technology has made a huge impact on the Formula 1 sport and the cars would certainly look very different if it had not been introduced. The layers of various carbon cloth types enable the designers, engineers, aerodynamicists and machinist to use numerous combinations and orientations to achieve their design specifications. The team need many spare components, many of which they bring with them to each race, which is why the autoclaves play such a crucial role.
*Source: https://www.popularmechanics.com/
BELMAN SOLUTION – Expansion Bellows with an extremely short delivery time
The team thus needed replacement Expansion Bellows with a short lead time to keep the autoclave operational. The client contacted Belman's UK branch with the urgent enquiry on Tuesday morning, and shortly after the client received a quotation. On Thursday, all details were settled and the Expansion Joints were manufactured and tested (including being pressure-tested at 10 barg). On Monday morning, the Expansion Joints left Belman using direct transport.
The Expansion Joints were produced according to the original design, which was however updated to meet the latest EJMA design standard. The steam piping for the autoclave generates axial and lateral movements during the heating processes and subsequent cooling processes. The Universal Expansion Bellows are designed to absorb these movements in combination. Due to the fixation of the piping, untied Universal Expansion Bellows were chosen. These were manufactured from stainless steel, a material able to withstand the media and meet the operating parameters.
What Belman do – fast track delivery
Belman is known for on-time delivery in a short time frame, as well as for our flexibility and ability to help clients in need. We have provided extremely short lead times to many clients with urgent requirements all around the world. You can read more about our Fast Track Service here: Belman Fast Track service
Belman – expertise on Expansion Joints for advanced technologies
Throughout the years, Belman has supplied numerous Expansion Bellows for many different advanced technology applications, including space rockets and particle accelerator and neutron scattering technologies. In addition to manufacturing and supplying them, Belman is often asked to consult on Expansion Joints by students and professors at prestigious technical universities for their pilot projects and research projects, both inside and outside European borders. More recently, we have been supplying Expansion Bellows tested at 224 barg for a low-carbon hydrogen production pilot project.
Design parameters of the Expansion Bellows for Formula 1 autoclaves:
Type: Universal Expansion Joints • Quantity: 2 pcs. • Dimensions: DN 40 • Installation length: 175 mm • Medium: Steam • Design pressure: 7 barg • Design temperature: 400°C • AX: +/-10 mm • LA: +/- 5 mm • Bellow: 1.4571 (AISI 316Ti) • Flanges: 1.4404 (AISI 316L) • Design code: EJMA
Extremely short delivery time
Guaranteed on-time delivery
Reduced waiting time
Specialists at finding the quickest and best solution for the client
Expert assistance from a manufacturer that understands critical deadlines and possesses the necessary know-how to design and manufacture Expansion Bellow solutions tailored to the specific design requirements of the piping layout for optimum absorption of the thermal movements generated by the operation
High-quality Expansion Joint solutions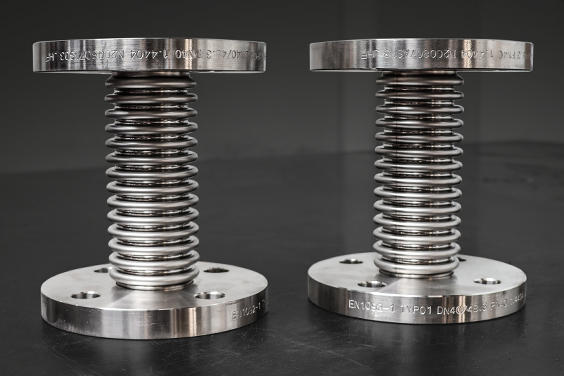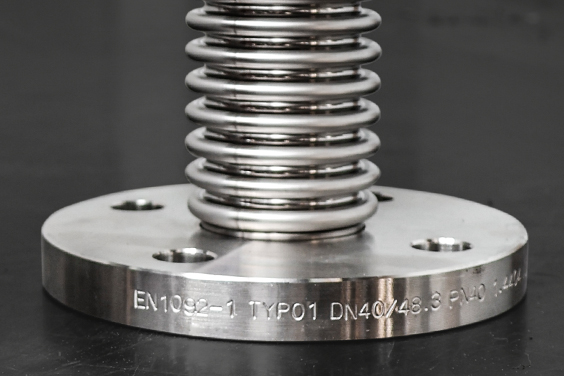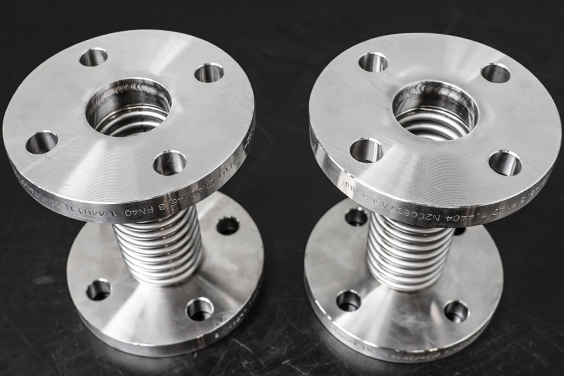 Technical information on Universal Expansion Joints in the Expansion Joint Catalogue on
page 33 
Information on Belman Fast Track Services here:
Universität Bundeswehr München • ESS • University of Oxford • Technische Universität Berlin • Red Bull Techology • RWTH Aachen Universität • Concordia University • Technische Universität Damstadt • University of Copenhagen • Technische Universität Dresden • Cranfield University • Universität Rostock • Universität Stuttgart • DTU – Risø • Vienna University of Technology • Isar aerospace technologies •