TITANIUM GR. 12
BELLOWS
FOR MINING


Mining

Argentina

EJMA
Belman engineered and manufactured 16 Expansion Joints for installation in a Lithium mining facility in Argentina. Due to the media composition and the surroundings, special materials such as Titanium gr. 12 for the bellows and Duplex 2205 for the flanges of the Expansion Joints were needed.
CLIENT ISSUES – special requirements for the Expansion Joints
Being a Lithium/Chloride solution, the mining operation had an acidic media. This placed special requirements on the materials for the installed components. To avoid premature failure or early replacement, this also applied to the Expansion Joint materials. The client needed Expansion Joints made from a material that could resist the harsh media and stand up to the environment they would be working in. The client therefore required Titanium gr. 12 bellows and Duplex 2205 flanges and was looking for a supplier with expertise and capabilities in these materials.
BELMAN'S SOLUTION – Expansion Joints made from special materials
Belman designed the Expansion Joints to meet the specifications and requests from the client for the Titanium gr. 12 bellows. The two most useful properties of titanium compared to other metals are its excellent corrosion resistance and high strength-to-density ratio. As the Expansion Joints were being installed in an application with an acidic and salty media, this material was the perfect choice. For the same reasons, the flanges were made from Duplex 2205 — a material that offers excellent corrosion resistance in extreme environments as well as high strength.
Belman – expertise in Expansion Joints for mining
Throughout the years, Belman has supplied numerous mining facilities around the globe. Having this vast experience enables us to design and manufacture sound and cost-efficient Expansion Joint solutions for the mining industry, regardless of client needs or the application. This expertise extends to remarkable knowledge and craftsmanship when it comes to special alloys and materials such as Titanium, Duplex, 254 SMO and nickel. Read more here:  Expansion Joints for the mining industry
Design parameters of the Titanium gr.12 Bellows:
Type: Universal Expansion Joints • Quantity: 4 pcs. • Dimensions: DN 65 • Installation length: 115 mm • Medium: Lithium/Chloride solution• Design pressure: 7,88 barg • Design temperature: 87°C • AX: +0/-2,6 mm • LA: +/-0,5 mm • AN: +/-3,5° • Bellows: 3.7105 (Titanium GR12) • Flanges: 1.4462 (Duplex 2205) • Design code: EJMA
 Type: Universal Expansion Joints • Quantity: 10 pcs. • Dimensions: DN 100 • Installation length: 150 mm • Medium: Lithium/Chloride solution • Design pressure: 7,88 barg • Design temperature: 132°C • AX: +0/-7,6 mm • LA: +/- 0,7 mm • AN: +/-0,7° • Bellows: 3.7105 (Titanium GR12) • Flanges: 1.4462 (Duplex 2205) • Design code: EJMA
Type: Universal Expansion Joints • Quantity: 2 pcs. • Dimensions: DN 200 • Installation length: 180 mm • Medium: Lithium/Chloride solution • Design pressure: 1,27 barg • Design temperature: 132°C • AX: +0/-25,5 mm • LA: +/-5 mm • AN: +/-10,5° • Bellows: 3.7105 (Titanium GR12) • Flanges: 1.4462 (Duplex 2205) • Design code: EJMA
High-quality and safe Expansion Joint solution
Expert assistance from a supplier who is highly experienced in special materials and has the capabilities to produce Expansion Joints all kinds of materials
Expansion Joints solutions tailored to the specific project and client requirements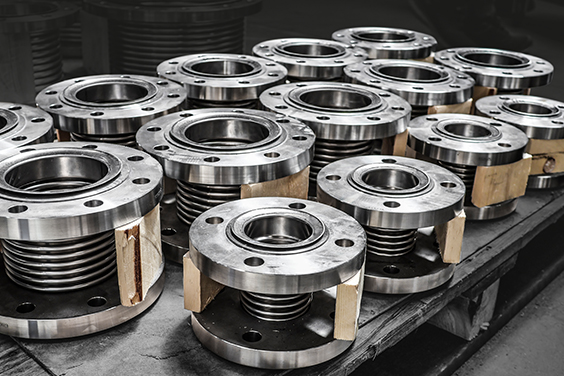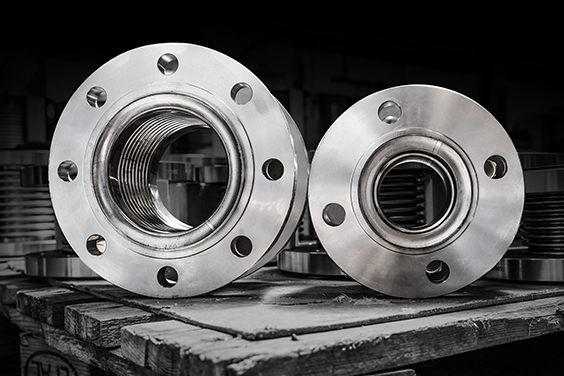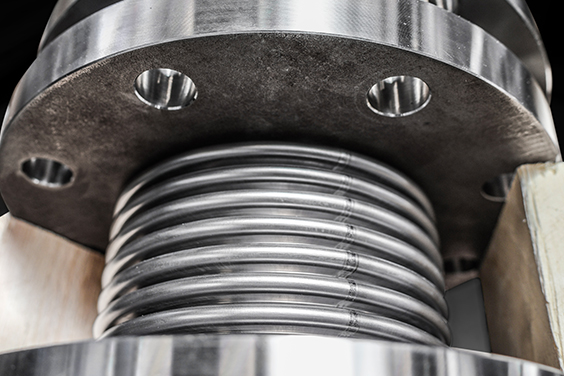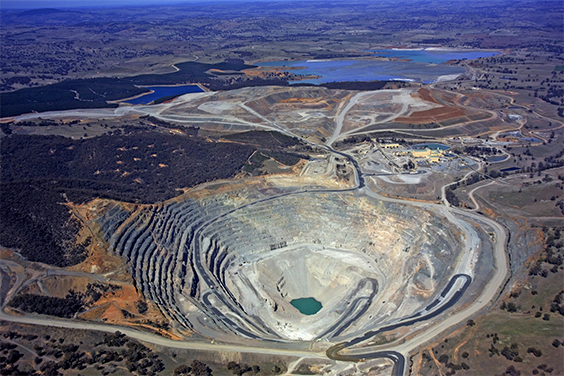 Technical information on materials for Expansion Joints in the Expansion Joint Catalogue as well as their temperature limits and strength values on
pages 51-55 and pages 480-487 respectively
Resistance tables to help you find the proper material for the application and media you are working with in the Expansion Joint Catalogue on
pages 439-459
CODELCO (Corporatión Nacional del Cobre, Chile) • NMMC (Navoi Mining & Metallurgical Combine) • SQM Salar • Altonorte • Enami (Empresa Nacional de Minería) • LKAB • Minera Escondida • Glencore • Anglo American • Noracid • BHP • Minera Exar •
ENAEX • Assarel-Medet JSC • Hekimhan Madencilik Mining •