HELPING A CLIENT
WITH A LEAKING
SCRUBBER BELLOW

Ship

Europe

EJMA
Problem 
A client approached Belman as they were having a leaking Expansion Joint in their scrubber system. The bellows were made from 254 SMO, which along with other stainless steel materials is often used for scrubber application. This material is a good choice in most cases. However, in this situation, the media was more corrosive than expected and therefore resulted in leakages on the bellow.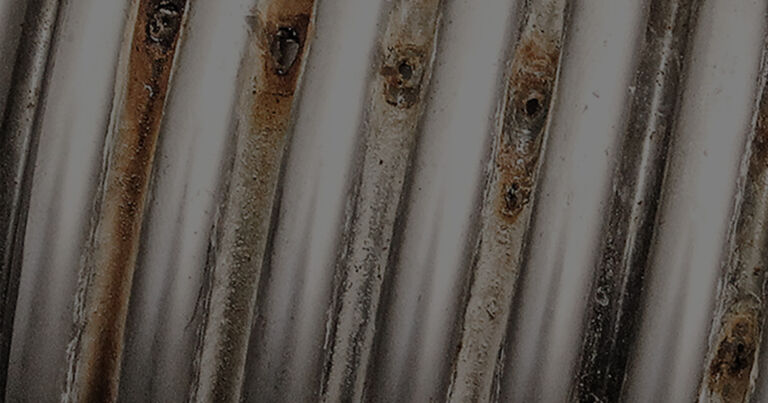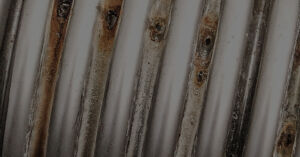 Why does this problem happen?
Belman see more and more often that some scrubbers are having operating data and a media composition that is more corrosive than others. This sets higher demands for the components (such as Expansion Joints) and the materials they are made of. It is not only the Expansion joints having this issue, but due to the wall thickness it will be the first component showing the corrosion problem. Expansion Joints are made from several layers of thin plate, in order to make them flexible and able move and absorb movements in the scrubber system. The flanges of the Expansion Joints are not at risk as the flanges are loose flanges and constructed in a special way, so that they are not in touch with the media. Flanges are therefore not made from 254 SMO or likewise stainless steel materials. Furthermore, the scrubber and piping itself is not a critical issue, as these are made from thicker walled steel.
Solution
In this case Belman analyzed the client's problem and proposed the client a more durable solution in order to prevent future premature leakage on the Expansion Joints in their scrubber system. Belman suggested the client an Expansion Joint made from higher alloyed steel – in this case a bellow made from Alloy 59, which is resistant to the very corrosive media in their scrubber system. A higher alloyed material was therefore what this client needed in this situation for safe and reliable operation.
The solution – An Expansion Joint made from Alloy 59: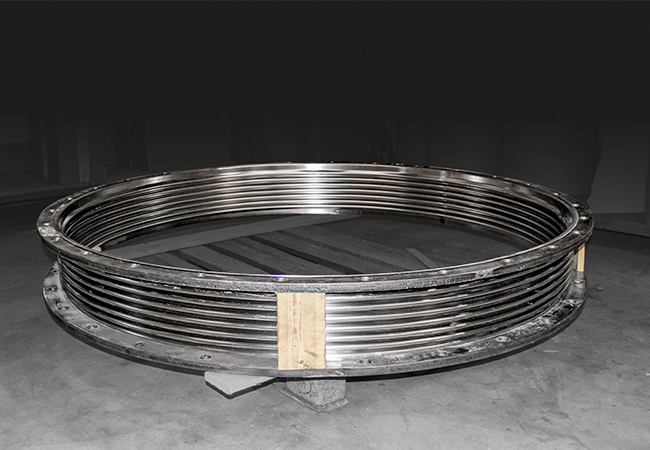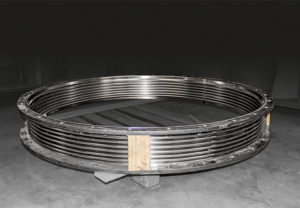 If you face this issue
Then contact Belman. Having supplied +1000 Scrubber Expansion Joints over the past years Belman has vast experience within this application. Belman can advise what material to select to avoid leakages in order to avoid future premature leakages. If urgent assistance is needed Belman is flexible and do our outmost to help. Clients from all over the globe choose Belman due to our very fast response to inquiries, questions and problems and especially due to our short on time delivery.
How to get the new Expansion Joints quickly?
Further Belman can expertly arrange transport to any location specified by you. This means you can specify any port and requested time of delivery and Belman will arrange for the Expansion Joint to arrive as requested. This ensures you smooth and quick replacement of the leaking Expansion Joint/-s at minimized downtime.
The new Expansion Joint has the following design parameters:
Dimension: DN 1500 • Installation length: 220 mm • Medium: Exhaust gas • Design pressure: 1 barg • Design temperature: 70°C • AX: +/-11 mm • LA: +/-1 mm • Bellow: 2.4605 (Alloy 59) • Flanges: 1.0425 • Design code: EJMA
If you would like to know more, get a commercial quotation or discuss your situation
please do not hesitate to contact our Scrubber Expansion Joint expert:
Pedro Raya
E: [email protected]
T: +45 7612 2641
M: +45 4167 5139
(Speaks English, Spanish)
Technical information on Scrubber Expansion Joints is available in the
Scrubber Expansion Joint Catalogue

References and case stories of designs made by Belman
can be seen in the
Scrubber Expansion Joint Catalogue

MAN Diesel & Turbo • MSC • Dresser-Rand • Kawasaki • Wärtsilä Gas Solutions • Samsung Heavy Industries • Peter Brotherhood • DFDS • Drydocks World • Mærsk • Royal Caribbean Cruise Lines • Hyundai Heavy Industries • IHI Europe • Langh Tech • TORM • Baltec Marine • Fayard • AS LTH Baas • U.N. Ro-Ro Isletmeleri • YARA • Pure-Teq A/S • ME Production • CMA CGM • Dream Cruises •  Stena • Southern Route Marine • SPX • Sembcorp Marine • Matson •  Navios • Jubilant • Breeze Marine Group • Finnlinnes • P&O • Eastern Mediterran Maritime • Chantier de naval marseille • Grandi Navi Veloci • Grimaldi Lines •